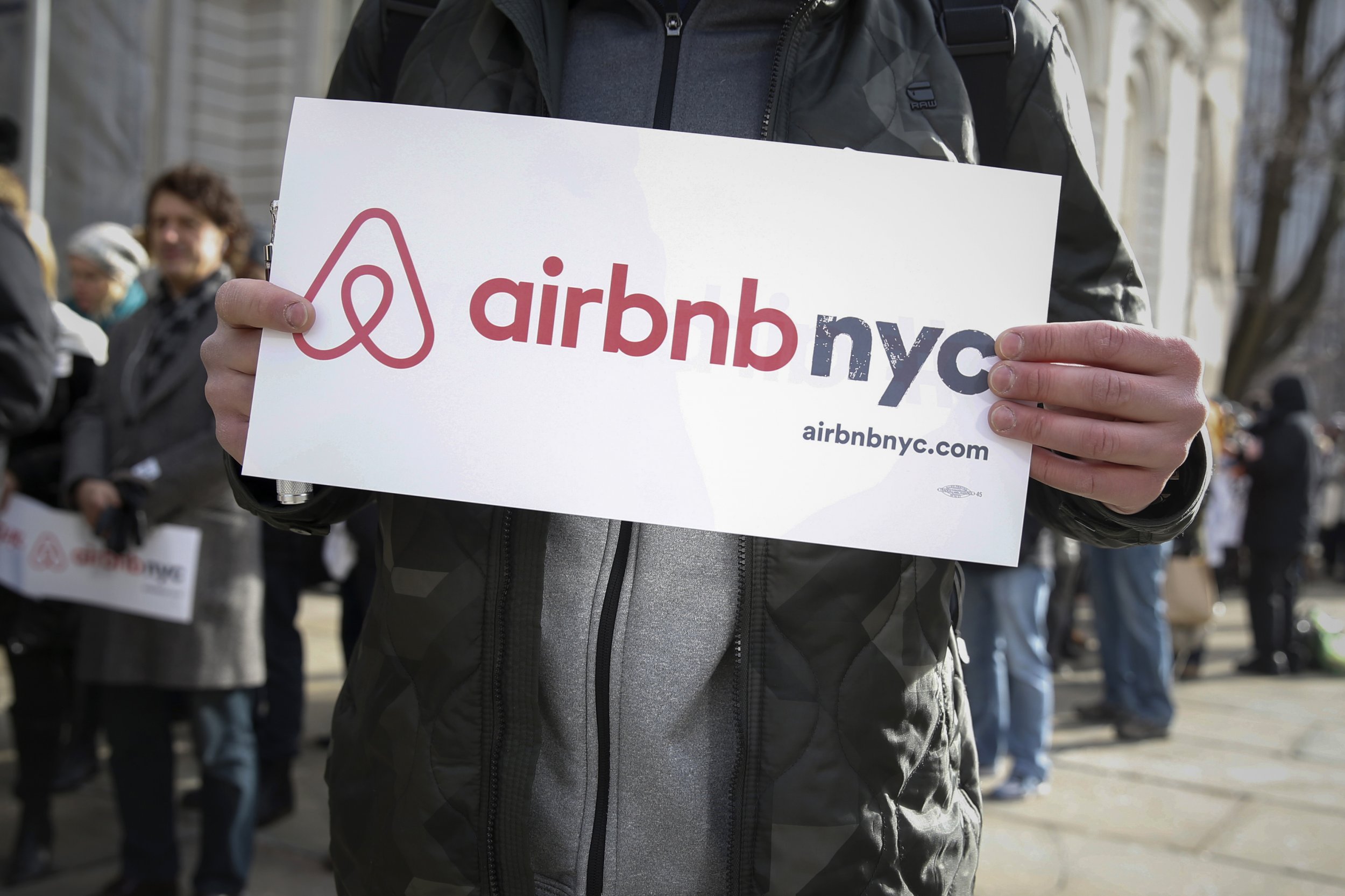 Brian Chesky, co-founder and CEO of Airbnb, says he didn't set out to upend the $2 trillion hotel industry or change the way you travel. And he certainly didn't mean to attract the ire of New York's attorney general.
Chesky, who sat down with Newsweek's Kevin Maney on Thursday night at a New York University event titled "Founders Unplugged," is a Rhode Island School of Design graduate who doesn't have the résumé of a standard entrepreneur. That's one reason investors laughed at his idea in its early years. (In fact, the idea was so badly funded at first that Chesky and his co-founder, Job Gebbia, sold presidential candidate-themed cereal boxes to make ends meet. Obama O's anyone? )
At first, all Chesky wanted to do was help out-of-town convention visitors find an airbed and a few squares of rented space in somebody's house. Soon after the idea of renting out only airbeds was tested, rooms and apartments were allowed, and then houses ("How could they serve breakfast?" Chesky wondered at the time). A rule demanding that rentals have electricity stayed until people started to list tree houses.
Chesky met several of the early Airbnb hosts and stayed in a lot of their homes. New York was one of the first places to warm to the idea. As guests returned to their far-flung homes, they took the idea of hosting with them, and the concept kept growing.
Chesky, who is originally from Albany, always felt like New York would love his product, which is why it stung that the company hit its first major regulatory roadblocks in the city. Suddenly, Attorney General Eric T. Schneiderman was calling on the phone. "That's not a call you want to get," Chesky says.
A report issued by Schneiderman's office in 2014 said that nearly three in four Airbnb rentals in the city were illegal by current laws. His office did not respond to a request for comment for this article.
As Chesky's company grew beyond airbeds soon after it launched, the impact of Airbnb, which now boasts 2 million listings worldwide, was just as quick and unexpected.
There were concerns over taxes not being paid to the city; about the consolidation of landlords (just 6 percent of hosts rented 36 percent of the company's listings in New York); and about the impact on neighborhoods that were now bustling with tourists and on buildings that were now partially filled by strangers. (A friend of mine who lives on a small island off of Maine laments that Internet rentals have brought wild vacationers at a rate he'd never before had to endure.)
It's a glimpse of what a great tech idea can do when it connects with consumers. And it's the same clash of heavily regulated industries and consumer-friendly technical solutions that is playing out on a different field with Uber and taxi and car services around the world.
It's a fight that goes beyond governments, tax revenue and trillion-dollar industries. Whatever Airbnb is to city officials, it's also extremely popular with people. A woman in the audience introduced herself to a reporter as an Airbnb host and said that hosting a room in Brooklyn allowed her to engage her hospitality skills—and eventually helped her move into the industry as a career. Renting an apartment and having a host can also make visiting a city feel more authentic and make a tourist experience feel more local, Chesky points out.
He sees this mostly as a clash between government, which he says is moving slower than ever, and technology, which is moving faster than ever. He's hopeful he can reach the same sort of detente with New York as he reached with San Francisco.
"We're a brand where people live together. We're not a fighting brand. We're not a disrupter. We want to enrich cities," Chesky says.