Border Patrol Chief Says Trump's Wall Would Have Been Helpful for Dealing With Migrant Caravan
As Border Patrol agents clashed with the migrant caravan as it approached the southern U.S. border, Border Patrol chief Brian Hastings said President Donald Trump's border wall would have made a difference.
Speaking to Hill.TV host Buck Sexton, Hastings said that Border Patrol officers agents were making 2,000 arrests a day, not including anyone traveling with the caravan. Hastings called it "everyday business" for the law enforcement agency.
"We're very busy," Hastings said. "This caravan just adds another component or another challenge to what we do daily."
On Sunday, United States authorities closed the Tijuana border entry port, according to The Washington Post, including to vehicular traffic. Customs and Border Protection officers fired teargas into Mexico to deter people from crossing the border as some threw rocks and bottles.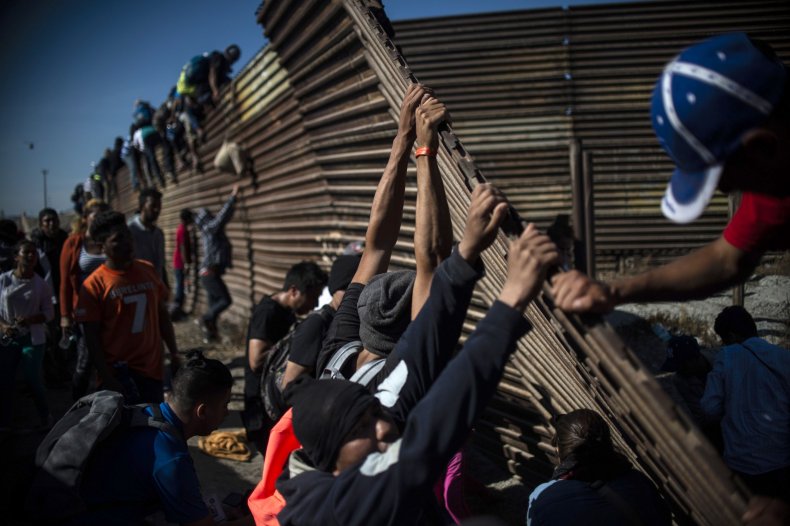 When asked what would help in securing the border, Hastings said, in light of Sunday's events, that infrastructure would have been useful. The border patrol agent explained that after the caravan had made it through forces in Mexico, it approached the east side of the San Ysidro port of entry.
"In that particular area, we have old landing mat fence, which was from the 1990s era and was quickly torn apart...by several of the subjects there, who were also throwing rocks and projectiles at our agents," he said.
Given that the infrastructure in that area was outdated and quickly destroyed, Hastings said, "without a doubt, we could use a wall in an area like that."
Hastings reiterated that Border Patrol agents would benefit from a border wall and said "absolutely" agents supported the initiative to have one built.
Rodney Scott, chief patrol agent of the San Diego Sector Border Patrol told CNN that 42 people who had crossed the border had been arrested. He said the "vast majority" of the people Customs and Border Protection had arrested were adult males, and that only about eight of the arrests were women and even fewer were children.
He told CNN that many of the people were "economic migrants," who don't qualify for asylum. Scott said that, from his experience on Sunday, some people weren't approaching the border in the manner of an asylum seeker. One group that was chanting and waving a Honduran flag, he said, threw rocks at several officers.
"What I saw on the border yesterday was not people walking up to border patrol agents and asking to claim asylum," Scott said. "If they were truly asylum seekers they would have just walked up with their hands up and surrendered."
The use of tear gas was criticized because of the presence of children, but Scott defended the decision on the basis that officers were being threatened.
"What I find unconscionable is that people would intentionally take children into this situation," he said. "The caravan would push women and children toward the front and then begin rocking our agents."
Scott said he believed improvements could be made to the immigration process, but said that Customs and Border Protection was "at capacity" because it was already processing more than 100,000 people a day. He said if resources were allocated for asylum seekers, it would slow down the process for people coming into and leaving the United States, including at international airports.
Trump, whose largest campaign promise was to build a wall along the U.S.-Mexico border, tweeted on Monday for Congress to "fund the wall." He added that America would close the border permanently if the situation warranted it.