Georgia Governor Brian Kemp lashed out at President Joe Biden and Vice President Kamala Harris ahead of their scheduled remarks on voting rights in Atlanta Tuesday afternoon.
In a statement sent to Newsweek, the Republican leader said that Tuesday will be "ground zero for the Biden-Harris assault on election integrity."
Kemp also targeted Stacey Abrams, a Democratic gubernatorial candidate, in his statement.
"While Joe Biden spends this afternoon parroting the talking points written for him by Stacey Abrams and her far-left allies, I will continue fighting for the truth and secure elections in Georgia," Kemp said.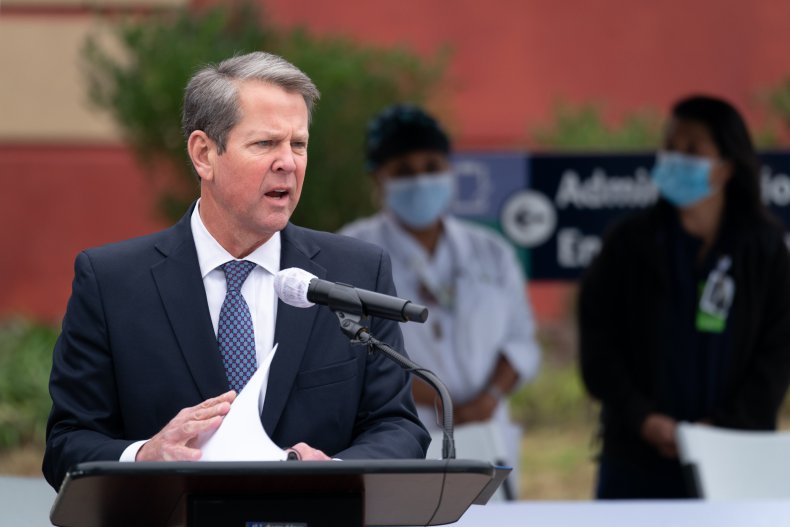 Abrams previously challenged Kemp in the 2018 election for governor of Georgia, a race she narrowly lost. She is currently the only Democratic candidate announced in the 2022 gubernatorial campaign. Meanwhile, Kemp is facing rivals within his own party, including former U.S. Senator David Perdue and former Georgia State Representative Vernon Jones.
Former President Donald Trump supported Kemp in 2018, but he turned on the governor following the 2020 election and claimed the governor did not sufficiently challenge the voting results. Trump has officially endorsed Perdue over Kemp for 2022.
In Tuesday's statement, Kemp only focused on Democrats. He claimed that the Biden administration has ignored "facts and evidence" about Georgia's Election Integrity Act "in an effort to distract from their many failures and rally their base around an unconstitutional, federal takeover of elections."
Kemp added: "Senate Bill 202, the Election Integrity Act, makes it easy to vote and hard to cheat. The bill expands early voting opportunities, secures drop boxes around the clock, reduces long lines at polling places, and implements the same voter ID requirement for absentee ballots that we have had for in-person voting for well over a decade.
"But Joe Biden, Kamala Harris, and Stacey Abrams have never let the truth get in the way of forcing their radical agenda on Georgians and Americans," he said.
On Tuesday afternoon, Biden is expected to advocate for changing the filibuster rules to make it easier to pass voting rights bills. He will be doing so at Atlanta University Center in the district once represented by the late Georgia Congressman John Lewis.
"He [Biden] wouldn't be going to Georgia tomorrow—a place where there is an enormous history of civil rights leaders, of his friend John Lewis—advocating for fundamental rights, including voting rights, if he wasn't ready and prepared to elevate this issue and continue to fight for it," White House Press Secretary Jen Psaki said Monday.
Newsweek reached out to Abrams' representatives for comment.