Brian Kemp Resigns as Georgia's Secretary of State After Declaring Victory in Governor's Race, but Stacey Abrams Refuses to Concede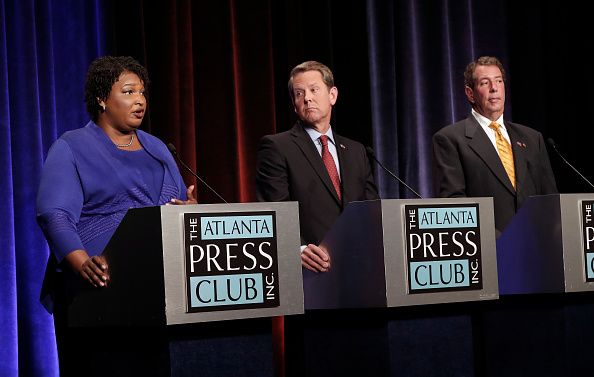 Brian Kemp resigned as Georgia's secretary of state, effective Thursday night, after declaring victory in the state's nail-biting gubernatorial election. But his Democratic opponent, Stacey Abrams, refused to concede, arguing that the race was still too close to call, given that there were thousands of ballots that still needed to be counted.
The latest poll numbers show Kemp leading Abrams by nearly 2 percentage points, with the Republican candidate garnering 50.3 percent of the vote. In Georgia, a candidate must get at least 50 percent of the vote to be declared the winner, otherwise the election continues with a runoff.
For Kemp to drop below 50 percent, there would need to be at least 25,000 more votes cast for Abrams or Libertarian candidate Ted Metz. But Abrams argued that there were thousands of ballots that had yet to be counted, including absentee voters and provisionals.
But that didn't stop Kemp's campaign from declaring victory on Wednesday night. The Republican's top campaign adviser told the news media that Kemp was the outright winner of the race and said that he was already beginning to prepare his transition. His resignation on Thursday morning could be seen as the next step in his ascension to the governorship.
But Abrams had not yet backed down or conceded. The 44-year-old Democrat garnered the attention of high-profile officials and celebrities throughout her campaign, including former President Barack Obama, former Vice President Joe Biden and legendary talk show host Oprah Winfrey.
"Our opponent has had his office declare himself the victor and we do not accept that," Abrams's campaign spokesperson said in a phone call with reporters on Wednesday night.
But Kemp's campaign argued that even though some ballots had yet to be counted, there were not enough of them to strip the Republican of his victory.
"Based on counts released by the secretary of state's office, Brian Kemp's margin is so large that the number of provisional ballots and overseas ballots will not change his Election Day victory," Cody Hall, Kemp's campaign press secretary, said in a statement earlier on Wednesday. "Simply put, it is mathematically impossible for Stacey Abrams to win or force a run-off election."
But Georgians distrust Kemp's oversight of the vote tally, one of his responsibilities as secretary of state, in a race in which he was a candidate. Voter suppression became a national debate during this year's heated midterm elections after a report found that 53,000 voter applications had been stalled in Georgia. Seventy percent of those applications were from black citizens. Problems at the polls on Election Day, including long lines and broken machines, only heightened the issue.
During her election watch party on election night, Abrams told the crowd that while she wouldn't "name names, some people have worked hard to take our voice away" and that she was going to make sure "every vote is counted."