Brian Kemp Signs Georgia Election Law That May Help Him Beat Stacey Abrams in 2022
Republican Georgia Governor Brian Kemp signed a voting rights bill on Thursday that opponents say could help him win reelection in 2022 by disenfranchising Black voters.
The legislation, Senate Bill 202, was passed along party lines by Georgia's General Assembly with votes of 100-75 in the House and 34-20 in the Senate about an hour before Kemp signed it. The bill limits absentee ballots and early voting, restricts ballot drop boxes and imposes tough new voter ID requirements. It also allows the state, currently controlled by Republicans, to take over county election boards that the state deems problematic.
"Significant reforms to our state elections were needed," Kemp said after signing the bill. "There's no doubt there were many alarming issues with how the election was handled. And those problems, understandably, led to a crisis of confidence in the ballot box here in Georgia."
Democratic Georgia state Representative Park Cannon, who is Black, was arrested for allegedly attempting to disrupt Kemp while he was signing the bill. A viral video of the incident shows multiple white officers physically restraining Cannon and taking her through a hallway and into an elevator while a group of Black supporters protest the arrest. One woman can be heard saying Cannon "didn't do anything but knock on the governor's door."
While opponents say the legislation represents an increase to voter suppression meant to boost the political fortunes of Republicans in Georgia, supporters of the bill insist that it is intended to ensure election integrity. Other provisions of the law include shortening the time counties have to certify election results by four days, establishing a hotline to report allegations of illegal voting and making it illegal for members of the public to give food or water to voters waiting in line.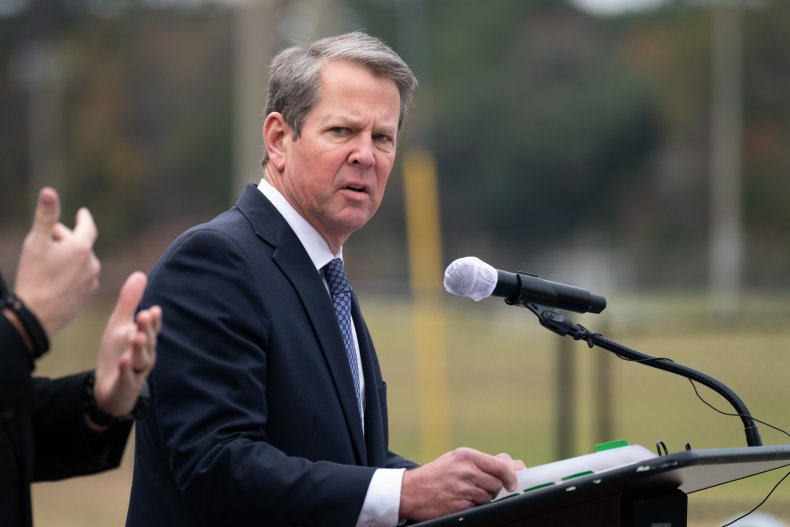 Kemp was elected in 2018 with a narrow win over Democratic candidate and voting rights advocate Stacey Abrams. Although Abrams has not officially declared her candidacy in the 2022 election, she has expressed interest in the race and would be the clear front-runner for Democrats.
The new law will almost certainly face legal challenges. Abrams said that she expected Senate Bill 202 to be quickly passed and signed to "avoid actual analysis" and "public awareness" that it "hurts voters of color, increases taxes on struggling families & steals power from local governments" in a tweet hours before the bill became law.
"In my 11 years in the legislature, I never saw a bill approved at such speed. This wasn't efficiency. Republicans want to hide their shameful actions from public scrutiny. Instead, they will see sunlight and legal action," Abrams added on Twitter after Kemp signed the bill. "Now more than ever, we need federal action to protect voting rights as we continue to fight against these blatantly unconstitutional efforts that are nothing less than Jim Crow 2.0."
Abrams accused Kemp, who was Georgia's secretary of state at the time, of engaging in voter suppression tactics during the 2018 election. Following her close loss in the election, Abrams founded Fair Fight Action, a voting rights advocacy group that seeks to fight voter suppression.
Many have credited Abrams' activism with recent Democratic gains in Georgia, including President Joe Biden's narrow win over former President Donald Trump in the 2020 presidential election and the dual Democratic victories in January's Senate runoff elections that handed full control of Congress to Democrats.
Biden's win over Trump in Georgia, by around 12,000 votes as confirmed by multiple machine and hand recounts, happened amid repeated and unsubstantiated claims of massive voter fraud alleged by the former president and his allies. Kemp and some other Republican Georgia officials could face challenges from within their own party in 2022 due falling out of favor by ultimately certifying Biden's victory.
The push for newly restrictive election laws, in Georgia and across the country, has been fueled in part by a desire to alter conditions that Republicans believe played a role in both Trump's loss and the Democratic takeover of the Senate.
Newsweek reached out to Fair Fight Action and the office of Kemp for comment.