Brian Laundrie Death Ruled Suicide One Month After Discovery
Brian Laundrie died by suicide from a gunshot wound to the head, according to the family's attorney Steven Bertolino.
"Chris and Roberta Laundrie have been informed that the cause of death was a gunshot wound to the head and the manner of death was suicide," Bertolino said in a statement sent to Newsweek. "Chris and Roberta are still mourning the loss of their son and are hopeful that these findings bring closure to both families."
The announcement by Bertolino comes over a month after Laundrie's remains were found on October 19 in the Myakkahatchee Creek Environmental Park. Law enforcement previously searched for Laundrie for more than a month.
A prior autopsy was unable to establish a cause of death due to the state of Laundrie's body, and the remains had been sent to a forensic anthropologist for further examination.
The area in which the body was found had reportedly been underwater for a number of days due to recent flooding in the park, which may have contributed to the difficulty investigators had in tracking Laundrie down.
Some of Laundrie's personal belongings, including his notebook and a backpack, were also found near his body, according to the Federal Bureau of Investigation (FBI).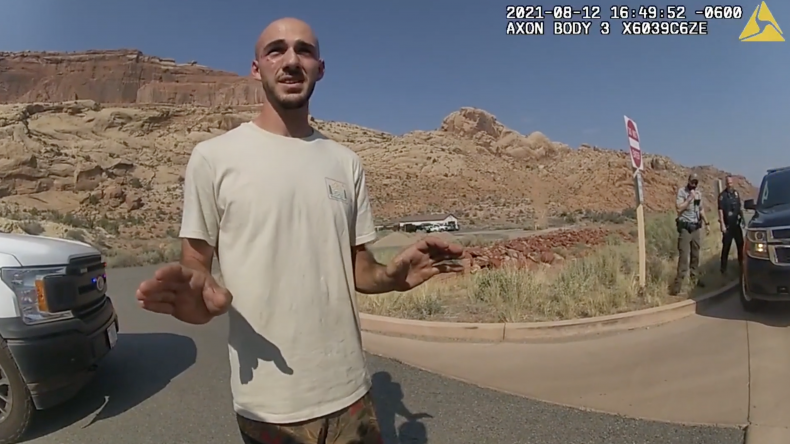 The FBI confirmed that the remains were Laundrie's in a statement released October 21. The body was reportedly in such a state of decay that Laundrie was only able to be identified by dental records.
"Chris and Roberta Laundrie have been informed that the remains found yesterday in the reserve are indeed Brian's," said Laundrie family attorney Steven Bertolino. "We have no further comment at this time and we ask that you respect the Laundries' privacy at this time."
Laundrie was originally a person of interest in the August disappearance of his fiancé, 23-year-old Gabby Petito. While wanted by authorities for questioning, Laundrie himself disappeared, and his family told authorities they did not know where he was.
Petito's remains were found on September 19 in Grand Teton National Park in Wyoming, close to where she, along with Laundrie, had been staying in a camp van.
An autopsy ruled that Petito's death was a homicide by strangulation and that the murder had likely occurred weeks before her body was found.
In response to the announcement by Bertolino on Tuesday, Richard Stafford, the Petito family attorney said in a statement sent to Newsweek that "The Schmidt and Petito family has been aware of the circumstances surrounding the suicide of the sole suspect in Gabby's murder."
The statement continued, "Gabby's family will not be making a statement at this time due to the request of the United States Attorney's Office and the Teton County Prosecutor's Office. The family was asked to not make any comments and let the FBI continue their investigation. The family was also asked to wait for the United States Attorney's Office to make a determination on whether any additional individuals will be charged. When that determination is made, we will have a statement."
After Laundrie reportedly used a fraudulent credit card, an arrest warrant was issued for him and a nationwide manhunt ensued. Laundrie's sister Cassie implored him to turn himself in during an interview with ABC News.
The two deaths have received a significant amount of public interest. The New York Times referred to the case as a "national sensation," and noted that many people were spreading information on social media in an effort to help find Gabby Petito.
The couple were travel bloggers with Petito having started a YouTube channel documenting her journey just prior to her death.
Update 11/23/2021, 3:59 p.m. ET: This article was updated to include a statement from the Petito family attorney.