Brian Laundrie Mistaken for Mom, Not Watched Carefully, Police Admit
The North Port Police Department said on Monday that they mistook Brian Laundrie for his mother, Roberta Laundrie while conducting surveillance on the household in early September.
The Laundrie family attorney, Steven Bertolino, recently explained that he told the FBI on Monday, September 13, that Laundrie had gone for a hike in Florida's Carlton Reserve and didn't return home. The North Port Police Department began conducting surveillance on Laundrie after his fiancé, Gabby Petito, was reported missing.
During a recent interview with WINK News in Florida, North Port Police Public Information Officer Josh Taylor said the department watched Laundrie leave his home on September 13 and then believed he returned home in his Ford Mustang on September 15. However, the North Port Police Department later learned that the person in the vehicle was Brian's mother, Roberta Laundrie.
"I believe it was it was his mom who was wearing a baseball cap," Taylor told the local news station. "They had returned from the park with that Mustang. So who does that? Right? Like, if you think your son's missing since Tuesday, you're going to bring his car back to the home. So it didn't make sense that anyone would do that if he wasn't there. So the individual getting out with a baseball cap we thought was Brian."
"They're kind of built similarly," Taylor added in regard to Brian and his mother.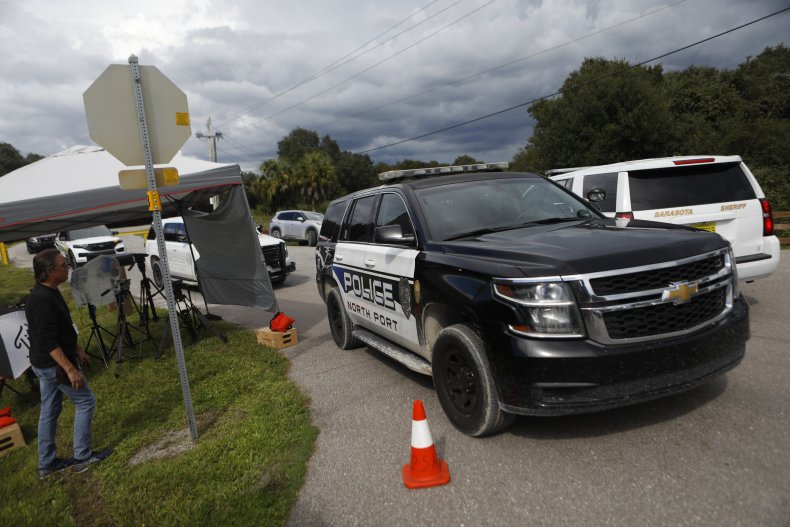 A day after officials with the North Port Police Department believed Laundrie returned home, they held a press conference where Chief Todd Garrison said that "All I'm going to say is we know where Brian Laundrie is at," believing that he was still at his home in North Port.
While Bertolino previously told the FBI that Laundrie did not return home from his hike, an official missing persons report was not filed with the North Port Police Department until Friday, September 17.
"When the family reported him on Friday. That was certainly news to us that they had not seen him," Taylor said. "We thought that we'd seen Brian initially come back into that home on that Wednesday...No case is perfect."
Taylor's remarks come shortly after Laundrie's remains were found in the Carlton Reserve and the Myakkahatchee Creek Environmental Park.
On October 20, Laundrie's parents and law enforcement officials found a backpack belonging to Laundrie, as well as his remains. The remains were confirmed to be Laundrie's one day later following a "comparison of dental records."
Newsweek reached out to the North Port Police Department for further comment.