Brian Laundrie Search Site Also Sees 'Training and Searching' Exercise by Police, FBI
Armed police and yellow tape outside of Florida's Carlton Reserve, a significant location in the search for Gabby Petito's fiancé Brian Laundrie, were part of a special training exercise, law enforcement said.
North Port Police said Friday that one of the entrances to Myakkahatchee Creek Environmental Park, which gives access to the 25,000-acre preserve where Laundrie said he was going hiking on September 13, was marked with a do not cross line to give a local special response team space to train.
Officers were seen carrying large rifles in the area, and a spokesperson for the department told local news station WFLA that the group was there for "training and searching."
The environmental park where the training took place is also listed on a heavily redacted police report as a location where Laundrie's silver Mustang was tagged "abandoned vehicle." Laundrie told his parents in September that he was going to the reserve to go hiking but he never returned.
Reporters on the scene spotted a number of law enforcement vehicles including a North Port Police SUV, according to WFLA. The latest police activity comes one day after a cadaver dog was requested to help with the search, but no findings have been reported.
The Pasco County Sheriff's office said the canine was requested by both the FBI and local police, and that the sheriff's office is the only one with that type of dog so it's often needed. A spokeswoman also said her office has been asked to help with the investigation before but didn't specify how many times the canine had been present. The animal was not present during the special training on Friday.
The week's police training comes nearly one month after Laundrie was reported missing by his family on September 17. His parents told police they hadn't seen their 23-year-old son since he left to go hiking in the nearby Carlton Reserve area. They initially reported he left on Tuesday, September 14 but after speaking with the FBI, the family then said Laundrie left home on September 13.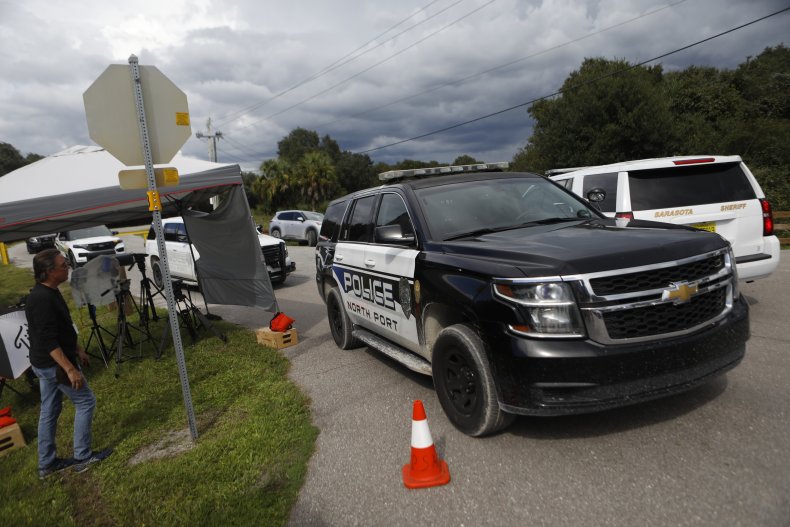 One day before he was last seen, Laundrie was named a person of interest in Petito's disappearance after returning to Florida without her after a months-long road trip. Petito's own family reported her missing on September 11, which was 10 days after Laundrie came back.
Police located Petito's body in Wyoming on September 19 and her death was ruled a homicide two days later. The Teton County coroner's office released the cause of death earlier this week and determined that Petito was killed by being strangled with someone's bare hands. Dr. Brent Blue said she probably died three to four weeks before she was found—in late August.
Laundrie has not been charged with Petito's death. Investigators have determined that he allegedly used a debit card illegally during the time that they believe Petito was already dead.
Laundrie family attorney Steve Bertolino has stated that the family does not know where the 23-year-old is. Petito's family said they hope Laundrie will be found alive, and soon.
Newsweek reached out to North Port Police for comment.