Brian Laundrie Search Timeline: What We Know So Far in the Gabby Petito Case
New developments in the search for Brian Laundrie were reported Wednesday after some of his belongings were said to be found near the area in Florida where authorities have been looking for him for weeks.
Laundrie, who was named a person of interest last month in the disappearance of Gabby Petito, has not been seen since mid-September. Petito's parents reported her missing on September 11 following a cross-country trip that Petito and Laundrie, who were engaged, took in Petito's van. Petito's remains were later discovered in Wyoming, and her death has been ruled a homicide.
Authorities have been searching for Laundrie since mid-September after his parents reported him missing and said they did not know where he was. The manhunt appeared to enter a new phase Wednesday morning after Laundrie's parents went to Florida's Myakkahatchee Creek Environmental Park to help authorities in their search. Steven Bertolino, an attorney for the family, said in a statement shared with NewsNationNow reporter Brian Entin that" some articles belonging to Brian" were discovered on Wednesday.
"Chris and Roberta Laundrie went to the Myakkahatchee Creek Environmental Park this morning to search for Brian. The FBI and NPPD were informed last night of Brian's parents' intentions, and they met Chris and Roberta there this morning," Bertolino told Entin. "After a brief search off a trail that Brian frequented, some articles belonging to Brian were found. As of now, law enforcement is conducting a more thorough investigation of that area."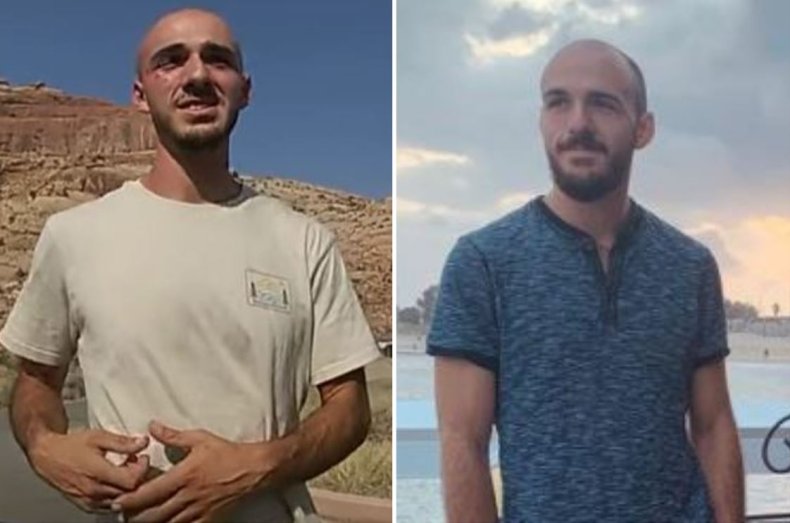 Here is a timeline documenting the search for Laundrie based on what is known so far in the Petito case.
August 12: Police in Moab, Utah, have an encounter with Laundrie and Petito, who are on their cross-country road trip. Video of this interaction, which appeared to follow a violent dispute between the couple, spread through local and national media outlets in the wake of Petito's disappearance and raised questions about their relationship.
August 17: Laundrie's sister, Cassie, told Insider her brother flew home to Florida on August 17. Bertolino told Insider that Laundrie flew from Salt Lake City to Tampa so he could "obtain some items" and close out a storage unit. At the time, Laundrie and Petito were thinking about extending their cross-country road trip, the attorney said.
August 23: Laundrie ends his brief trip home and returns to Salt Lake City. Bertolino previously confirmed the dates of this trip with Newsweek.
September 1: Police have said Laundrie returned to his family's home in North Port, Florida, with Petito's van but without her. Cassie Laundrie later said in a video obtained by NewsNationNow that she saw her parents and her brother when they stopped by her home on that day.
September 6: Bertolino has said Laundrie and his parents stayed at the Fort De Soto Park Campground from September 6 through 8. Laundrie's sister said she too was with them on September 6, between about 2 and 8 p.m. local time. "There was nothing peculiar about it," Cassie said during an interview earlier this month with Good Morning America.
September 11: Petito's family reported her missing. This weekend is the last time one of the Laundries' neighbors said they saw Brian Laundrie near his family's home.
September 17: Laundrie's parents told authorities they had not seen their son since September 14. At the time, they said they believed he went to the nearby Carlton Reserve to go hiking or camping.
September 19: Remains are discovered by authorities near a campsite in Wyoming's Bridger-Teton National Forest.
September 21: An initial autopsy confirmed the remains discovered on September 19 were Petito's. A coroner listed homicide as her manner of death.
September 23: The FBI's Denver office announced an arrest warrant had been issued for Laundrie regarding his alleged unauthorized use of a debit card and two bank accounts. The FBI said Laundrie allegedly accessed the accounts between August 30 and September 1.
October 12: A coroner ruled Petito's cause of death was "manual strangulation/throttling" in an autopsy report dated October 5.
October 20: An attorney for the Laundrie family told NewsNationNow that items belonging to Laundrie were found off a trail as his parents assisted authorities in the search at Myakkahatchee Creek Environmental Park.