Newsweek can confirm part of a filmed encounter between Brian Laundrie, his girlfriend Gabby Petito and Utah's Moab Police Department will continue to be held back from the public for the foreseeable future.
Bodycam footage showing the aftermath of an alleged fight between Brian Laundrie and his girlfriend Gabby Petito transfixed the nation when it was released at the beginning of October.
Footage from two cameras attached to police officers showed the explosive immediate aftermath of a reported altercation between the two in a car on August 12.
However, authorities have confirmed their intention to continue withholding clips from a third police camera.
The U.S. Department of the Interior responded to a Newsweek Freedom of Information Act Request (FOIA) on Wednesday to confirm its intention to continue denying media access to the withheld clip.
The department replied to the FOIA request in a letter dated Wednesday, October 20—the day the discovery of Brian Laundrie's remains was announced.
The letter states: "Upon further review, the information you have requested is being withheld in full under Exemption 7(A)."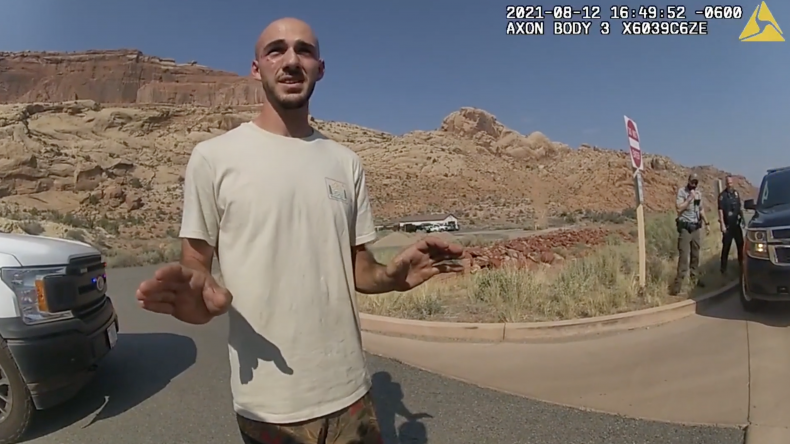 This exemption protects from disclosure "records or information compiled for law enforcement purposes" if the records fall within one or more of six specific bases for withholding, in a sub-section of the letter called "7A."
These include: affording "a virtual roadmap through the government's evidence"; prematurely "revealing the full scope of the evidence that has been obtained to date"; hindering "the NPS's [National Park Service] and Federal Bureau of Investigation's ability to further control and shape the investigation"; and exposing "actual or prospective witnesses to undue influence or retaliation."
However, Bradley Moss of national security law firm Mark Zaid, suggests the missing bodycam footage may not be released for many more months, telling Newsweek in an email: "Until they close out the case it's going to be tough to beat back 7A."
A FOIA Officer later confirmed to Newsweek in a separate email there remain no immediate plans to publish the missing bodycam footage, despite the discovery of Brian Laundrie's body.
Dr. Charis Wilson told Newsweek via email: "I have confirmed with the Federal Bureau of Investigation that this is still considered an open and active investigation. Accordingly, the bodycam footage you requested cannot be released at this time."
In the second bodycam footage, released almost three weeks after it was shot by the road police officers, Petito is seen narrating a fight that occurred between her and her boyfriend Laundrie.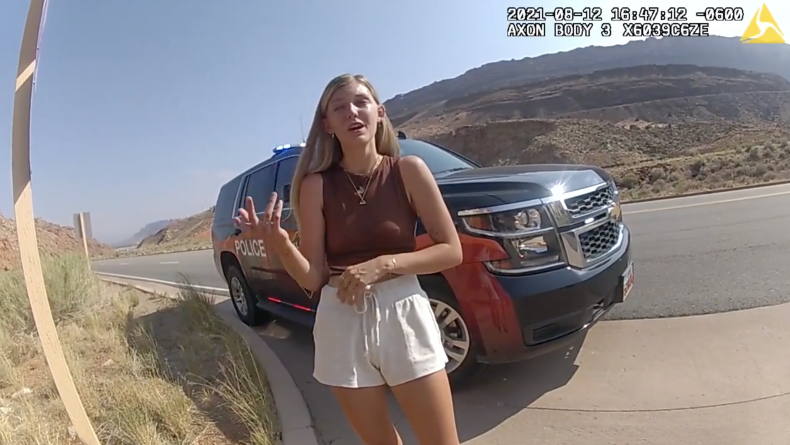 The second officer in the bodycam footage is heard, but not seen, asking: "And he hit you though?", before adding, "we just want to know the truth."
The visibly upset Petito is seen replying: "I guess, I guess, yeah," before adding, "but I hit him first."
She then added Laundrie grabbed her face but then appeared to change her account, saying Laundrie did not punch or hit her.
Petito said: "He didn't like hit me in the face. He didn't, like, punch me in the face or anything."
The officer is then heard asking: "Did he slap your face, or what?"
She replied: "Well he like, grabbed me with his nail, and I guess that's why it looks, I definitely have a cut right here," while rubbing the side of her face.
Newsweek has contacted Moab Police for comment.
Dr. Ann Burgess, who pioneered the FBI's Behavioral Science Unit, believes while there are "important elements to take away from the camera footage", she warns against reading too much into the clips.
The professor at the William F. Connell School of Nursing at Boston College told Newsweek: "I believe there was something he was holding back from the police. Something he kept unsaid.
"You could see it in the way he huddled into himself throughout the conversation, making himself small in a self-protective sort of way. And also in how he stared at the officers without blinking much.
"It's not one thing that investigators look at to understand body language. It's about the little things and how they add up —both in terms of body language and manners of speech."
She added how the footage of Laundrie showed "several red flags."
Dr. Burgess said: "He smiled a lot, used a lot of deflective language and tried to ingratiate himself with the officers.
"The officers were correct in evaluating the physical indicators for any injury and they knew to separate the two parties.
"It would require someone more skilled in the dynamics and behavioral indicators of domestic abuse to have interpreted both bodycams."
The FBI confirmed on Friday the human remains found at the T. Mabry Carlton, Jr. Memorial Reserve and Myakkahatchee Creek Environmental Park belong to Brian Laundrie.
In a case that has gripped the U.S., Laundrie vanished days after Petito disappeared and was named as a person of interest in her death.
Update 10/23/21 9:27 a.m. ET: This article has been updated to include further information.