Brian Laundrie's Parents Called Police to Report Dog the Bounty Hunter on Their Property
Brian Laundrie's parents called North Port police to report that Duane "Dog the Bounty Hunter" Chapman was on their property after the reality TV star arrived at their Florida home to aid in the search for their son.
Police confirmed to multiple news outlets that they received a 911 call from Roberta Laundrie on Saturday stating that Chapman was at their North Port home. The same day, the bounty hunter was seen knocking on the family's door.
Public Information Officer Josh Taylor told Insider that police did not tell Chapman to leave and he left of his own will. He added that they handled it like any other report. North Port Police did not return Newsweek's request for comment.
Chapman said in a Fox News interview that it was a shame the Laundrie family wouldn't speak to his crew. He added that he believes in second chances and hopes the Laundrie family reaches out over social media to "get the kid captured alive."
"The police said we were welcome to knock on the door so we did," he said. "I wanted to tell the Laundries that our goal is to find Brian and bring him in alive."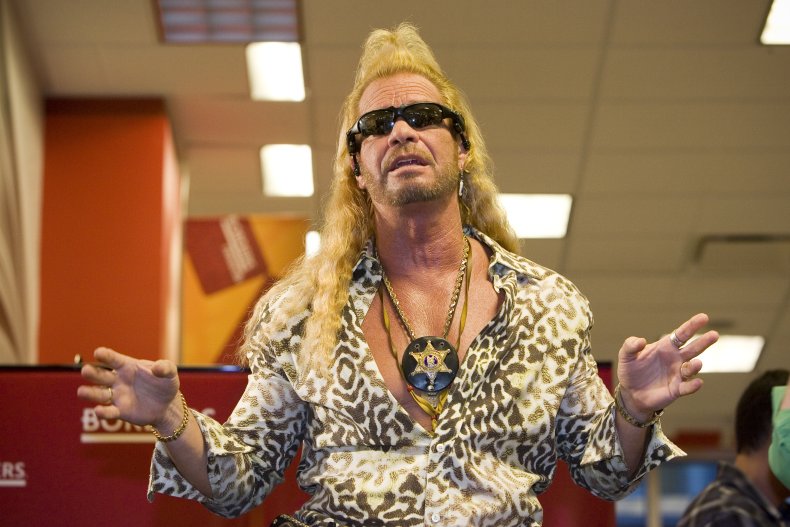 A one-minute and 31-second audio clip regarding the incident was posted on Twitter. The dispatcher is heard saying, "We just have the female from that 10-20 call 911 in reference to the situation with the male." A few seconds later, they confirm that the male has already left the scene.
Taylor said that police have been called to the Laundrie house a number of times for issues related to the media, celebrity searchers and protestors.
The reality star posted on Facebook that he was already in Florida on a honeymoon with his wife, Francie Chapman when people began to reach out to him to get involved with Laundrie's disappearance. Chapman, a father of 13, lost a daughter who was around the same age as Gabby Petito in a car accident in 2006.
Although Chapman was seen knocking on the door of the Laundrie family home, no one answered. Since joining the search, the bounty hunter said he has received more than 1,000 tips and he expects to have Laundrie's location within 48 hours.
Some information suggests that Laundrie may be heading towards the Appalachian Trail and Chapman said it's a possibility, as the 23-year-old is an outdoorsman who will likely stay where he's comfortable.
Chapman's announcement comes over a week after law enforcement began searching for Laundrie, who hasn't been seen since September 14. Officials have been looking for the 23-year-old, mostly in the 25,000 acres of Carlton Reserve, since he was reported missing on September 17. Over the weekend, police scaled back their search.
The FBI has since taken the lead and issued a warrant for Laundrie's arrest on Thursday for bank fraud charges.
Petito's body was found near a campsite the couple was seen at in Wyoming on September 19. Her family reported her missing after Laundrie, her fiancé, returned home from a cross-country road trip without her. Her death was ruled a homicide, although the cause has not been released. Laundrie is a person of interest in the case but has not been officially charged with her death.
Chapman created his own anonymous tip line at 833-TELL-DOG but authorities encourage anyone with information on Laundrie's whereabouts to contact the FBI at 303-629-7171.