GOP Rep. Yells at Congressman to 'Close Your Mouth' During Energy Hearing
A congressional hearing held Thursday by the House Foreign Affairs Subcommittee on Europe, Energy, the Environment and Cyber became tense after a Republican member told the Democratic chairman to "close your mouth."
The hearing was conducted to discuss efforts to support European energy security related to the Russian invasion of Ukraine. About 44 minutes into the nearly two-hour hearing, questioning of one government official by Republican Brian Mast led to a contentious war of words with Chairman Bill Keating.
"Russians were manipulating the market and increasing prices before the invasion," Mast said. "Why I think it's so important...let's all ask ourselves, what was President Biden doing while this was going on and ahead of that going on: He was cutting off U.S. pipelines and creating a difficult regulatory environment for 'Made in America' oil and gas."
Mast, who represents Florida's 18th District, called out witnesses including Jake Levine, the chief climate officer of the U.S. International Development Finance Corporation (DFC)."You guys are to blame, that is what you are doing and everybody should be pointing their fingers at you—which is exactly what I'm gonna do," Mast said to the witnesses.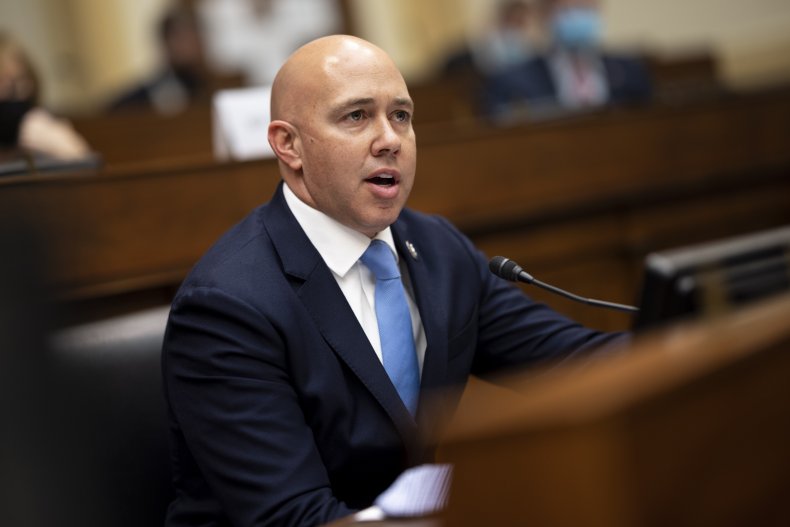 Mast and Levine engaged in a back-and-forth, in which Mast repeatedly asked Levine if he was in favor of pipelines. Levine would not provide a "yes" or "no" response. Keating, a Massachusetts Democrat, eventually jumped in an attempt to stop Mast and Levine from talking over one another. Mast replied, "Nah, it's not your time" followed by "You guys messed this all up, it's not your time."
When Keating said "With all due respect" and attempted to interject, Mast replied, "There's no respect taken."
"Evidently, there's no respect given," said Keating.
"That's because you guys are messing up energy for our country," Mast continued. "You guys are making oil and gas ridiculously expensive for Americans, and you don't want to be questioned about it."
When Keating responded by saying he wouldn't participate in Mast's "soundbite," Mast replied, "Then don't participate then, close your mouth and let me ask my questions," adding when Keating objected that the congressman was "offended" because he "heard it directly."
Mast continued asking questions for about two more minutes before his time ran out.
Inflation and War Negatively Affect Biden Presidency
The hearing comes one day after the Federal Reserve increased interest rates by three-quarters of a percentage point—the largest rate hike in 28 years—to combat inflation that is affecting American families and businesses.
President Joe Biden and his administration are dealing with multiple crises simultaneously. Aside from gas prices averaging over $5 per gallon nationally, polls have shown that Biden's effort to rephrase the inflation conversation by calling it the "Putin price hike" is simply not working.
Putin's own regime said Biden is in a "fantasy world" by blaming Russia for inflation. Even experts on Russia's domestic and foreign policy have said that oil prices "unquestionably" render U.S. sanctions as less effective overall.
Meanwhile, some in the energy sector, such as American Petroleum Institute CEO Mike Sommers, are encouraging Biden to utilize domestic energy sources before resorting to foreign options. Biden is scheduled to travel to the Middle East between July 13 and 16, planning to visit Israel and Saudi Arabia.