Brian May Interview: Queen Legend to Release First Solo Work in Decades For Historic NASA New Horizons Mission
On New Year's Eve, a NASA space probe barreling through the outer solar system will encounter a mysterious object dubbed Ultima Thule, in a historic flyby that promises to transform scientists' understanding of the distant region.
Back on Earth, NASA will celebrate the milestone just past the stroke of midnight January 1 with an introduction like no other. Queen guitarist and astrophysicist Brian May will launch a new song inspired by the mission from NASA control HQ in Maryland—his first official solo work in two decades.
Snippets teased on social media ahead of the big release reveal the electronic voice of Stephen Hawking cut with layered vocals and a charged melody that screams classic Queen. It's impossible to tell if the combination works from the short excerpts shared on May's Instagram and Twitter.
"You know, I don't know if anyone's going to like it yet," he muses. Before its NASA TV debut at 12.02 a.m. ET, only a select few ears will have heard the song—including New Horizons boss Alan Stern, who first suggested creating the track.
"I have been bouncing it off Alan all the way. He's made some comments—some very interesting comments, because of course he comes from a completely different world from me. And he's been liking it, which is great," May tells Newsweek.
Widely considered one of the greatest guitarists of all time, May's genre-bending work with Queen saw him immortalized in the Rock and Roll Hall of Fame back in 2001. Just this year he received a Grammy Lifetime Achievement Award for his contributions to recording.
But beyond music, May—who has a PhD in astrophysics—is equally passionate about science. "I find myself in an unusual place because I'm deeply immersed in music—and have been all my life—but I'm also deeply immersed in astronomy and astrophysics." Creating a single inspired by the "wonderful" New Horizons probe was "an amazing opportunity for me to combine the two," says May.
A science collaborator on New Horizons, the rocker was in the control room for the probe's historic flyby of Pluto back in 2015. "It was quite mind-blowing because all through my childhood Pluto was just a white dot in a picture book. Nobody knew anything more than that about it really," he says. "Then suddenly you have this wonderful spacecraft zooming past it and taking the most incredible close-up pictures."
New Horizons's exploration of the Kuiper belt—an enormous band of mysterious, icy objects beyond the orbit of Neptune—is an incredibly exciting moment for science, May says, because the region is "filled with all sorts of objects which have been there since the dawn of the creation of our solar system."
"Putting that into a song was pretty daunting to be honest," he says. "Initially I scratched my head and thought how would that work?" But he let the idea buzz around his head for a few days.
With the help of legendary lyricist Don Black, best known, perhaps, for his work with musical composer Andrew Lloyd Webber and for Bond themes including Diamonds Are Forever, May got "the kick in the backside" he needed, and the song began to emerge, buoyed along the way by notes from Stern, whom May calls "a bit of a genius."
The actual process of creating the song was something he wasn't sure he could explain. "The instinctive, the passionate, the almost unconscious side [of my brain] takes over. As soon as I heard the words from Don I could hear the melody in my head. It just somehow took shape."
Stephen Hawking's words to the New Horizons team on 2015's successful Pluto flyby were a perfect addition to the track, suggested by friend and collaborator Claudia Manzoni. The mission, Hawking had said, would shed light on the formation of the solar system; the circumstances that allowed human beings to come into existence. "He said exactly what was in my mind," May says. "In another part of his message—which actually nobody has heard yet—he said, 'we do this because we are human and because we need to know.'"
Struck by the recordings, May wove them into the track, which he says will be beamed out to the New Horizons probe on New Year's Day.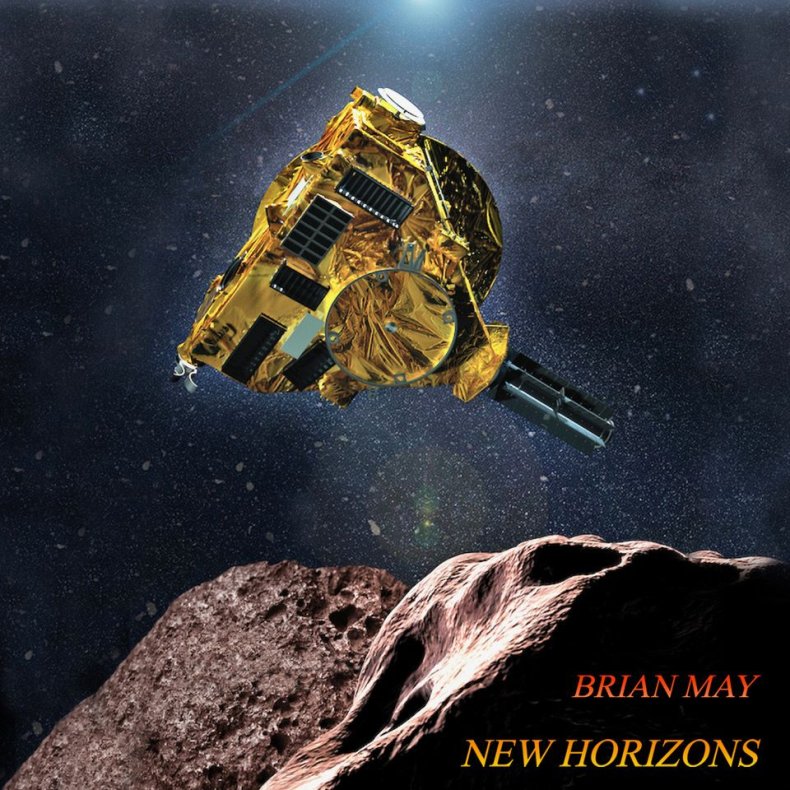 The celebrated cosmologist, incidentally, would be May's pick for the face of the Bank of England's next £50 note. A recent poll asked U.K. residents to select a scientist for a new polymer note. As "one of the greatest brains of the past few generations, [Hawking] should be there, along with Newton [who appeared on the country's old £1 notes]. Absolutely."
The New Horizons track crowns what's been something of a hectic year for May. October saw the release of Mission Moon 3-D: Reliving the Great Space Race, a collection of stereoscopic images carefully curated by May with words from space writer David Eicher. And after almost a decade of delays and creative disagreements, November finally saw the release of Queen biopic Bohemian Rhapsody.
Although the film saw a decidedly mixed critical reception—The Washington Post called it "giddily entertaining" in spite of its "myriad shortcomings"—it smashed box office records to become the highest-grossing music biopic of all time.
"Nobody expected it to be that huge. We thought it would do quite well. We didn't expect it to be a record-breaking blockbuster," May says. "Delighted" with the film, he praises the attention to detail in its sets, costumes and dialogue. Rami Malek, who plays Freddie Mercury is "colossal," he adds. "What an incredible performance he gives. He just became Freddie."
Welsh actor Gwilym Lee, who played May in the movie, practised guitar with the rockstar to prepare for the role. "All the time we were together he was clocking me. He was absorbing what I was doing unconsciously. He's absorbing my mannerisms, my body movements, the tone of my voice. He just became me."
But exciting as the movie is, it's the New Horizons mission that's holding May's focus. Making a companion single "has been a little whirlwind of its own. I'm celebrating the fact that mankind wants to make this kind of adventure—wants to discover what's out there and push ever further out into the universe."
The New Horizons single will have a global digital release January 1. The song will premiere on NASA TV at 12.02 a.m. ET.