'He Lies in Honor': Members of Congress Remember Officer Brian Sicknick at U.S. Capitol
Lawmakers have paid tribute to the police officer Brian Sicknick, whose remains were ceremonially brought into the Capitol Rotunda in the building he died trying to defend.
Sicknick, 42, was injured during the January 6 insurrection when supporters of the former President Donald Trump stormed the U.S. Capitol building. He was reportedly hit in the head by a fire extinguisher, later collapsing before dying in hospital.
Sicknick was granted the tradition of lying in honor in the U.S. Capitol, which is a tribute given to distinguished Americans. He will be interred at Arlington National Cemetery.
During a ceremony on Tuesday night, attended by Speaker of the House Nancy Pelosi, Senate Majority Leader Chuck Schumer, Senate Minority Leader Mitch McConnell and House Minority Leader Kevin McCarthy, an honor guard carried an urn with Sicknick's cremated remains, which were placed at the center of the Rotunda with a folded-up flag.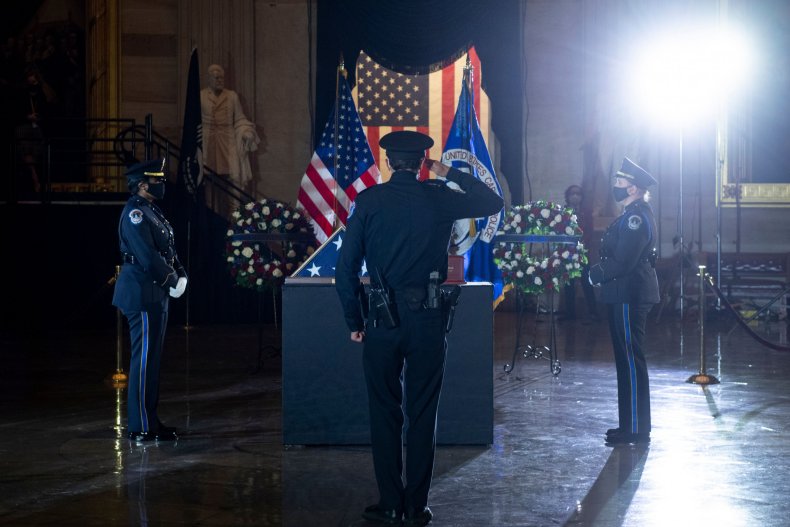 Along with first lady Jill Biden, President Joe Biden traveled to the Capitol to pay his respects to Officer Sicknick. He placed his hand on the urn.
Lawmakers praised Sicknick, with Pelosi tweeting: "Congress is united in grief and gratitude for the sacrifice of Capitol Police Officer Brian Sicknick.
"His heroism helped save lives and protect our democracy. Now, he lies in honor in the U.S. Capitol as we pay tribute to his patriotic service."
Schumer wrote that: Sicknick's "heroism helped save lives and defend this temple of our democracy." In a follow up tweet, he wrote: "May his memory live forever as a model of service to our nation and courage in the face of danger."
New Jersey Senator Cory Booker tweeted: "He will lie in honor in the Capitol where many will pay their respects to a hero who put his life on the line to save others."
Meanwhile, Rep. Josh Gottheimer (D-NJ) referred to the officer's home state in his tweet which said: "Tonight, the remains of fallen U.S. Capitol Police Officer Brian Sicknick—a native of NJ & Air Force National Guard veteran—arrive to the Capitol Rotunda.
"We all grieve with his loved ones & we honor his ultimate sacrifice in defense of our democracy."
Rep. Tim Ryan (D-OH) tweeted: Chills. A man of great honor and courage. We will find justice for Officer Sicknick. May he rest in peace."
Adriano Espaillat (D-NY) wrote: "Extending my prayers to the family and loved ones of Capitol Police Officer Brian Sicknick and may they find peace during this time of bereavement."
Mary Gay Scanlon (D-PA) tweeted her anger at the circumstances of Sicknick's death, writing: "I'm devastated by watching the arrival of Officer Sicknick at the Capitol.
"The tragedy of the loss of his life, the two officers who took their own lives, and the scores of those injured remind us of the horror wrought on our Capitol at the hands of a violent mob."
Originally from New Jersey, Sicknick lived in Virginia and was a veteran of the Iraq War before becoming a police officer, serving with the U.S. Capitol Police since 2008.
Trump faces an impeachment trial this month on a charge of inciting his supporters to storm the building.
The graphic below provided by Statista shows the support in the U.S. for accounts of the Capitol riots by new witnesses at Trump's impeachment trial.