Family of U.S. Capitol Officer Condemns New Footage: 'Frankly Sick of It'
The family of Brian Sicknick, the Capitol Police officer who died the day after the January 6, 2021, attack on Congress, has blasted Fox News as "unscrupulous and outright sleazy" after Tucker Carlson claimed the "overwhelming majority" of those who took part were "sightseers."
Carlson has been handed 40,000 hours of footage taken on January 6 by Republican House Speaker Kevin McCarthy, which he claimed proves the Biden administration has been "lying" to the American people.
On January 6, 2021, hundreds of Donald Trump supporters stormed Congress in a bid to stop the 2020 presidential election result being certified, attacking police with flagpoles, rocks and chemical irritants. Sicnick, one of the officers defending the building, was sprayed with chemicals and died the next day having suffered two strokes.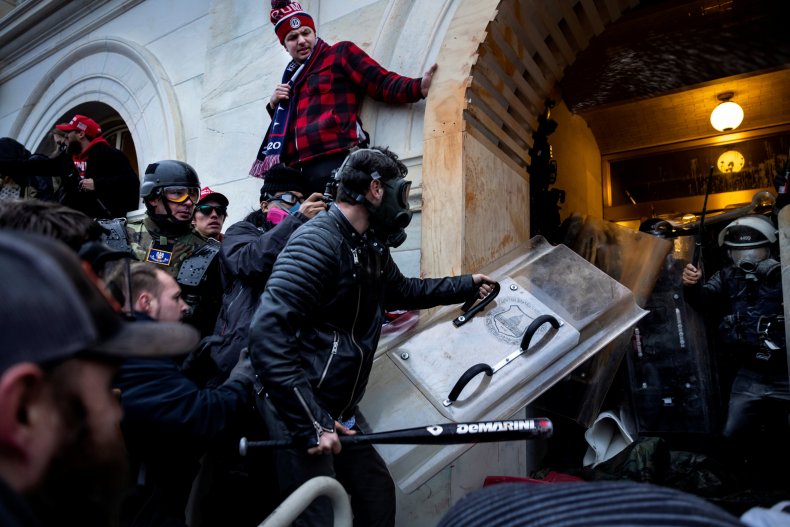 On Monday, Carlson broadcast some of the calmer footage he was sent on his Fox News show, commenting: "The footage does not show an insurrection or a riot in progress.
"The video record does not support the claim that January 6 was an insurrection. In fact, it demolishes that claim. And that's exactly why the Democratic Party and its allies in the media prevented you from seeing it."
In response Sicknick's family released a statement, saying they were "outraged at the ongoing attack on our family by the unscrupulous and outright sleazy so-called 'news' network of Fox News who will do the bidding of Trump or any of his sycophant followers, no matter what damage is done to the families of the fallen."
They continued: "Carlson's 'truth' is to pick and choose footage that supports his delusional views that the Jan 6th insurrection was peaceful and that Ashley Babbit was some kind of martyr...Whilst making a criminal out to be a martyr, he is also downplaying the horrid situation faced by the USCP (United States Capitol Police) and DC Metro Police who were incredibly outnumbered and were literally fighting for their very lives."
Babbit, a 36-year-old Trump supporter, was shot dead by a police officer on January 6, inside the Capitol Hill complex. An internal USCP inquiry found the shooting was lawful.
The statement concluded: "The Sicknick Family would love nothing more than to have Brian back with us and to resume our normal lives. Fictitious news outlets like Fox and its rabid followers will not allow that.
"Every time the pain of that day seems to have ebbed a bit, organizations like Fox rip our wounds wide open again and we are frankly sick of it."
Newsweek has contacted Fox News for comment by email.
On his Truth Social account, Trump praised Speaker McCarthy for releasing the footage to Carlson.
He added: "The New Surveillance Footage of the January 6th Events sheds an entirely different light on what actually happened. The Unselect Committee was a giant SCAM, and has now unequivocally been stamped as CRIMINAL FABRICATORS OF THIS MOST IMPORTANT DAY."
A House Select committee investigation into the January 6 attack on Congress concluded Trump was the "central cause" of the violence, adding: "None of the events of January 6th would have happened without him."