Brian Urlacher Calls Out NBA Player Boycott, Says Jacob Blake Was Reaching for a Knife
Former Chicago Bears linebacker Brian Urlacher got sacked by Twitter on Thursday after comments he made that compare and contrast the NBA playoff postponements versus Brett Favre playing the day after his father passed away.
The NBA postponed playoff games Wednesday and Thursday as its players want to protest the recent shooting of Jacob Blake, a Black man shot multiple times by police in Kenosha, Wisconsin. Urlacher posted to social media that former NFL quarterback Brett Favre "was a legend" for playing a Monday Night Football game the day after his father passed away.
Here's what Urlacher, an NFL Hall of Fame player, wrote on Instagram:
"Brett Favre played the MNF game the day his dad died, he threw 4 TDs in the first half, and was a legend for playing in the face of adversity.
"NBA players boycott the playoffs because a dude reaching for a knife, wanted on a felony sexual assault warrant, was shot by police."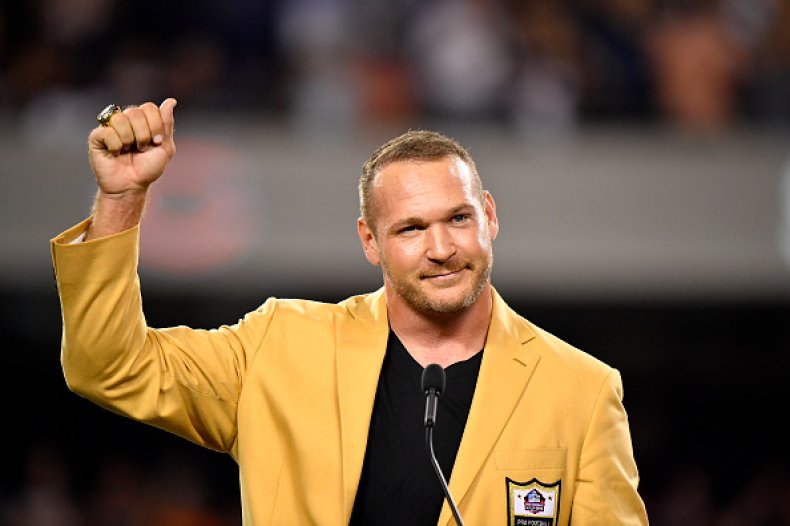 Players from the Milwaukee Bucks led a protest by not showing up for warmups prior to Game 5 against the Orlando Magic on Wednesday. Once that game was officially postponed, the Houston Rockets and Oklahoma City Thunder postponed, and then the Los Angeles Lakers and Portland Trail Blazers did the same, making it a clean sweep Wednesday.
The NBA has postponed all games on Thursday, and stated it would try to restart its playoff games either Friday or Saturday.
Why the boycott? Jacob Blake, a Black man, is shown in a video Sunday getting shot in the back several times by a Kenosha police officer. The video shows Blake walking from the passenger side of a grey sport van, and then walking around the front of the vehicle and trying to enter the driver's side. A white police officer is shown grabbing the back of the Blake's shirt and pulling him back from entering the car. Then, seven loud pops can be heard.
Blake was taken to a local hospital, where he had surgery. Blake is paralyzed from the waist down.
On Monday night in Kenosha, there were violent protests, with rioters setting businesses on fire, including car lots. On Tuesday night, there were more protests, and 17-year-old Kyle Rittenhouse was eventually arrested for allegedly shooting two people to death and injuring another.
Brett Favre's father passed away on Dec. 21, 2003, on a Sunday. The next night, Favre passed for 311 yards in the first half against the Oakland Raiders, including two touchdowns in the first quarter and two more in the second quarter. Favre's Green Bay Packers won, and he received emotional hugs from his teammates at the game's end.
Favre was a longtime player for the Packers, which is the oldest rival of the Chicago Bears, for whom Urlacher played.
The Chicago Bears issued a statement Thursday that it would work to better understand race relations and curb police brutality. Urlacher's name was not mentioned.