Brian Williams Snarkily Urges Viewers to Look for Trump's Missing Health-Care Plan
MSNBC chief anchor Brian Williams closed his nightly television show on Friday with a snarky message for viewers aimed at President Donald Trump, urging them to help look for his missing health-care plan.
"If you do go out this weekend, please do so safely, and please pay special attention to your surroundings. Situational awareness they call it," the newscaster joked. "Look around and look hard, because you can be a part of a great national effort to find the president's health-care plan. We know it's out there because he told us."
Trump and his supposed health-care plan has come under recent scrutiny, after both him and Democratic candidate Joe Biden addressed the topic during the final presidential debate on Thursday.
While Biden outlined what he referred to as "Bidencare," a plan which aims to expand upon former President Barack Obama's Affordable Care Act (ACA) by adding a public health insurance option similar to Medicare, Trump simply offered that he'd "like to terminate Obamacare, come up with a brand new, beautiful health care."
It is a version of the same statement Trump has echoed for the nearly four years he's been in office. The Lincoln Project, a political action committee whose advertising frequently attacks the president, released an ad on Friday compiling 16 separate instances in which Trump promised a health-care plan would be coming soon—starting in January 2017, when he was inaugurated, all the way up to this week.
"We're gonna get a health bill passed, we're gonna get health-care taken care of in this country," Trump said in January 2017.
"The plan is coming out over the next four weeks," the president later said in May 2019.
"We're signing a health-care plan within two weeks. A full and complete health-care plan," he said in July.
But no such plan has ever been announced. The White House held an event last month touted as the unveiling of a plan, although it was more a series of steps the Trump administration has already taken rather than the sort of comprehensive legislation he promised, Time reported.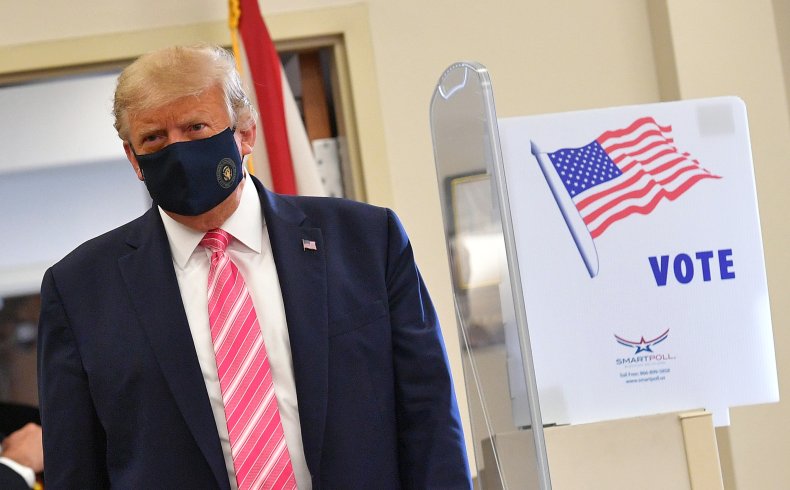 During an interview taped October 20 with 60 Minutes correspondent Lesley Stahl, the journalist pressed Trump repeatedly on his supposed health-care plan. Trump has expressed throughout both his 2016 campaign and current presidency his desire to dismantle the ACA, replacing it with something new.
The U.S. Supreme Court is set to vote on the constitutionality of the ACA the week after the November 3 election, potential delivering the death blow to Obamacare—an action that could leave an estimated 22 million Americans who rely on it without health insurance virtually overnight because Trump has offered no replacement, Stahl pointed out.
Trump dismissed the notion, insisting "we will make a deal, and we will have a great health-care plan...a less expensive and much better plan." Stahl interjected, telling the president he keeps saying that and asking why the American people haven't seen a plan.
"You have seen it," Trump responded. "I've been putting out pieces all over the place, and we actually have plans. And we have 180 million people right now have a plan. And you haven't been watching. You haven't been watching."
Trump continued to change his tune throughout the interview, using the future tense to discuss the said health-care legislation before maintaining that his administration has "large sections of it already done."
"You keep saying that and don't show it to us," Stahl said.
"We've come up with many plans, Lesley," Trump replied. "And we have—They're already in existence. If—I'll tell you what, after this interview, I will show you, short term, longer-term. I'll show you different plans. We've come up with many plans."
The president revealed in a tweet following the interview that he did show Stahl some different plans. He posted four photos of White House Press Secretary Kayleigh McEnany handing the journalist an enormous book. The final photo, however, prompted some head-scratching, as the page Stahl flipped to appears to be blank.
Trump offered perhaps his most clear assessment of the health-care plan in question toward the end of his interview with Stahl, suggesting that Americans "may be stuck" with the ACA if the Supreme Court rules in favor of it, in which case Trump would be "wasting a lot of words" should he have come up with his own replacement act.
"If we win, we will come up with a much—and we will do that—come up with a much better health care for much less money, always protecting people with preexisting conditions," Trump said.
Newsweek contacted the White House for comment, but did not hear back in time for publication.