Brian Wilson, Steven Van Zandt Mourn Ronnie Spector: 'Loved Her Voice So Much'
Members of the music community took to social media Wednesday evening to mourn the loss of Ronnie Spector, the lead singer of the 1960s girl group The Ronettes, who died this week at age 78.
The "Be My Baby" singer passed away on Wednesday while in her husband's arms following a "brief battle with cancer," her family said in a statement posted on Spector's website.
Brian Wilson of the Beach Boys, who has spoken often in the past about the impact listening to "Be My Baby" had on him, posted a tribute to Spector shortly after the news of her death broke.
"I just heard the news about Ronnie Spector and I don't know what to say," Wilson tweeted. "I loved her voice so much and she was a very special person and a dear friend. This just breaks my heart. Ronnie's music and spirit will live forever."
Accompanying Wilson's tweet was a short video showing Spector visiting Wilson ahead of one of his performances in New York City about 20 years ago.
"I imagine Be My Baby will play on repeat across the globe today," wrote actor Elijah Wood in his tweet about Spector's passing.
Dave Davies of the Kinks also mentioned Spector's "Be My Baby" as he paid tribute to the late singer.
"Rest In Peace Ronnie Spector such a special time in music," Davies tweeted, adding a YouTube link to what he described as the "beautiful" song.
Rocker Joan Jett shared a photo of a young Spector on social media Wednesday evening, describing her impact on rock and roll as "indelible."
"She was the sweetest person you could ever know," Jett added.
Susanna Hoffs of The Bangles shared the same photo of Spector on Twitter with a broken heart emoji.
"Peace and Love, Ronnie Spector," Hoffs tweeted.
Steven Van Zandt of Bruce Springsteen's E Street Band also acknowledged Spector's death on social media and offered condolences to her family. "It was an honor to Produce her and encourage her to get back on stage where she remained for the next 45 years," he tweeted.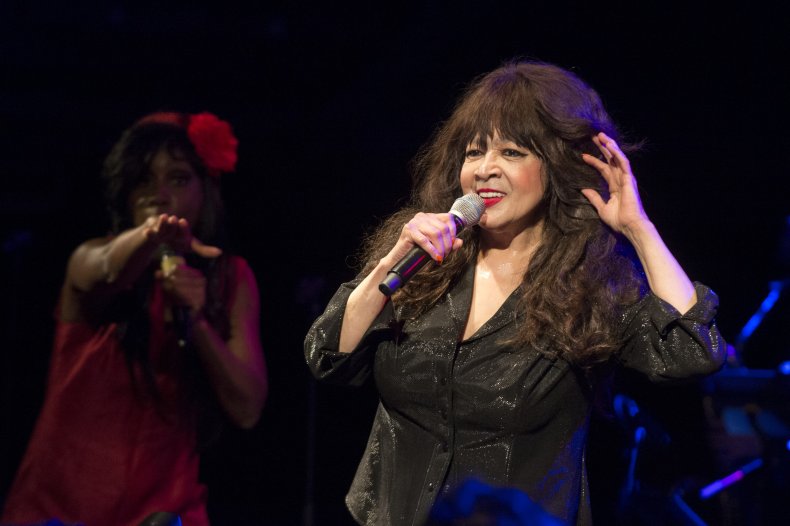 Born Veronica Bennett, Spector became one of the most prominent female voices in rock and roll during the 1960s as the lead singer of The Ronettes. She became known as Ronnie Spector following her marriage to record producer Phil Spector in the late 1960s.
Spector and the Ronettes were inducted into the Rock and Roll Hall of Fame in 2007. The Ronettes returned to the top 10 of Billboard's Hot 100 chart earlier this year for the first time since 1963, when "Be My Baby" was first gaining popularity, according to Spector's website.
"Ronnie lived her life with a twinkle in her eye, a spunky attitude, a wicked sense of humor and a smile on her face. She was filled with love and gratitude," her family said in a statement released following Spector's death. "Her joyful sound, playful nature and magical presence will live on in all who knew, heard, or saw her."
Instead of sending flowers, Spector's family urged mourners to make donations to either their local women's shelters or to the American Indian College Fund.
Newsweek reached out to the American Indian College Fund for comment.