Who Is Brianna Ghey? YUNGBLUD, Munroe Bergdorf Pay Tribute
Celebrities have paid tribute to Brianna Ghey, the transgender teenager stabbed to death in a park in the United Kingdom.
Brianna was a prominent TikToker who was murdered in Linear Park in Culcheth, Cheshire, north-west England, on Saturday, February 11.
Two 15-year-olds, a boy and a girl, have been charged with her murder. Police confirmed it was investigating the murder as a possible hate crime.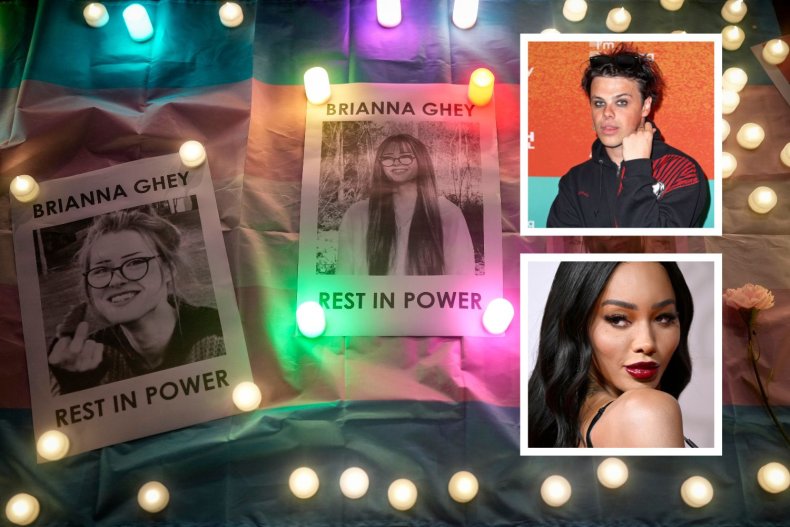 Tributes poured in for Brianna who was known as a prominent transgender advocate and supported many other transgender teens through online social networks.
"Brianna was one of the most open people I've ever met. It's obvious she was struggling, with her mental health and being bullied—online and in real life—there's no denying that, but she kept going. It didn't ever stop her doing anything," Brianna's friend Channah told Vice.
Celebrities such as musician YUNGBLUD and rapper Danny Brown took to their social media to pay tribute to the teen and condemn violence against transgender people.
Yungblud wrote on Twitter: "utterly heartbroken about the death of 16 year old brianna ghey. protect trans kids every day and fight relentlessly against anti-trans sentiment & legislations being pushed by our heinous government . rest in peace brianna ghey 🖤"
U.S. rapper Danny Brown also took to Twitter to share a photo of Brianna with the text "nothing is funny anymore."
British transgender model Munroe Bergdorf did not mince her words blaming the "incessant and violent culture war" against the trans community for Brianna's death.
"This weekend Brianna Ghey, a 16 year old British transgender girl was murdered in public, stabbed to death in a Cheshire village park," Bergdof wrote on Instagram alongside a photo of Brianna. "Investigators have said that this was a targeted attack, but not a hate crime (?) even though they are yet to establish a motive. Even though her parents wrote letters to the school to say that she was being singled out."
Bergdorf added: "Following her death, the conservative British press are misgendering her and using her pre-transition name. This incessant and violent culture war that the trans community is being relentlessly subjected to, on both sides of the Atlantic, is having real life consequences on our mental health and physical safety.
"When you advocate for exclusion, erasure and segregation, you are advocating for death, harm and pain. We have seen this all before, yet little seems to have been learned."
The model wrote that "transphobia costs lives. We are burying our loved ones WAY before their time."
"We ALL need to do what we can, with everything we have to protect queer and trans youth," she implored. "The UK government and the British press have blood on their hands. Rest in peace Brianna Ghey. Sending love and solidarity to her family and friends."
Brianna's family described the teenager as a "much loved daughter, granddaughter, and baby sister."
"The loss of her young life has left a massive hole in our family," they said in a statement.
The family also said she was "beautiful, witty and hilarious... strong, fearless and one of a kind" and a "larger-than-life character."
Other friends said Brianna "changed their lives," and helped them combat transphobia, and bullying, and access medical care. They said that even her simply existing openly as a transgender teen on social media was a huge inspiration.
"I'd never met anyone who started their transition so young who was so respectful and welcoming to other trans women, not catty at all. She'd help younger trans women to safely and legally access hormones, advising them about private doctors, and congratulating them on progress," Channah told Vice, who used only the first names of Brianna's friends.
"I'm just so angry and sad. The sweetest 16-year-old girl who was a beacon of positivity, now gone."
Another friend Amelia recounted how she and Brianna started their hormone therapy together.
"I met Brianna three years ago. We met through TikTok when she was new to the app, when she'd just started doing makeup videos," Amelia said. "She was posting about the fact she was trans, and I told her straight away that I am too, because at that moment I didn't have any trans friends."
Amelia added: "We were supposed to be meeting up later this year, and we'd been planning for months how we wanted to have a life together. We would plan our future apartment, and how we'd go and get our hair done, have our surgeries. But now I'm having to think about doing all of that by myself."
Long-time transgender advocate and mother of a transgender daughter, Susie Green, told Newsweek she was 'terrified and enraged' at what happened to Brianna. Green who once headed the U.K. trans teen support organization Mermaids, now works as project director at gender-affirming health care provider, GenderGP.
"Personally, I have seen the devastating impact on so many young people of the vile and hateful transphobia particularly aimed at trans women and trans young people."
"As a parent, it terrifies me. As a member of an organization that supports trans people, it enrages me. The trans community has been crying out for support as hate crimes rise and now, inevitably, a beautiful young woman in the prime of her life is murdered."
Green added: "It cannot be a coincidence that Brianna was verbally and physically assaulted for being trans before she died. Here at GenderGP, we are grief-stricken for her, for her family, and for a community joined together in shock and despair."
Vigils for the slain teen were held in cities across the U.K. on Tuesday, February 14 with more planned on Wednesday.