Brianna McNeal, Olympic Champion, Banned From Competing for Second Time Over Doping Violations
Olympic champion Brianna McNeal has been banned from competing for the second time over anti-doping rules.
On Friday, the Athletics Integrity Unit (AIU) handed McNeal, who won gold at the 2016 Rio Olympics in the 100-meter hurdles, a five-year suspension, backdated to August 15, 2020, for tampering with part of a doping control process.
This is her second ban related to anti-doping rules, but neither ban was for failing a drug test. The AIU, which handles anti-doping cases in track and field, has not published the details of McNeal's case for confidentiality reasons.
McNeal will still be allowed to compete at the U.S. Olympic Trials later this month while appealing the ban, but her appeal to the Court of Arbitration for Sport will be heard ahead of the Tokyo Olympics, which will decide her fate in this summer's games.
If the ban is upheld, she will be suspended through the next two Olympics—in Tokyo and in Paris in 2024.
McNeal was first charged with "tampering within the results management process" back in January, but her management agency denied that she tested positive for doping.
"ICM Stellar Athletics would like to clarify that Brianna has not tested positive for any substance banned in the sport of track and field," McNeal's agency said earlier this year. "Brianna will request a hearing, where she fully expects to be exonerated and continue her championship career."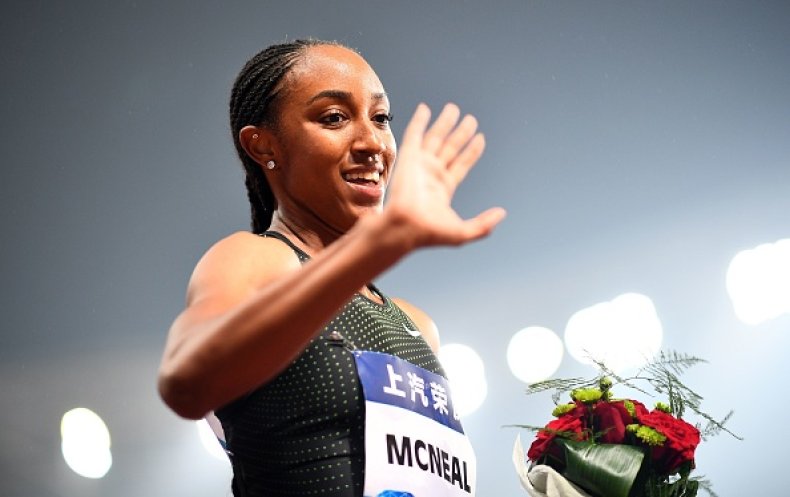 McNeal's first doping-related suspension was handed down by the United States Anti-Doping Agency in 2016. The 29-year-old hurdler faced a one-year ban for failing to properly file her whereabouts for out-of-competition testing three times that year.
She did complete eight out-of-competition tests over the course of 2016 and did not test positive. An arbitration panel said it believed she was clean, with "no evidence of avoiding testing, masking drug use, or using drugs."
McNeal received the least allowable penalty after it was discovered that for two of the missed tests, which were after the Rio Olympics, she had been traveling home to Florida to be honored and then to meet with President Barack Obama.
However, the ban caused her to miss the 2017 World Championships in London. She also qualified for the 2019 world championships, but was disqualified after a false start.
McNeal ranks seventh among Americans in the 100-meter hurdles. The top three athletes in June 20's Olympic Trials will head to Tokyo to represent Team USA in July.
Newsweek reached out to ICM Stellar Athletics for further comment but did not hear back before publication.