Bridal Hair Trial Goes Wrong in Viral Video Viewed More Than 2 Million Times
There are several parts to planning a wedding and how everything will look. Many brides opt to do a trial run of how some hair and makeup options would look before the big day, but not all trials run smoothly. TikToker Cass McMillan, who goes by cassangeee on the platform, posted a video that garnered more than 2 million views showing what the hairstylist did to her sister's hair during a bridal hair trial.
The bride's inspiration photos of different hairstyles were shown in the video before the outcome of her hair in the trial appointment. A frequently used audio clip to depict "expectations vs. reality" scenarios on TikTok played in the background.
A simple styled low ponytail was what the bride was hoping to achieve at her appointment, but she received a curled and coiffed high ponytail.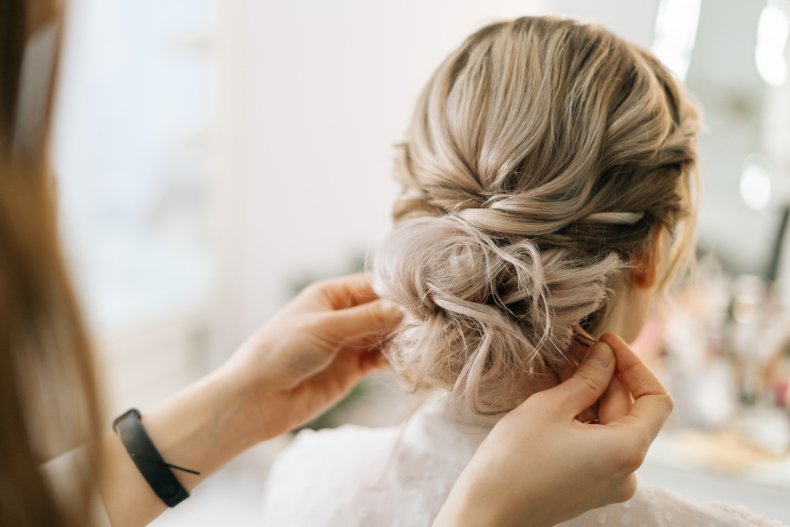 "Thank goodness it was only a trial run...did not go back," the caption on the original video read.
Hair and makeup trials are an opportunity to work with a stylist and makeup artist ahead of time, and brides can start to piece their final look together for their special day.
"Even if you think you have the perfect vision, it's not worth the risk of waiting until the day-of to make sure," a blog post published with Martha Stewart Weddings read. "A bridal hair trial gives you the opportunity to see the 'do' that you're picturing come to life."
To prepare for the appointment, the blog post suggested creating mood boards that include different styles and photos of the dress. For brides who were unhappy with the trial, which can happen, the piece noted the bride and stylist can try to get on the same page with the look.
"Give the stylist another chance to fix the elements you don't like, right there on the spot," the piece read. "Should your visions still not match up, let her know that you're meeting with other pros and you'll be back in touch."
McMillan filmed a follow-up video to discuss her sister's full hairstyle journey. She showed the outcome of the first trial and explained the style was not at all what they were looking for. When the first stylist wasn't able to do a look that the bride was hoping to achieve, she went to a different hairdresser, but that did not work out either.
Many commenters were puzzled with how a seemingly easy look went south.
"It's giving me George Washington," wrote the official TikTok account for Duolingo, a language learning service.
"How can they overcomplicate a simple low pony," one commenter wrote.
"They were trying way too hard for something so simple!" a viewer said.
Although the bride had a difficult time finding a hairstylist who would be able to give her what she was looking for, McMillan said in her follow-up video that she found luck with the third stylist.
"This is a walking advertisement for trial runs. Goodness what a difference," a commenter wrote after seeing photos of what the bride's hair looked like on her wedding day.
"It was simple and basic and it was what she wanted," McMillan said. "She looked beautiful.
Newsweek reached out to Cass McMillan for comment.