Bride Postponing Wedding Until Groom Fixes His Smile Blasted: 'Ashamed'
Reddit users have been left horrified by a bride who wants to postpone her wedding until her fiancé has his braces removed, as she doesn't want them to ruin the photos.
In a post shared on Reddit, user u/Slightrow3100 asked for advice because her fiancé has recently got adult braces fitted, which is something she "encouraged him to get." However, she doesn't want them to be noticeable in the wedding pictures.
The bride believes they should postpone their big day until her fiancé has his braces taken off to ensure that the wedding photos will be "aesthetically pleasing," as she puts it. This hasn't gone down well with her fiancé, who feels she is ashamed of how he looks.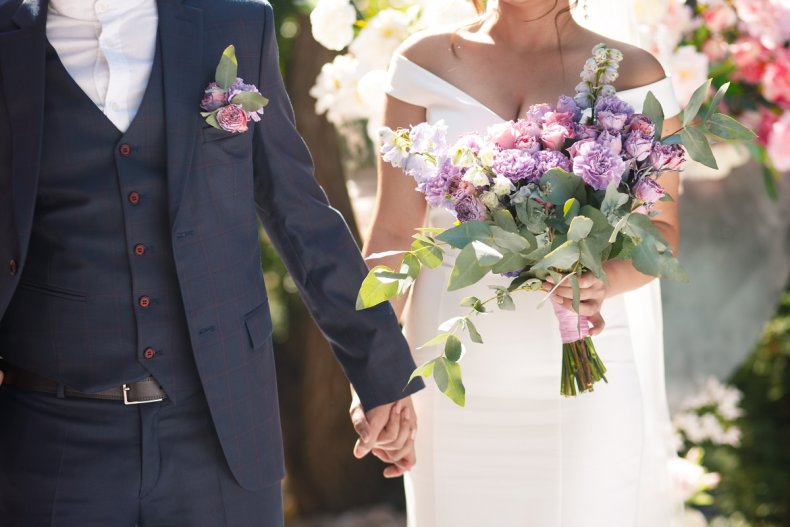 The American Dental Association outlined the average costs that people in the U.S. incur on their visits to the orthodontist, and braces are among the most-expensive treatments listed. The ADA puts their average cost at around $5,500, but the price varies, dependent on the type fitted.
The cost of having braces was something the original Reddit poster's fiancé had to take into account, as he didn't get the invisible braces because they "were much more expensive." With the wedding coming up and a honeymoon to follow, he was trying to spend less on the dental treatment.
Wedding celebrant Jamie Rosler, who has ordained many weddings herself, spoke about this bride's dilemma and the overwhelming urge to make sure that weddings look completely perfect.
Rosler told Newsweek: "The gut reaction is understandable. Photos can be such a big part of the wedding-day schedule and are often the only tangible source of memories from the big day. But are pretty photos the reason for a wedding? I sure hope not!
"If this couple is getting married because they have proven to each other that they are stronger together, and that they love and appreciate each other, then something so superficial shouldn't get in the way of their plans."
Rosler suggested that reaching for perfection is an unattainable goal that stems from an external pressure.
She added: "They shouldn't get married to impress other people, and when the day arrives, I would hope they're able to focus far more on why they're there, than some out-of-reach expectations."
User SlightRow31000's fiancé has accused her of being "so shallow" for wanting to postpone their wedding until he has his braces removed. He even suggested they call off the nuptials entirely because of this disagreement.
The Reddit post continues: "He ended up saying that if I postpone the wedding now, I might as well just call it off altogether, which I think is incredibly unfair of him to do."
The post has already received more than 8,000 votes, and more than 5,200 comments. These are almost unanimous in calling the original poster out for her behavior, and insisting that postponing the wedding because of a set of braces isn't necessary.
The top-voted comment on the post, with 31,000 up votes, reads: "He should postpone the wedding until you mature."
Another user commented: "Marriage is about sharing your lives, about loving and accepting your partner as they are, not about hiding stuff you dislike in each other for a perfect show. Many people don't seem to understand that the weddings are not about the pictures."
Has a wedding come between your relationship with a loved one? Let us know via life@newsweek.com. We can ask experts for advice, and your story could be featured on Newsweek.