Bride Asking Sister To Remove 'Essential' Medical Device For Photos Dragged
A bride has been slammed after she asked her sister, who has diabetes, to remove medical equipment for wedding photos.
Every bride wants their memorable moment to be captured in the best possible way.
But one bride-to-be was dragged after she asked her sister to remove vital medical equipment for the sake of her own vanity.
In a viral post uploaded to Reddit's AmITheA****** sub, which can be seen here, user DiabeticBridesmaid explained she is a type 1 diabetic and wears two medical devices.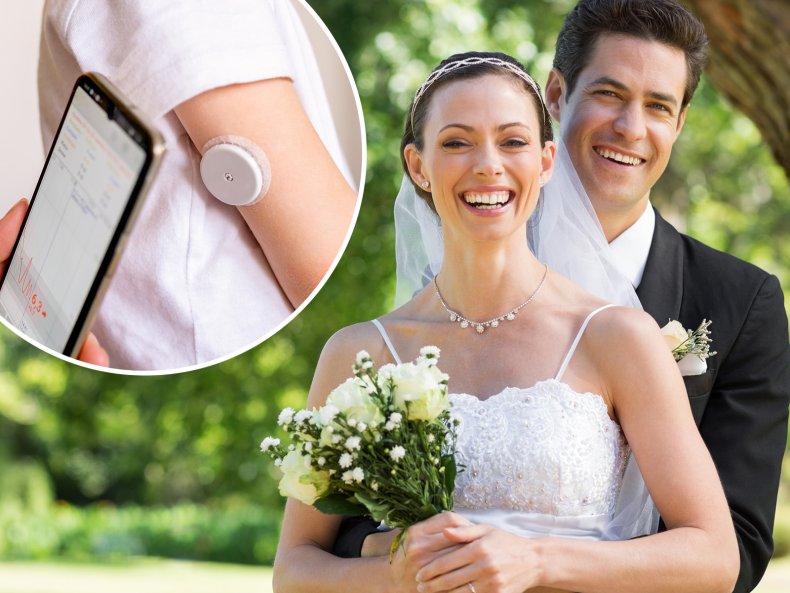 The devices—a Dexcom blood sugar monitor on one arm and an Omnipod insulin pump on the other—work together to monitor and regulate her blood sugar levels.
She added: "When we were trying on our dresses, my sister told me she wants me to not wear them during the wedding because the gowns are sleeveless and the devices will look ugly in the photos.
"I told her I wasn't okay removing them, they're essential medical equipment and I'm not going to put myself in a position to affect my health just for some photos.
"My sister complained to our mother and some of our friends, and they're all taking her side. They say it's no big deal if I just don't wear them during the wedding, but I don't see why I should."
The Reddit poster said she tried to move the equipment to her stomach to see how it would feel, but found it "incredibly uncomfortable." She added her family "were all complaining" that she was not willing to compromise.
Zoe Burke, wedding expert and editor at Hitched, told Newsweek said she understood why people might be concerned about their photos, but they need to take medical needs into account.
She said: "With the rise of social media, people are more concerned than ever about how their wedding photos will look, and sometimes the pressures of wedding planning can cause people to lose perspective.
"In this instance, the bridesmaid's medical equipment is part of her—it's essential for her health monitoring, and placing it elsewhere would cause her discomfort.
"It's not at all unreasonable for her to stand her ground in this instant, and the mother and bride should probably reconsider their priorities."
Burke added: "I would always advise couples to be accommodating of their guests—the clue is in the word, they are your 'guests,' so it's up to you to host them, look after them and make them feel comfortable.
"Medical equipment should always be accommodated, and could even be dressed up for the occasion.
"At Hitched, we've seen things such as flower-adorned wheelchairs—so there are ways you can make your guests feel even more included at your wedding. If someone suggested your medical equipment wasn't welcome at their wedding—however briefly—I would suggest refusing the invitation."
Online Condemnation
Since being shared online, the post has managed to attract some 5,000 upvotes and more than 1,300 comments.
The overwhelming number of people who commented on the post hit out at the bride-to-be, with some even calling for the sister to not go to the wedding.
Reddit user thatshygal717, whose comment as liked more than 11,500 times, said: "NTA [not the a******]. Promptly decline the invitation to attend if your sister cares more about her aesthetic wants than your medical needs."
Kit_3000 added: "I think this pretty much every bridezilla post that concerns pictures. It's like every problem comes straight out of the 90s where photoshop is a distant science fiction."
Mortgage_gurl commented: "I've known people whose pumps stopped for an afternoon and they were incredibly sick, do not risk it and any good photographer can airbrush that anyway if she is that ridiculous, but I personally would bow out."
Number Of Americans Living With Diabetes
People with type 1 diabetes have a pancreas that does not make or does not make enough insulin.
Insulin helps blood sugar enter the cells in your body for it to be used as energy and without it, blood sugar cannot get into cells and builds up in the bloodstream.
High blood sugar can damage the body and causes many of the symptoms and complications of diabetes.
The CDC has said some 37.3 million people in the U.S. have diabetes, an estimated 11.3 percent of the population.
Has a wedding come between your relationship with a loved one? Let us know via life@newsweek.com. We can ask experts for advice, and your story could be featured on Newsweek.
Newsweek has contacted DiabeticBridesmaid for comment.