Bride Backed For Refusing to Let Parents' Boyfriend Walk Her Down the Aisle
A bride-to-be received online support after sharing that she's refusing to let her parents' boyfriend walk her down the aisle on her wedding day, despite her parents' wishes.
Posting in Reddit's "Am I The A**hole" (AITA) forum under the username u/MomAndDadGotABF, the bride revealed that her parents' boyfriend, Brian, moved in with her family when she was 14. Though she considers Brian to be "family," she doesn't want him involved in her ceremony.
The post has garnered more than 6,000 upvotes and over 600 comments from supportive Redditors, many of whom said the bride's parents were being "selfish."
At the beginning of her post, the bride said her parents used to fight "a lot." Then, one day, they stopped.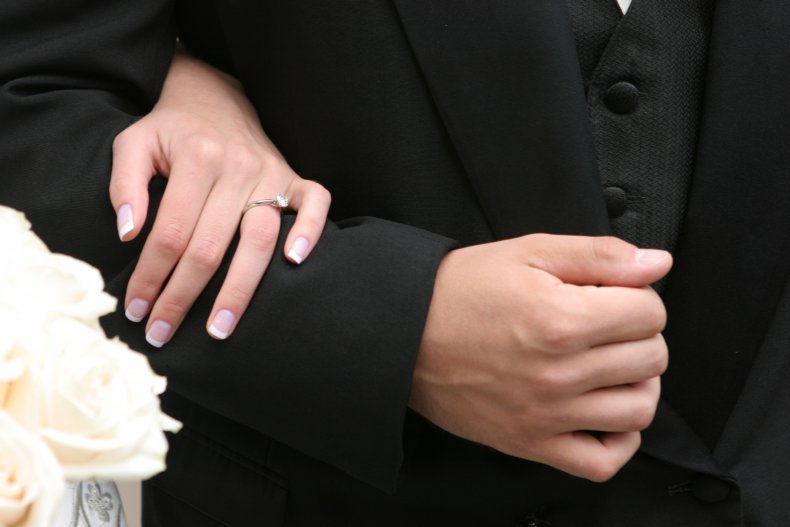 "[T]hey both got a lot happier and we started doing a lot more family activities. [We] would watch a show every night, we'd go to the movies or a restaurant or hiking and stuff on the weekends, [and] we'd start having little parties and stuff when I got good grades," the bride recalled.
"Then when I was 14, they introduced me to Brian...and told me that he was their boyfriend and they'd been seeing him for a year and he was moving in with us," the bride continued, adding that things got "weird" after Brian moved in.
"Like we stopped watching shows every night...[and] he'd get affectionate with mom and dad in front of me and I honestly stopped bringing my friends over after one of them saw him and dad getting into it on the couch," the bride explained.
She learned to push past the discomfort, saying: "He always made my mom and dad happy and [he] never gets in my way if I'm sad and I need to cry to dad or cuddle my mom, so why would I do anything about it?"
But when her parents requested that she let both Brian and her father walk her down the aisle on her wedding day, she had no choice but to say something.
"[They said] Brian was kind of like a stepdad to me, but he wasn't. Yes, I'll say he's family but he's not any kind of dad to me," the bride wrote.
"They asked if I could give him any other role, I said no and they both got sad and said it was like I was rejecting their bond with Brian," the bride concluded.
Polyamorous Relationships
A recent study published in Frontiers in Psychology revealed that one in nine U.S. adults have, at some point, been involved in a polyamorous relationship. Further, the study found that one in six Americans would like to try polyamory.
However, despite how popular the relationship structure has become, the study also found that most people are "judgmental" of it.
"Rather than judge, it would be wonderful to take the opportunity to learn more about ourselves and our systems; what works and for who and why, some of the benefits, as well as some of the common difficulties, pleasures as well as harms. If we don't talk about it and de-stigmatize it, then we can't learn and understand, and do better by ourselves and our partners," Victoria Brooks, a U.K.-based researcher on sexual ethics at the University of Westminster, told Newsweek.
Redditor Reactions
But many commenters pointed out that u/MomAndDadGotABF wasn't being "judgmental" of her parents' relationship with Brian. In fact, many argued that she's been rather "accepting" of the arrangement.
With that in mind, many slammed u/MomAndDadGotABF's parents for trying to make her wedding day about their relationship.
"NTA [not the a**hole]. As a polyamorous person, your parents are being very selfish. Brian will likely never be to you what he is to them (relatively speaking) and they shouldn't try to force it," wrote u/sapphisticated_heaux. "You're wonderful for being happy that your parents are happy, but this is a complicated situation that most of society still looks on very unfavorably. I'd recommend talking with a therapist about this. Your emotional needs matter, too."
"NTA. It's your wedding. If they want Brian involved, let them have a vow renewal ceremony," said u/ChapSteve711.
"NTA it's your wedding so frankly, it doesn't matter what Brian is to your parents it matters what he is to YOU. Your parents are being selfish with the request," added u/Environmental_Tea864. "It's really great that you were able to accept him and be on good terms because you saw he made them happy but they can't put expectations on your relationship with him like that."
Newsweek has reached out to u/MomAndDadGotABF for comment.
Other AITA posters to go viral recently include a dad who said his wife wants to change their one-year-old daughter's name and a woman who's charging her sister-in-law $800 to live in her spare bedroom.