Bride Cheered for Billing In-Laws Over Wedding Guests They Secretly Invited
A bride has been applauded for making her in-laws pay for the guests they invited to her wedding.
The 23-year-old vented her frustration to Reddit, under username u/Diligent_Scratch2844, where it amassed 7,000 upvotes since being posted on Friday.
Later, the post was deleted, but it was backed up on the site after sparking a fierce debate, as the engaged woman responded to comments, sharing more details.
The woman explained she and her fiancé, 27, initially wanted to elope, but they were talked into a "church wedding and a small reception."
The couple trimmed their guest list to 30 people each, plus the four-person wedding party, described as "big but manageable."
While in the comments she confirmed the "original plan was catering by a couple of ladies from church."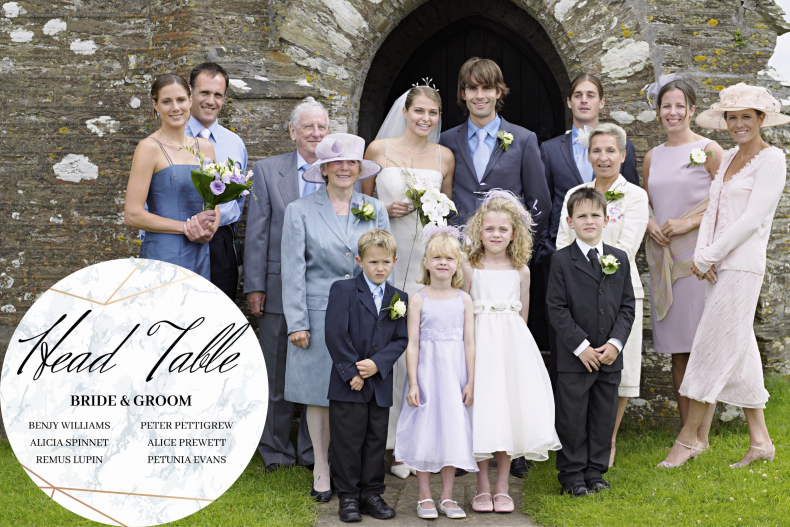 A wedding is an expensive event, with website Brides.com stating the average nuptials cost $20,000, as reported by their "Weddings & Money 2021: A Brides & Investopedia Study."
Big costs include the venue, the second-most expensive item after the rings at around $3,000 and catering is in third place, at $2,000.
The website quoted Jamie Chang, owner and wedding planner at Mango Muse Events, who claimed any cash-strapped bride and groom need to reduce their guest list to keep costs down.
"So much of the planning process is guest-count related, so when you reduce your guest count, all those costs also go down, since you need less space, less food, fewer drinks, fewer rentals, fewer centerpieces, fewer favors, etc.," she said.
But the bride's in-laws threw a spanner in the works, as she said: "My fiancees [sic] parents decided that they wanted more people at the wedding. Like 40 more. Cousins he hadn't seen years, their next door neighbor, his mother's business partner, two of his father's friends from the military. Just random people.
"I found out because my printer, my cousin, told me that my future in laws had requested another batch of invitations."
Naturally, she was livid, but after chatting with her future husband, they devised a plan to have her in-laws foot the cost for the extra guests.
"My hubby to be came up with a better idea," she said, explaining she informed her in-laws they had decided to go with a smaller venue, which seats 75 people maximum, due to fire safety regulations.
She said: "They looked poleaxed and asked why we weren't using the hall at the church like we had said we were going to. Which seats 200."
The couple claimed it was because the church wouldn't allow them to serve alcohol, as she turned up the pressure on the in-laws to come clean.
"They started pushing us to get a larger hall and hinting that we might need more seating and food.
"No go. We already knew who was coming even without the RSVPs being in yet. Maximum 50 people. We were fine," she said.
Eventually, they cracked, and confessed all. The bride revealed: "My Fmil came clean and told us about the extra people."
The chart below, provided by Statista, shows the cost of an American wedding.
"We told her she was SOL [s**t out of luck] since we hadn't invited them. And my brother, a cop, was going to have our guest list at the door.
"They pleaded with us to get a larger hall and order more food. We told them it wasn't in our budget. They ended up writing a check to cover the extra guests.
"They are upset because it was their money for their Christmas vacation. They are mad that we didn't just roll over and accommodate them. My fiancee and I are mad that they tried to mess with our wedding day."
Redditors overwhelmingly backed the couple, as the top comment, by Effie-sue, racked up 9,200 upvotes alone. "Ohhh... You and your fiancé are HARDCORE! I love it. NTA," the Redditor said.
When Bitter-Conflict-4089 asked: "Why wouldn't just tell them to uninvite all of the strangers?"
The bride replied: "My fiancee wanted to teach them a lesson."
MoldyRadicchio thought: "NTA stories like this make me want to elope if I ever do get married. It's funny how quickly people make things about themselves." To which she responded: "I'm wishing we had."
Scout41741 wrote: "NTA. But damn I read to many of those stories that I expected your fiancé to back up his parents. That was a surprise, but a welcome one." To which the bride confirmed: "His idea to be honest."
Newsweek reached out to u/Diligent_Scratch2844 for comment. We could not verify the details of the case.
Has a wedding come between your relationship with a loved one? Let us know via life@newsweek.com. We can ask experts for advice, and your story could be featured on Newsweek.