Bride-To-Be Cheered for Calling Off Wedding After Fiancé Destroys Dress
A woman has been cheered online for deciding to break up with her fiancé just a week before their wedding.
In a post on Reddit's popular r/TrueOffMyChest forum, a 26-year-old posting under the username u/Awkward_Bat_7027 explained her decision to call off the wedding.
"My fiancé, who I'll call Jackson, is very picky about how things look but has never made any comments about me or the way I do things," she wrote. "I had a beautiful dress for the wedding that was designed by my oldest brother."
Her brother, who was a designer, had also made her sister's and cousin's wedding dresses before he was diagnosed with a malignant primary cardiac tumor at 21 years old. He died just two years later, but the dress served as the perfect memory of him.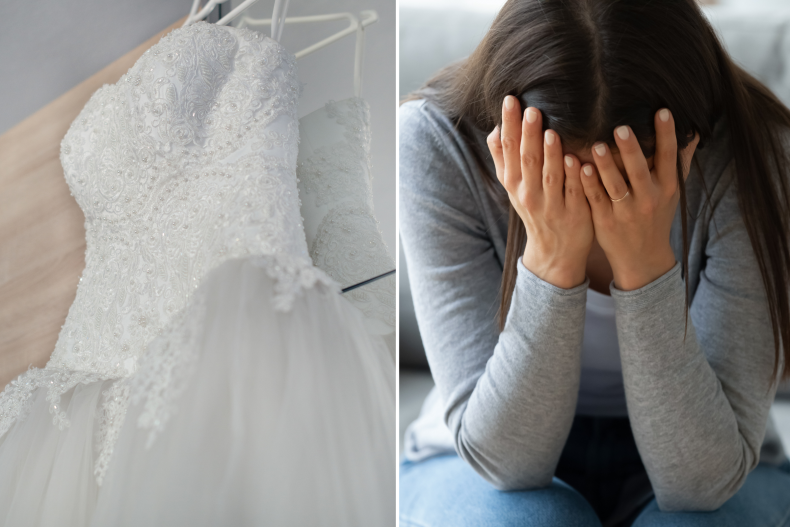 "I've always kept the dress he made me in my closet and I planned on having it made to my measurements when I got married," she explained. "I already had it tailored for me, I never showed Jackson the dress and I never told him who made it."
Jackson never met his fiancée's late brother because the couple met after he died, but the night before posting, she had finally shown her husband-to-be the dress.
The woman wrote: "He said, 'Whoever made that dress clearly doesn't know anything about fashion. We're buying you a new dress tomorrow.' I didn't say anything and just left to stay with my sister for the night."
Upset, she left for the night leaving her dress in the apartment. But when she got back in the morning, she was not prepared for what she would find.
"I found my dress torn to shreds, I immediately called Jackson and started screaming at him," she said. "I told him that the dress was one of a kind and couldn't be replaced, he said that I could always just buy another dress, one that actually looks good."
With their wedding due to take place in just a week, the upset woman had made a big decision: she was going to break up with her fiancé.
"I haven't told him that I'm going to break up with him yet. I plan on waiting until he gets home and talking to him and then going to stay at my sister's house for a while," she said. "I feel horrible for what happened to the dress and I'm really sad that I'll never be able to walk down the aisle in the one-of-a-kind wedding dress that my big brother made for me before he died."
"Pack. pack all your things so you are ready to leave. There is no coming back from that," said one commenter on the now-viral Reddit post.
Another reply said: "Consider this a final gift from your dearly departed brother - finally opening your eyes to who your fiancé is."
Danielle McWilliams, owner and event manager at EverhartGatheringPlace.com told Newsweek: "Last-minute cancelations are not common. I would really recommend not canceling your wedding, but in the case of a fiancé destroying the gown, I agree the bride should not go through with her wedding. If you have to cancel, do it as soon as you know. Don't send out letters, call or email everyone who has RSVP'd so they can hopefully cancel their arrangements. Call your vendors immediately. Everything is time sensitive with returning deposits and other fees so you don't want to wait.
"If you can, read your contracts before speaking with your vendors so you aren't blindsided by these conversations," she said. "A lot of people don't read the contracts, and emotions are already high. Entering the conversation with knowledge will help the conversation go smoothly."
"You're doing the right thing, he destroyed your personal property for no real reason," said another comment on the post. "Regardless of how important the dress is to you, if he destroyed something you got from goodwill you're still within your rights to leave him."
Newsweek reached out to u/Awkward_Bat_7027 for comment. We were unable to verify the details of this case.
Have you noticed any red flags that made you end a relationship? Let us know via life@newsweek.com. We can ask experts for advice, and your story could be featured on Newsweek.