Bride Demands Guests Spend at Least $400 on Gifts Like Gucci Bags and New Flooring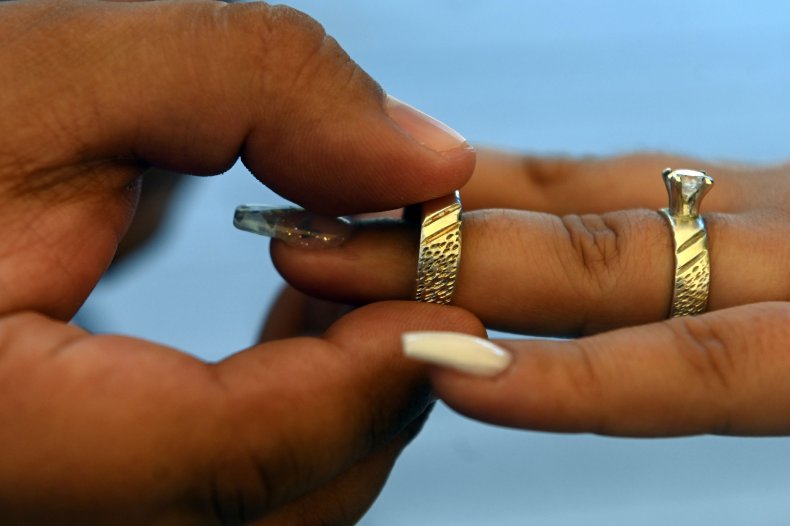 A bride who wrote she expected her wedding guests to spend a minimum of $400 each on gifts in a detailed Facebook post is being criticized as "entitled" for her extravagant demands, according to 7news.com.au.
In a screenshot included in the Australian outlet's coverage of the online dust-up, the bride's list of acceptable presents included designer handbags, new flooring for her entire house, "Korean or Asian beauty products," "HIGH CLASS" [sic] paintings or decorations, and straight cash. Gucci and Louis Vuitton handbags were preferred, the bride wrote, but others were "allowed" as well as long as she was consulted beforehand. She specified she expected everyone to shell out at least $400 regardless of what they bought for the happy couple, though she added she would "accept slightly lower amounts as long as you tell me first," according to the screenshot.
Etiquette experts would be horrified by this bride's crassness. "There is no tasteful way -- not even a moderately decent way -- of directing present-giving when you are on the receiving end," says Miss Manners. But as splashy weddings return as pandemic lockdown rules ease, there are likely more of these demanding posts on the way. The number of Greedy Bridezilla anecdotes on Reddit and other social media sites already offer hours of enjoyable hate-reading.
And despite their function as celebrations of romantic love, weddings are often rife with controversy and interpersonal drama. Earlier this month, Redditor u/rach56878 alleged she uninvited a close friend, whom she identified only by the pseudonym "Amy," from her wedding after Amy criticized the cost of u/rach56878's engagement ring.
Meanwhile, other items from this latest bride's list, according to the 7news.com.au report, included KitchenMaid appliances worth "over $350"; clothing manufactured by the brands Calvin Klein, Moschino, or Nora's worth "OVER $400"; and gift cards to the stores Saks Fifth Avenue, Bloomingdales, Nordstrom, Calvin Klein, Whole Foods, Sprouts, "maybe even JC Penny [sic]" or any other approved business worth "$400 or more."
Lest those who had RSVP'd think they did not have to adhere to these strict requirements, the bride wrote that "[y]ou MUST choose from the list or consult me first." Writing that "everything on here is first come, first serve," she provided a link to a spreadsheet of "who's bringing what" and reminded readers to "apply early if you don't want to get me a Gucci purse or anything you don't want to get."
Concluding the post, she wrote: "Thanks love!"
While the post, which apparently drew heavy criticism, has since been deleted, screenshots, as we all know, last forever. Commenters lambasted what they perceived as the author's greed, according to 7news.com.au.
"I'd RSVP, eat their food and then give them a card with $400 in Monopoly money. I really hate people who use weddings as a gift grab," one wrote.
"If I had the kind of money to mess around, I'd buy them the most hideous tiles for the house that I could find and surprise them with the install," another wrote.
One pointed out the purpose of a wedding registry is to ease newlyweds' transition into married life, not shower them with high-end goods.
"I'm sorry but a designer purse for the bride is not a wedding gift. Wedding gifts are for the couple to start their life together," they wrote, adding, "Also who buys a couple a new car for their wedding? Like where did I go wrong?"
The bride, who is from the United States, is getting married in October 2021, according to the 7news.com.au article.
This isn't the latest wedding incident that has sparked online reaction. A maid of honor shared on Reddit that her husband was uninvited from the bride's wedding because he was "too short."
"She said it is because he is [shorter than] me ... it would look weird [in] pictures," the Redditor wrote, and decided not to attend the wedding if her husband can't come.
And in a now-viral TikTok video, another bride revealed that she sent a "transparency letter" to her potential bridesmaids to explain the financial costs that come with the role. The clip drew 3 million views and generated mixed reactions. One user wrote: "That's a mature way of handling it," but another commented: "If you can't pay 100% for hair, makeup, and dresses, I feel like you shouldn't have a bridal party. You're getting married, it is not their responsibility."