Bride Ends Up in Hospital After Excruciating First Dance at Wedding
A video has captured the moment a bride suffered a dislocated knee during the first dance at her wedding.
Paul Richter and Julie Benn had already had to postpone their nuptials by a year because of the COVID-19 pandemic, People reported.
But while they were able to tie the knot at a special ceremony held near their home in Philadelphia over Independence Day weekend, the happy couple ended up missing most of the celebrations after the bride suffered a freak knee injury during their first dance.
The groom's sister, Liz Richter, chronicled the dramatic events in a video posted to Tiktok. "My brother got married last weekend," a caption reads. "Best day of their lives," it continues "Until the first dance..."
While weddings rarely go entirely to plan, no one could have predicted what would follow next. Taking to the dancefloor for what was supposed to be the first of many dances that night, Richter proceeds to gently dip his new wife down to the floor as part of a pre-arranged routine choreographed to the Dave Matthews Band's "Stay."
However, in an excruciating split-second moment her left knee suddenly gives way, leaving the bride in visible pain.
Escorted from the dancefloor with the help of her husband and two friends, the video then cuts to the newlywed bride, still in her dress, being taken from the wedding by a paramedic and later wheeled down the corridor of a hospital.
The final two shots capture the new bride sat up in hospital with a mask on as well as showing her heavily strapped-up knee.
Benn told People that Richter, who is a second lieutenant in the Army, was forced to support her entire body weight and dress while they waited for an ambulance.
"It was blinding, searing pain," she recalled.
"I have a lot of respect for athletes who play through their injuries. I never dislocated a knee. I broke a bone when I was a kid, but nothing else. So it was shocking, disbelief."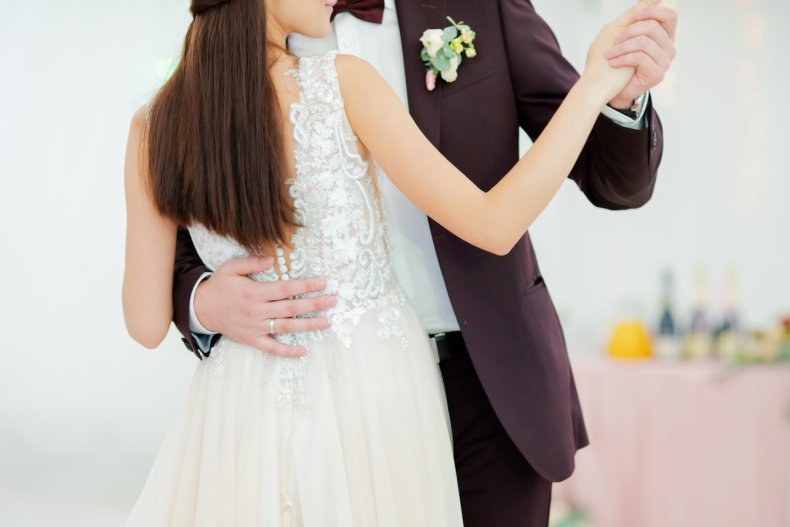 Though they ended up missing out on much of their big day, the happy couple's story did have a happy ending of sorts.
According to WBTV, despite suffering a serious knee dislocation doctors were able to discharge Benn at around 8:30 p.m. with pain medications.
Returning to their reception, guests cheered and clapped as they made their entrance, returning, as Benn puts it "just in time for the last song."
A few days later, the recovering bride took to her wedding photographer's Facebook page to reflect on her big day.
"Not once in my entire life had I ever imagined that I would miss my own wedding, but that is what was in store for us on July 3," she wrote.
"Partway through our first dance, I went down with a dislocated knee and that was that. We spent the rest of the night in the ER where I was pumped full of special medicines with my new husband holding my hand the whole time.
"Thank you to our hearts and souls who did exactly what we would have wanted and CRUSHED IT at our reception without us. We treasure you."
Now facing four to six weeks of rest and recovery, Benn has plenty of time to reflect on a wedding day she is not likely to forget.
Newsweek has reached out to Julie Benn for comment.