Bride Gets Ticket For Not Wearing COVID Face Mask In Wedding Photoshoot
Police have registered a case against a bride in India after she sat on the bonnet of a car for a wedding photo shoot without wearing a face mask.
The incident took place in the Dive Ghat neighborhood of Pune, a city in the western Indian state of Maharashtra, on Tuesday, according to the Indian news agency ANI.
A video showing the bride on the car bonnet went viral on social media. The clip shows the bride in a sari, adorned in jewelry and surrounded by garlands of flowers as a man films her.
After the video went viral, Pune police officers opened a case against the woman for violating protocols that have been put in place to limit the spread of coronavirus.
The city's police department also opened cases into the driver of the vehicle, the cameraman and others who took part in the photoshoot, ANI reported.
The incident came as India continues to combat the fast-spreading Delta variant of the coronavirus amid fears of a third wave. The new variant, which first emerged in the county in December, is now responsible for surges in infections in countries around the world including the U.S.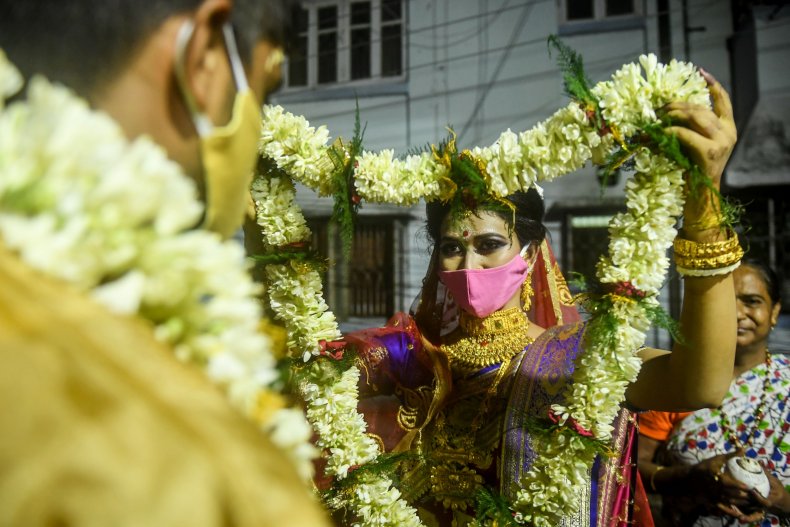 It's also the latest case of an Indian woman making headlines in the lead-up to her wedding.
Earlier this week, it was reported that a woman in India decided to call off her wedding at the last minute by calling police to tell them that she did not like her fiancé.
The woman reportedly made the phone call just moments before she was due to tie the knot at a resort near the city of Ramtek in the Nagpur district of Maharashtra on Tuesday.
Last month, another bride-to-be reportedly refused to go through with her wedding after she discovered the man she was due to marry needed glasses to read a newspaper.
But it's not just brides who have refused to go ahead with marriages in India.
Also last month, a groom reportedly called off his wedding shortly before the ceremony because the bride's family hadn't prepared a dish that he wanted to be part of the wedding feast. He then went on to marry another woman that same day.
Arranged marriages are common in India. The Times of India reported in March that around 85 percent of people in the country choose to have their marriage arranged by family members or matchmakers.