Bride Given Just Weeks to Live Marries Groom in Incredibly Emotional Ceremony
Ann Ruddock and Keith Pearce were engaged for about 10 years, but when Ruddock—who was diagnosed with a terminal illness—learned she had just one to two weeks left to live, a wedding was organized for the Staffordshire, England couple in just 48 hours.
ITV reported that Ruddock was diagnosed with brain and lung cancer last month and was initially told that she had four to six months to live. She later discovered that projection changed and was given just one to two weeks left to live.
With the help of Douglas Macmillan Hospice, Leek Weddings, an organization that helps couples with serious illnesses get married, and local suppliers, the two celebrated their wedding day on October 21.
"It's been so overwhelming," Pearce told ITV. "We just want to say a huge thank you to everyone for their kindness. We can't believe that people who don't even know us would do so much for us."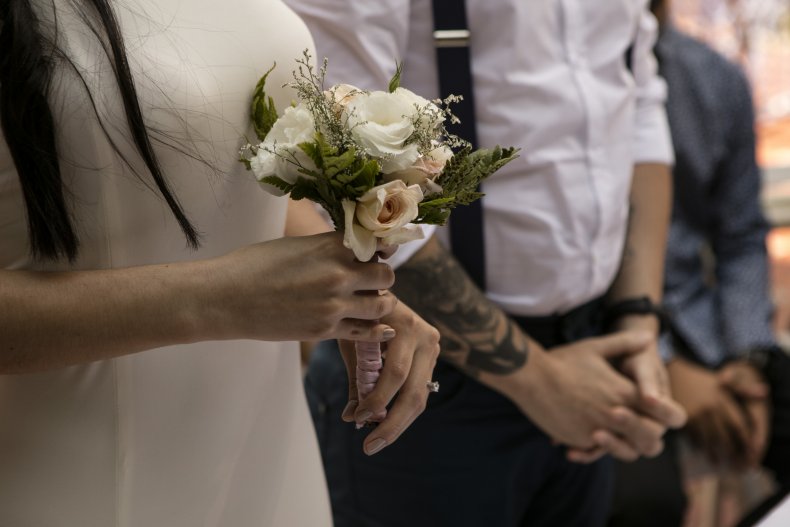 The outlet reported that the two met in the 1980s while they were married to previous partners. Ruddock moved away and they fell out of touch for more than 20 years. Time went on and after Pearce heard that Ruddock was divorced, he reached out to her. They've been together for the last 12 years.
ITV spoke with Jackie Murray, a social worker with the hospice center who also helped organize the wedding.
"When I found out about Ann's unexpectedly short prognosis and their wish to get married, I was determined to do all I could to help them," she said.
With the help of the community and local suppliers, a wedding was put together in a mere 48 hours. Everything, including flowers, food, the cake and the dress, was set for the big day.
According to the BBC, Emma Wiseley of Leek Weddings said she heard from the hospice the evening of October 19. She said the challenging part of organizing the wedding was finding a photographer on such short notice. However, everything else came easily "because I have an amazing group of people to work with."
Wisely told Newsweek when she heard from the hospice center she was "100 percent committed to helping them," though she knew it would be challenging given the short timeline.
When she put out a request to the suppliers she works with, she said she received everything she needed for the ceremony.
"It was so beautiful how the whole ceremony came together for such a beautiful family in their time of need," Wisely said.
A couple moving up their special day due to a terminal illness is not unheard of.
Newsweek reported in July that a couple decided to get married months earlier because the bride's grandmother was in the hospital receiving treatment for terminal lung cancer.
A short video published to the Methodist Healthcare System's Facebook and Twitter pages showed Avis Russell, 71, watching the couple's wedding take place in her hospital room.
Newsweek reached out to Ann Ruddock and Douglas Macmillan Hospice for further comment but did not hear back by the time of publication.
Updated 10/26/2021, 5:30 p.m. ET: This story has been updated with comments from Emma Wiseley.