A stranger became the hero in one London bride's story at the weekend, when he offered her a lift to the church after various taxis canceled on her at the last minute.
56-year-old Marksteen Adamson unexpectedly turned up to his friends' reunion late on Sunday, but for one good reason: He had to help a hitchhiking bride get to her big day. Adamson described the moment as a "beautiful thing" to Newsweek and said he was even invited in to the ceremony.
The scene has been described as "like a film plot" after Adamson posted it to TikTok, where it has since gained over 400,000 views.
Adamson was driving through London to meet some old friends, when he spotted bride Anastasia on the side of a busy road. He started filming her crossing the road as he thought it would make a "great shot." The woman, in her full-length bridal down and flower crown, could be seen appearing stressed at the crossing with her phone in hand.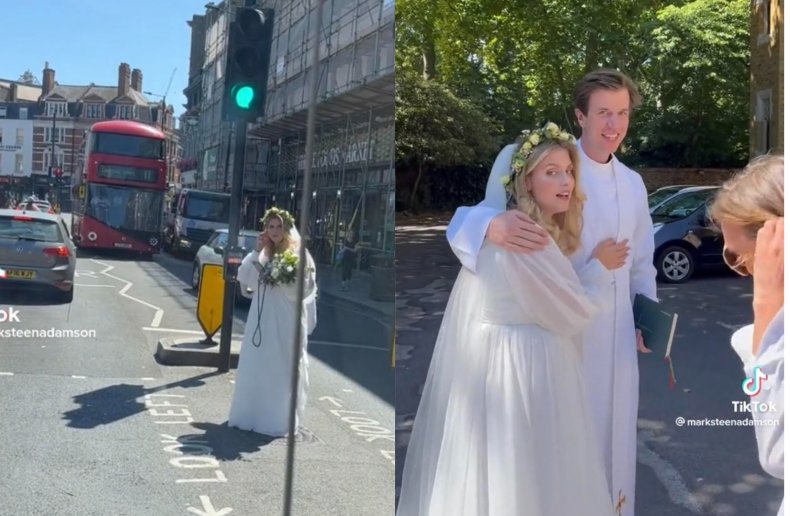 The bride was dressed like a boho dream straight from the 70s and she went on to do something that was very normal in that decade too—hitchhiked her way.
"She started coming towards me and she was sort of saying stuff, and I couldn't hear what she was saying because I was listening to the radio. Then it transpired that she was stuck because they'd been waiting, she had three Ubers canceled on her at the last minute. So she'd booked an Uber and it was coming towards her on the map on the phone and suddenly it just drove away," Adamson recounted to Newsweek.
All of the guests and her groom were left waiting at a nearby church for her arrival. The bride, later revealed to be called Anastasia, piled into the stranger's car with her group, asking Adamson to take her to the church situated a 10-minute drive away.
Adamson obliged to help the bride without hesitation and ended up driving her for 20 minutes to her big day. "I found out that they were from Ukraine and Russia and I had on my jacket, I still had the [Ukraine] ribbon on my jacket, because I wore it in Estonia when I went out to do a talk at the European Design Festival, and I still had that ribbon on my jacket. And then I showed it to them," explained Adamson. "It was such a beautiful thing."
At the end, the group got out of the car and approached the awaiting vicar, who assumed they were all friends. "We just met him," they told a very shocked vicar.
Adamson said he heard the organ play as he drove off and knew everything would be okay. "They did invite me to go to the wedding," he confirmed. "But I had to decline because I've my friends were waiting for me. And I was already late for the lunch that we were supposed to be having."
The selfless actions of Adamson have been applauded online since the video went viral. "You saved the most special day of her life. I hope you win the Euromillions," joked one user.
"This is literally like a movie scene," added another.
"I bet this moment made her wedding even more memorable," noted one user.
It's exactly this that has actually somewhat upset Adamson, who believed this act of kindness shouldn't be as newsworthy as it is, "because it kind of demonstrates doesn't it that we live in a broken world," he told Newsweek. "Because actually, if we all just did stuff like that all the time, then there wouldn't even be a story in my mind."
"Why wouldn't you help them? But clearly, a lot of people had been driving past," he said.
Adamson has since been in contact with the bride and her friends and said they will probably meet up in the future.
Update 07/21/22, 11:33 a.m. ET: This article was updated with comment from Marksteen Adamson.