Bride Left With No Family at Her Wedding After Southwest Flight Cancellations
Cancellations that Southwest Airlines said were due to "poor planning" left one bride with no family members in attendance at her wedding last weekend.
Since Saturday, Newsweek previously reported, Southwest has canceled close to 2,400 flights. On Sunday alone, the airline canceled more than 1,100 flights—about 30 percent of its schedule. As recently as Tuesday morning, passengers were reporting outages with the airline after a weekend of mass cancellations.
Kimberli Romano and her now-husband Kyle were set to get married on Sunday expecting family to fly in from Chicago.
"Three hours before I had to leave to go to the airport, they canceled my flight out there," the bride's sister, Renee told CBS Chicago.
Renee along with their other sister, Lisa, and parents were unable to make it to Las Vegas. At one point they were able to rebook their parents on a flight out of Milwaukee only for that to be canceled too.
"It's the most important day of my life thus far and I didn't have a single family member present at my wedding," Kimberli told CBS Chicago.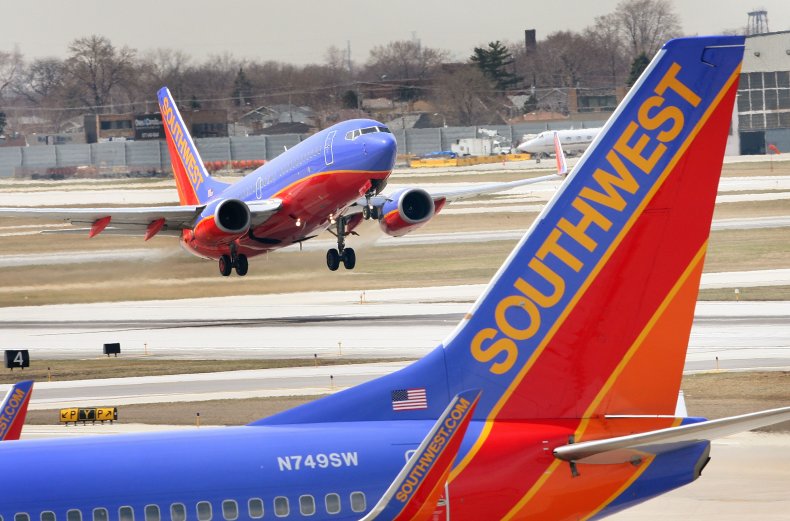 The Romanos told the station they are not sure they'll fly Southwest again.
There was speculation, that the airline denied, that the cancellations were due to internal protest over Southwest's recent implementation of vaccine mandates.
As a federal contractor, the airline said they had "no viable choice" but to comply with the mandate instituted by President Biden in September, Newsweek previously reported.
"We've built a reputation around safe, reliable, friendly air travel, delivered with legendary Southwest Hospitality, and we're sorry to anyone whose experience did not reflect that over the past several days," Southwest said in a statement provided to Newsweek.
David Slotnick, senior aviation business reporter at The Points Guy said the airline needs to tell the public what went wrong.
"Southwest, particularly, needs to widely distribute a statement explaining to customers exactly what happened, in relative detail, and steps its taking to ensure this doesn't happen again," Slotnick told Newsweek in an email. "Airlines generally should have messaging consistently reminding passengers of what they do to avoid disruptions, and how they'll help if something does end up happening—similar to how airlines keep telling passengers about their COVID safety precautions."
Though the accusation of the cancellations being due to vaccine mandate protest, airlines have faced some resistance to COVID-era regulations from passengers. Flights have been delayed and even diverted due to passengers' unwillingness to comply with mask rules—which now exist on all commercial flights in the U.S. As previously reported by Newsweek, United Airlines said they've banned almost 1,000 passengers since the pandemic began due to issues related to mask mandates and unruly behavior.