Bride's Mom Commits Faux Pas and 'Ruins' Wedding Dress Reveal in Viral Vid
A bride has shared the hilarious moment her mom "ruined" her big wedding dress reveal in front of her bridesmaids.
Phaedra explained in a now-viral video that she had waited for months for a big reveal of her dress in front of her wedding party. The special moment, however, was accidentally derailed by her own mom in a comical blunder.
As the blushing bride stepped out of the dressing room, her mom seemingly had other ideas in the video. The mom stepped out of the door at the same time, stepping right in front of her soon-to-be-wed daughter.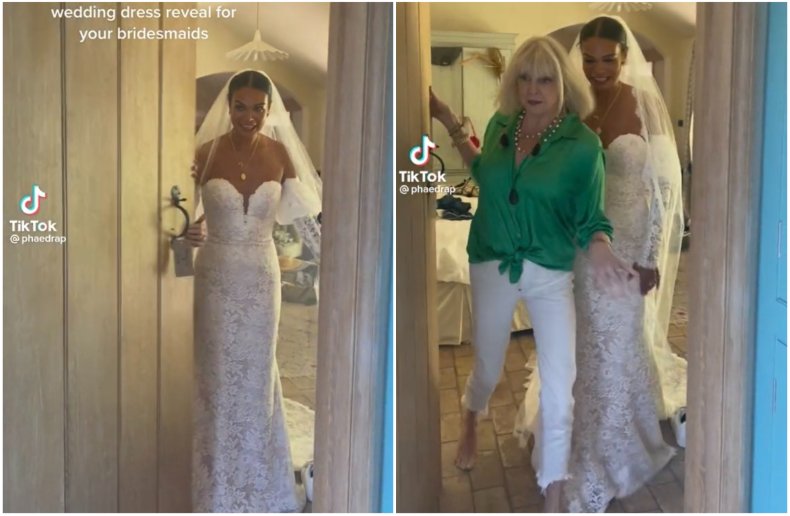 "When you've been waiting six months to do a wedding dress reveal for your bridesmaids," Phaedra wrote in the video. The bride shared the clip to TikTok, where it gained over 8 million views in just one day.
"And your mother ruins it," she joked, adding a comedic black and white freeze-frame to the moment she saw it happening. Phaedra's face dropped upon the realization.
There was no bitterness, though, as a second video uploaded by the bride showed it to be a complete accident. The video showed the mom was actually rushing out of the way, so that she could also be in the room to see the first-look at the same.
The bridesmaids were left overjoyed and some even in tears by the reveal. It seems the mom's mistake made no difference to the perfect moment.
"It's been taken very seriously online, and I as just meant to be a bit of a lighthearted joke," Phaedra told Newsweek.
"My make-up artist filmed the reveal and that was just a minor little hiccup in that special moment. When I showed my mom and friends the video, we were all laughing hysterically—I can't be angry with her as she paid for most of my wedding which was absolutely perfect!"
It's a stressful time for the mother of the bride, research shows, and they often put so much thought into the day that they even take longer to choose their outfit than the bride. According to research conducted by fashion retailer SimplyBe, mothers of the bride and groom both take on average a total of 18 days to find their outfit. Brides on the other hand spend only 12 days finding theirs for the wedding.
One in five mothers confessed that they start looking for a wedding day outfit immediately after their son or daughter gets engaged.
The TikTok video entertained millions online as users flooded the comments with hilarious remarks about the scene and some even recounted their own similar, or worse, experiences.
"Mine wore a white dress," wrote one user, putting Phaedra's mom's error into perspective.
"Be glad it's your mom and not your mother-in-law because that could wreck your relationship," reasoned another.
"I think she wanted to be part of their moment too—trying to hurry out of your way to witness it," put another kindly.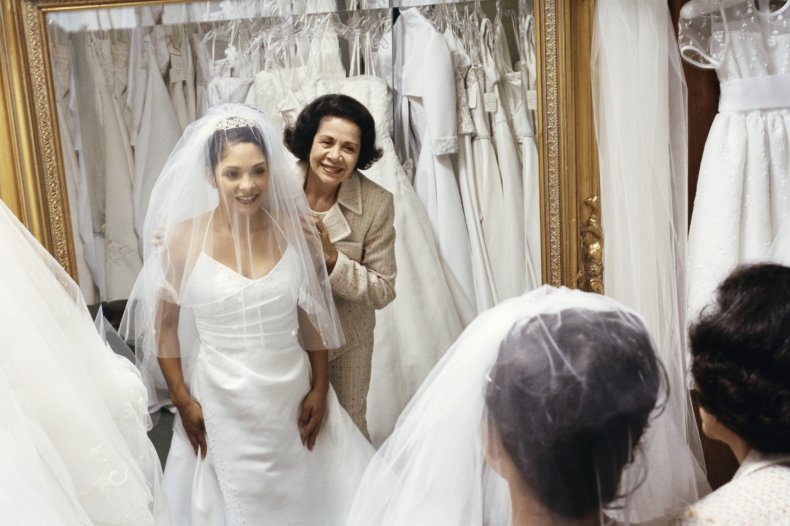 Update 10/06/22, 3:18 a.m. ET: This article was updated with comment from Phaedra.