Bride Left 'Mortified' Over X-Rated Spelling Mistake on Wedding Menus
The morning of a wedding day is nerve-wracking enough for a bride without one discovering a shocking error she made on every single menu already printed and set out for guests.
That was the story for one bride, who has since gone viral online for her hilarious blunder. The scene was perfect: A spacious room on a sunny day, friends' and family's laughter filling the room, and the menus were all ready - until a spelling error meant guests were left waiting for an avant-garde "dick liver pate" instead of the more-traditional duck liver pate one would expect.
The moment has gained more than 43,000 likes and 1.9 million views on TikTok since guests Jess and Mike shared it online.
"The bride only realized the morning of the wedding when she ducked into the venue to check it out and was absolutely mortified when there were 150 menus laid out with her little mistake," Jess told Newsweek in an email.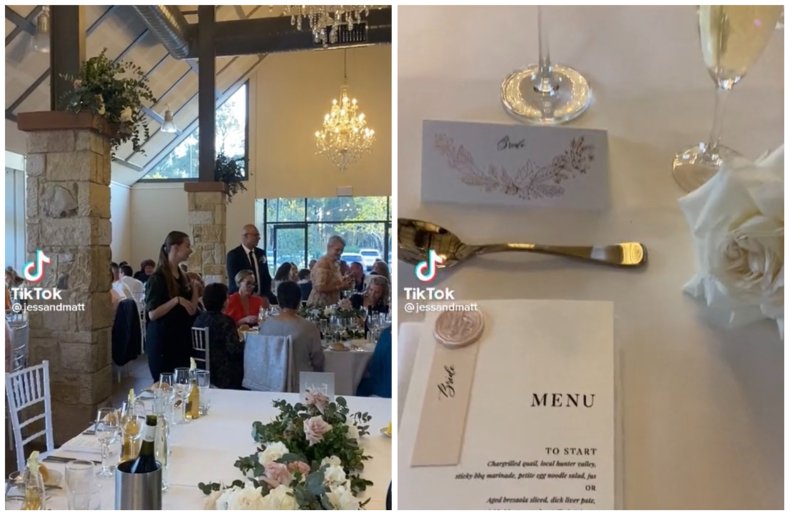 Fortunately, the error didn't appear to ruin the day and actually provided a few good laughs all around. The bride even saw the funny side of it all, after her brief moment of panic in the morning. "She had a good laugh about it in the end and it made for some great speeches," Jess said.
Although you might want the simple mistake to go unnoticed, it did become the talk of the night among guests, unsurprisingly. "My favorite thing I heard was in the toilet when her two aunties were talking to each other side by side in the cubicles, one of the aunties said to the other...'Jo, I was a little disappointed when it was duck to be honest!!!' She then opened the door and realized I was there washing my hands and said throwing back her head laughing 'sorry not sorry!'" Jess added.
Not only did the blunder entertain the wedding party and guests, people online were left tickled by the moment and some even admitted to making similar errors on their own big day.
"I spelled my husband's name wrong on our invitations. Still married," wrote one user.
"We nearly had 'Yorksh*t puddins,' thankfully spotted the mistake," commented another.
"Think i'll give that course a miss," joked one.
Another reassured that all's well that ends well, noting:"Honestly, it makes it a better keepsake."
Jess confirmed to Newsweek that the responses were similar in real life, explaining that it "gave us all a very good chuckle."