Instead of planning her wedding, a North Carolina bride had to plan the funeral for her groom after the unvaccinated man died of a suspected blood clot while recovering from COVID-19.
Kim Burns and Fayetteville Police Department Lieutenant Eric Dow were set to be married on October 19, but things changed quickly after Dow passed away on October 1, about a week after he was discharged from the hospital.
Burns said that her fiancé had spent several days hospitalized after contracting the coronavirus, but that he had returned home and was recovering when his mother found him dead. She suspects that the blood clot was related to his COVID-19 diagnosis.
"He seemed to have overcome those issues," Burns told The Fayetteville Observer.
While the 26-year-old veteran of the department wasn't vaccinated, he was described as being "extremely" healthy and exercised at least four times a week.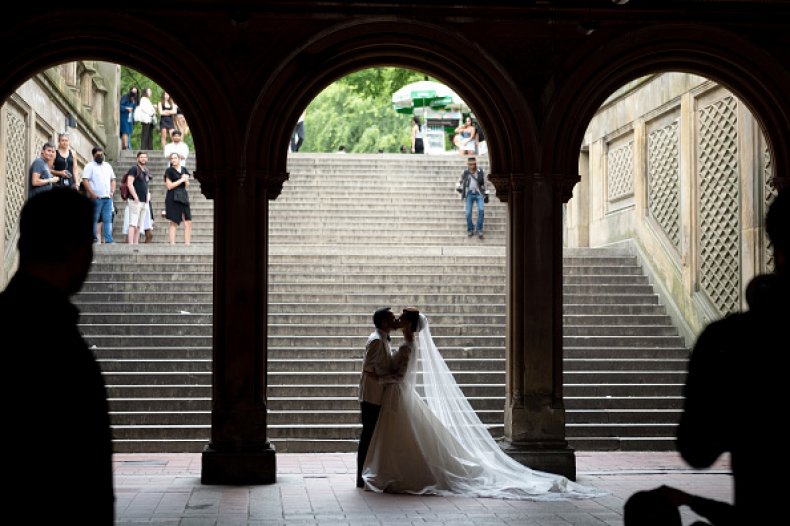 Dow had been planning to go with his mother to get fitted for his wedding suit on the day he died, and had been excited to finally leave the house after being sick.
"He hated being in dark rooms, he always wanted to be able to see the sun. He said it drove him crazy not to be able to see the sun, he loved being outside," Burns said.
The couple had been excitedly planning their move to Myrtle Beach, South Carolina, where they had purchased a home, after Dow retired at the end of next year.
"He'd just bought the house at the beach, so we were constantly making it ours," Burns said. "He didn't like to paint too much. I always painted the walls, but he was always there working on whatever was beside me. If one of us was in the yard, the other was in the yard. We were just together."
"When we were off work, we were always together," she added. "Everything—we did everything together."
His loved ones described him as "giving, compassionate, funny."
"He served Fayetteville and was a staple in the community there for a long time, and anybody who met him instantly just loved him. He was a ton of fun," his younger brother, Chuck Dow, told the local paper.
"He would always say that he wanted to leave anyone he was with better than he found them," Burns said. "He just wanted to be a positive point in their day...He was just so honorable and honest."
The bride said that the morning before she left for work on October 1, he told her, "I don't know what I would do without you."
"I told him he'll never have to know," Burns said.