Bride's 'Rules' Demanding Sister Hide Tattoos, Piercing and Dye Hair Slated
A wife-to-be issuing "rules" for all her bridesmaids to follow has been slammed online, after she demanded her sister cover her tattoos and piercings, and dye her hair.
The bride shared her strict aesthetic for her big day on Reddit, under username Old_Sheepherder9877, as she revealed while she has a "glam" look, her sister has a more "alternative" style.
She wrote: "She has light pink hair, a nose ring, multiple earrings and she's also got sleeve tattoos on both of her arms and also her neck and chest. My sister's appearance was something that always troubled me regarding her being a bridesmaid."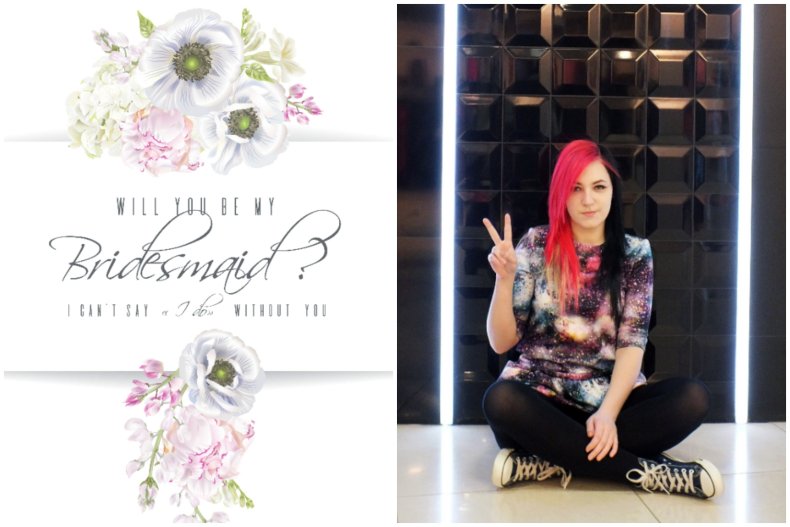 She selected her bridal party, including her sister, but issued them all with a set of "rules"—some aimed at her sister.
They included paying for their own dresses, as well as hair and make-up, but it was the demands geared towards her sibling which ruffled feathers.
She wrote: "Where I heard complaints though was when I presented some rules specifically for my sister. I told her she'd have to buy body makeup and cover up the tattoos.
"I also told her to remove her nose ring and most of her earrings and only keep the normal earrings. And I told her to dye her hair a natural color at least for the wedding festivities such as the bachelorette and the actual wedding.
"The bridesmaids dress really classes [clashes] with my sister's image and she's going to look really out of place with all the tattoos, piercings and hair with that dress."
Despite begging her sister, she refused to change her appearance for the ceremony, and her parents were backing her stance.
The bride fumed: "She told me that my happiness shouldn't depend on making her change her style and be someone else to fit my aesthetic wedding.
"I told her people make sacrifices for weddings and how many people might be uncomfortable or sad they have to follow certain rules but they still do it out of love and respect for the couple getting married.
"She said no, and that if I'm not OK with this she'll drop out. I got very pissed she started holding it against me and I don't want her to drop out but I wished for her to make this one time thing for me work."
The post, which can be seen here, has amassed more than 10,000 upvotes and comments, as people slammed the bride's demands.
Lihzee wrote: "YTA. Why ask her to be a bridesmaid if you're going to insist she change so many things about herself? Why should she have to make a sacrifice for your wedding? Get over yourself."
MotherODogs4 joked: "Mannequins might work best for OP. She can even pose them!"
SarahTO1 mused: "Maybe she should set minimum weight loss goals too. Don't want any fat bridesmaids ruining the day!"
SpaceSlothMafia thought: "Right?! She doesn't want her sister, she wants the Insta aesthetic... Think of all the likes!!"
Accomplished_Two1611 reckoned: "People have gotten brainwashed to think they have to go for a look and forget what the true focus of the wedding should be."
Shcattoo commented: "Seriously, she would be unrecognizable in any photos. It'd be like hiring a stranger to play her sister's part in the bridal party."
Ok_Network_1813 fumed: "YTA. You're borderline bridezilla here. A set amount for the Bachelorette? Wtf?. You asked your sister because you love her unconditionally. Now you're putting conditions on her."
In response to the numerous comments, the bride explained she did want her sibling to be part of the bridal party, saying: "She's my sister and I love her. We are very close despite our differences and I want her included."
The chart below, provided by Statista, shows the cost of an American wedding.
Bridesmaid duties range from helping plan the bridal shower and the bachelorette party, to attending rehearsal dinners, helping organize photo graphs to generally supporting the bride.
Website Brides.com stressed the day is about the happy couple, so to keep complaints to the minimum.
They quoted Jane Yu, co-founder of Veils & Vinyls, who advised when bridesmaids should speak out if they're not happy.
The site said: "Some brides may already have a strong vision of what they want the wedding party to wear, but if the bride asks for help, you can certainly chime in on ideas for the bridesmaids' attire, hair, or makeup. If you're asked to wear something you don't like, this is the time to forever hold your peace.
"The one exception is if you're asked to wear something you are truly uncomfortable with (i.e. something too low cut or that you can't wear a supportive bra with). 'If you already know what you're uncomfortable with it's totally fair to bring that up,' Yu says. 'Just let the bride know before they pick anything, so you don't derail plans.'"
Newsweek reached out to Old_Sheepherder9877 for comment.
Has a wedding come between your relationship with a loved one? Let us know via life@newsweek.com. We can ask experts for advice, and your story could be featured on Newsweek.