Bride Shares Tips for Cutting Wedding Costs in Video Viewed Over 1M Times
Planning a wedding can be a costly endeavor. But one bride is sharing her secrets for how she planned a wedding for over 100 guests for under $10,000.
Influencer, @lakenfitch_, whose first name is Laken, posted the first video in a series of tips late last month that has now received over 1 million views.
In the clip, she shared that the first two things they decided to cut costs on were cake and flowers. Instead, she decided to purchase both things from Sam's Club for a total of under $250.
As reported by Brides, wedding cakes can cost an average of $350 in the U.S., according to Thumbtack, a service that helps to connect customers to local professionals. Laken and her family paid just $39.98.
Flowers usually are another big-ticket item when it comes to planning a wedding. Earlier this month, Brides reported that wedding flowers can rack up in cost starting with the bride's bouquet costing on average $250. Laken paid just $200 for all of her flowers.
Los Angeles wedding planner Tessa Lyn Brand of Tessa Lyn Events provided the outlet with a range that couples can expect certain floral items to cost ranging from $20 for a boutonniere to $4,000 for some "ceremony structures."
Of course, these prices can vary based on many things including just plain preference but Brand said her clients in Los Angeles usually spend "between $12K and $20K on florals."
In part two of the series, Laken shared how she and her family cut costs on food, too.
She said that before even discussing the budget for her wedding, they knew they wanted pizza and tacos for the reception. She said to do so they ordered pizza from a local pizza shop and tacos from Moe's. They were able to get discounts from both restaurants because of the size of their orders.
She said the cost for food ended up being around $1,200.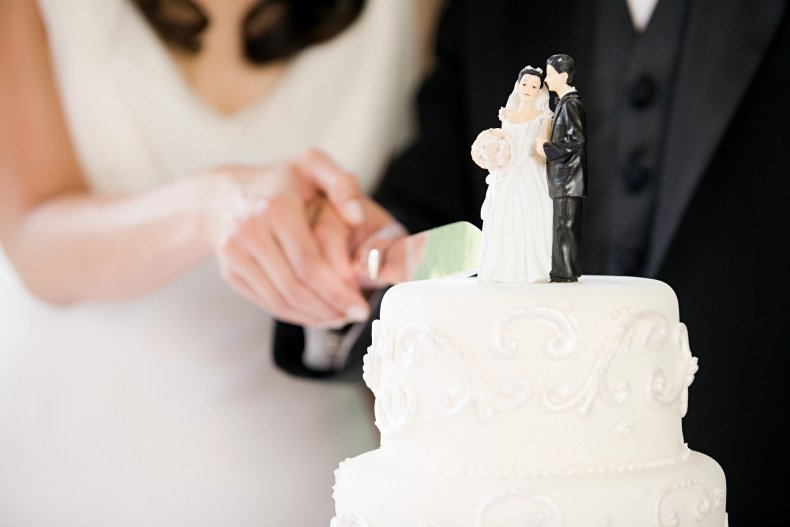 In part three, the bride shared that to cut costs on wedding decorations she scoured the internet and was able to buy some items second-hand. She ended up finding someone who had just recently gotten married whose decorations she loved and bought them off of her.
"Don't sleep on Dollar Tree," she added, saying they were able to find candles and other things at the discount store.
In another video, Laken explained that the biggest chunk of her budget went toward her dress and related alterations and accessories ringing in at around $2,000.
The total cost of the wedding, she revealed, was $7,500 which took place in Kentucky in the bride's hometown.
Laken told Newsweek in an email that her ceremony was "perfect." By far, her favorite "budget-friendly tip" was her choice to go with the Sam's Club cake.
"It was so good!" she said. "Guests were even taking some home."
Laken said the only thing she felt was missing was "time."
"I felt like the day went by so fast, but I guess that happens when you're having fun."
Newsweek contacted @lakenfitch_ for comment.
Update 02/8/22 9:25 a.m. ET: This story has been updated to include comment from @lakenfitch_.