Bride-to-Be Slammed for Excluding Sister From Wedding: 'Should Not Come'
A bride-to-be has been slammed online for excluding her sister from her wedding because she is not supportive of her new relationship.
In a post on Reddit's popular r/AmITheA****** forum, user u/unsupportivesister shared the dilemma which has received over 13,500 upvotes.
"I got engaged to Derrick one month ago," she revealed. "Prior to that, we had known each other for six months. I know that's not a long time, but when you know, you know. We are madly in love and ready to commit ourselves to each other fully."
But the 24-year-old's excitement about her new engagement was put on hold when her sister raised an issue with it.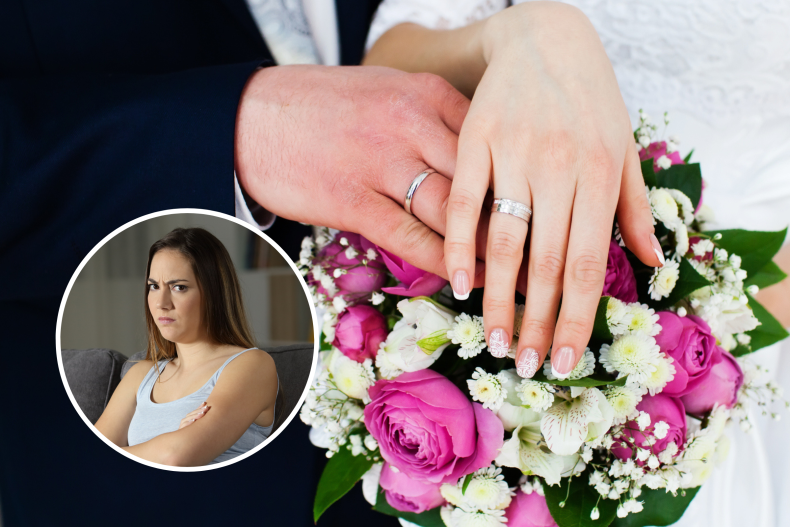 "She was supportive of my relationship with Derrick before we got engaged," said the poster. "When I sent her a text telling her we were engaged, she responded by saying 'congratulations,' but when I saw her the week after that she got all serious and said I should strongly consider the marriage."
Research shows that couples are, on average, in a relationship for over two years before getting engaged, while most couples in the U.S. will be engaged between 12 and 18 months before getting married.
International relationship and dating coach Christiana Maxion told Newsweek: "The fact is, 'When you know, you know' I do very much believe in this age-old saying—but we live in a world where there are so many outside factors that can affect the success of a relationship. I recommend spending at least four seasons (one year) with a partner before walking down the aisle. This isn't to say that the fast engagement won't work out but at least you have some true context as to how your relationship will work throughout seasonal circumstances and lifestyle."
With a short relationship before her engagement, the bride-to-be's sister shared her concern about the pairing.
"She told me I was young and could meet people I loved more. That was offensive to me because I love Derrick more than anything, and she's basically saying my love isn't that important," explained the Redditor. "She also told me that Derrick and I could date for longer before we got married. But we are already fully committed to each other, so we might as well get married and be recognized as soul mates in the eyes of the law."
The poster described the conversation as "hurtful" and eventually asked her sister straight if she supported her marriage.
"She said no," revealed the poster. "So I stood up, told her she shouldn't be at the wedding if she didn't want us to get married, and left."
"The sister is being a sister and we can't fault her for caring or looking out for what she views as best for her sibling," said Maxion. "She should of course express her concerns and give her advice but ultimately it is up to the couple to make those decisions. It's great that someone cares about us enough to express this, but at the same time, we are not obliged to agree."
When it comes to how to approach a loved one if you have concerns about their relationship, Maxion said that it is always a good idea to state your concerns once, in a direct and caring way.
"Never more than once, as it could spur the relationship, but it also needs to be brought up," she explained. "If the couple splits due to major concerns that were never raised by close family and friends, the person may blame the other parties for not saying anything. Your advice may not be taken well, but rest assured you have done what you can."
Since then, the sisters haven't spoken, and the poster admitted she had been ignoring her sister's messages asking to talk.
Planning their upcoming wedding, the couple decided they would not invite the sister. "Derrick and I were working on the wedding guest list yesterday, and we both agreed my sister should not come if she doesn't support us. So, we are planning not to invite her. I mentioned this to my friend yesterday, and she pointed out that it may be a little rude of me not to invite her," said the poster, before asking Reddit users if they felt it was wrong to exclude her sister from the wedding.
Redditors overwhelmingly slammed the poster, telling her that she was wrong to exclude her sister.
"You have not known him long enough to actually love him" said one reply. "You are infatuated. On top of that, you are ready to ruin the relationship with your sister for a guy you actually do not know?"
"I don't know if YTA [you're the a******] per se, but I think you're being very naive, and I agree with your sister."
Another agreed and said: "You're upset because your sister expressed honest concern. Your response was childish and kicking her out of your wedding is equally so."
"She needs to invite the sister," said Maxion. "This is a life milestone, and the presence of family is essential. Even if you are in a rut now, you want those memories forever."
Newsweek reached out to u/unsupportivesister for comment. We could not verify the details of the case.
Has a wedding come between your relationship with a loved one? Let us know via life@newsweek.com. We can ask experts for advice, and your story could be featured on Newsweek.