Bride Sparks Debate Over 'Financial Crisis' Bridesmaids Face
A soon-to-be bride's viral TikTok started a conversation among viewers about the financial expectations that many bridesmaids face.
TikTok user Dri Buono, known by her handle @dri_buono, used a video posted by @moneytomiles as a jumping-off point to discuss how she ensured her bridesmaids were not put into financially difficult situations. The first video that Buono shared amassed nearly 300,000 views since it was posted.
According to the magazine Brides, there are certain expenses that bridesmaids should anticipate, including the bridesmaid dress, the bachelorette party and travel costs associated with the wedding.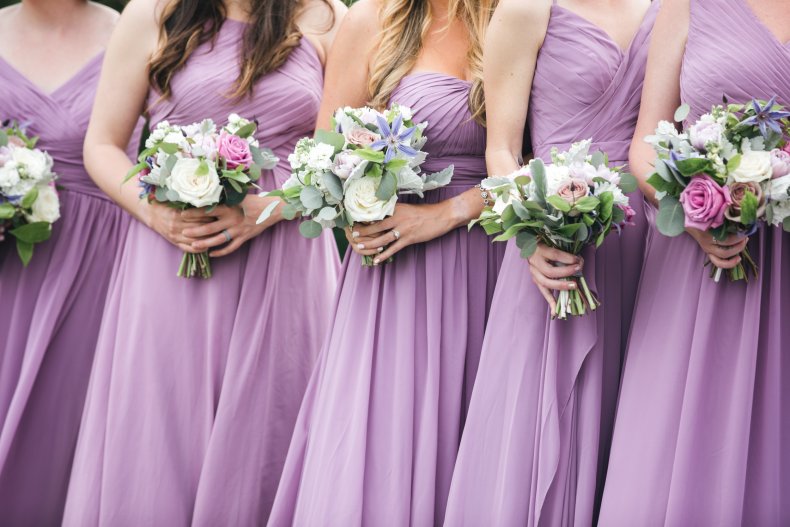 Some costs fall into a gray area, like hair and makeup.
"This wedding-day cost has some fuzzy lines," the outlet reported. "If the bride requires every member of her bridal party to have their hair and makeup done, the bride should cover the costs (including tip)."
However, if getting hair and makeup done professionally is an option, the bridesmaids should pay for it themselves.
There are costs that a bride is expected to pay for, including the floral arrangements, transportation to the venue and any gifts for the wedding party.
"[TikToker @moneytomiles] shedding light on the financial CRISIS bridesmaids experience," read the caption on Buono's video.
In her video, Buono said it was the responsibility of the bride to make sure their friends are not faced with a difficult financial burden.
She said she allowed her bridal party to vote on two different dresses at two different price points and made it optional for them to have their hair and makeup professionally done.
"I'm not asking that they match their shoes, just that they have a similar style," Buono said as she concluded her video.
In a second video, Buono touched on the bachelorette party.
She said she planned a bachelorette trip more than a year in advance and gave the wedding party a financial breakdown of what they could expect to pay.
Buono said she was not upset if any of her bridesmaids were unable to attend the trip due to their own financial needs. And, she put any shared expenses on her own credit card.
"Starting my planning so early and being financially transparent allowed some of the girls flexibility in payment, which they really appreciated," she said. "The more transparent you are, the happier they'll be."
Buono told Newsweek in an email that she was inspired to make these videos after seeing the videos by fellow TikTok user @moneytomiles.
"I wanted to emphasize and bring light to the fact that while the wedding industry is widely expensive for both the bride and the bridal party—an expectation of transparency can take some of the pressure off," she said.
Although Buono noted that there is an expectation or a theme for the bride to get what she wants, she said there should be financial transparency given to the bridesmaids about what they may expect.
If they cannot afford the plans, Buono said bridesmaids should be able to decline the responsibilities without the fear of losing a friendship.
She said she has never been a part of a wedding where she felt uncomfortable with any of the financial obligations, though she wanted to be careful she was not making her own bridal party uncomfortable and burdened.
Viewers rushed to share their appreciation for the videos, and many wrote about what they did as brides to make their bridal party feel financially comfortable.
"Gave my bridesmaids the choice between a bridesmaid proposal box or me paying for the dress," one viewer wrote. "They all chose [the] dress."
A former bride wrote that she covered all of the costs for her bridesmaids.
"I gave my bridesmaids a color and they [chose] their dress and shoes," another wrote. "I told them I legit don't care if they get [their] dress from a thrift store."
Some commenters shared they dropped out of a bridal party because of the financial expectations associated with participating in the wedding.
"I backed out from being a bridesmaid for my friend because I literally couldn't afford all the stuff she wanted from me," one viewer wrote. " I have 4 kids."
Others commented on the typically high costs that are associated with being in a wedding party, writing that if it is too expensive, they should not participate.
"Being a bridesmaid is usually an expensive thing," one viewer wrote. "Dress, shoes, hotel, hair & makeup. I think the bridesmaid should decline if they cannot cover it."
Buono said expectations of brides have changed over the years, pointing out that some brides "take it to an extreme."
"Some comments on my post alluded to brides requiring their party to travel to Greece, Spain, France, and some wild destinations for a bachelorette—totaling upwards of $8k to be in their wedding and attend their events," she said. "Personally, I would never ask my bridesmaids to spend thousands of dollars on my wedding—that I find unreasonable."
For those who are looking to be more conscious of their bridesmaids' financial obligations, Buono said brides should think about whether they value their friendships or the dress, hair and makeup for the wedding day.
"When you ask your bridal party to be in the wedding—give them an idea of what it is going to cost, what your expectations are, and stick to it!" she said. "Lastly, what goes around comes around—be ready to return the favor when they get married."
Wedding advice is frequently shared on the internet.
A viral post on Mumsnet asked for insight into what people wish they knew while they were planning their weddings.
One woman received support from TikTok viewers after she shared a video showing that she booked a venue for her wedding despite not being engaged.
Another viral clip showed how a couple can make sure they have an unplugged ceremony.
Updated 06/03/2022, 2:48 p.m. ET: This story has been updated with comments from TikToker Dri Buono.