Bride Spent Nine Months Knitting Her Own Wedding Dress, and Viewers Are Amazed
Planning a wedding is notoriously stressful—but many will still go to great lengths to ensure their big day is perfect. For one bride, that meant hand-knitting her wedding dress over the course of nine months.
It turns out that bridal knitwear designer Esther Andrews was a perfect match for the challenge. In a TikTok posted Wednesday, she recounted the many-months-long process of creating her nontraditional gown for her wedding, three years ago this month.
"I hand-knit my wedding dress on the NYC subway for nine months and this was the journey," says the video's voiceover. "The inspiration was a space pirate meets a tomato patch—because it was just silly and fun."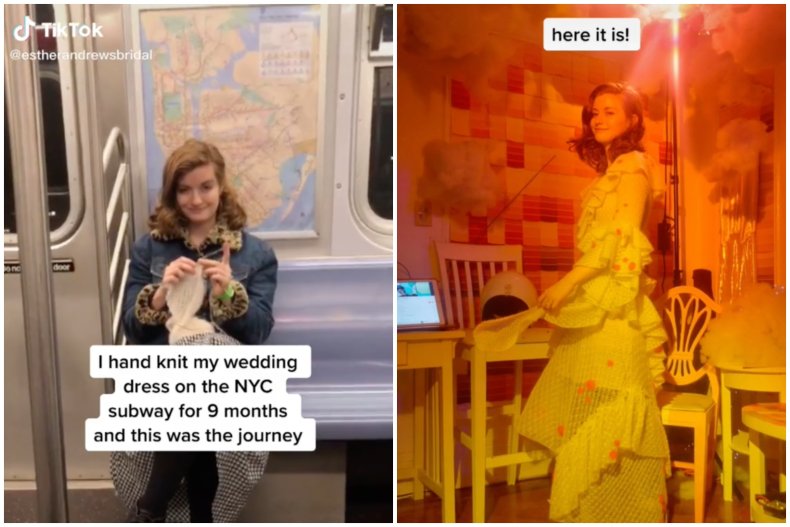 According to Andrews, the dress used "over four miles of mohair lace yarn" in total, with one giant ruffle alone requiring one mile of yarn.
She added: "When it came time to sew together I was scared because I could only trust that it would fit—no time to go back." Meanwhile, a series of images show the delicate dress coming together, piece by piece. "Thankfully it was [OK] so I could add the little tomatoes!" she said.
After constructing the garment, she began to attach tiny, knit tomatoes all over the dress. Andrews said in the video, "I finished it literally the day before the wedding."
Also included in the clip are pictures and video from the couple's wedding day: Andrews is seen wearing her custom gown alongside her groom, who sports a similarly handmade silver astronaut suit. The pair stands against a backdrop of puffy "clouds" suspended from the ceiling, giving the entire room a magical effect.
According to Andrews, they planned from the beginning to host a nontraditional wedding. She explained: "It started as a 30-page screenplay that my husband wrote to be a kind of live theater game for our guests to play. They all had character illustrations and backstories, and we even sent them their costumes." Three years later, the designer and her husband now live in Indiana where she runs her own label of bridal knitwear.
The video has gone viral in the two days since it was posted and has been viewed over 423,000 times and counting. And with 95,000 likes, it's clear that the TikTok community is stunned by Andrews' creation.
The video's most-liked comment, adorably, is a message from Andrews' husband: "Just so you know I'm the HUSBAND!!" he wrote. "And if you're thinking I'm lucky, YOU DONT [sic] EVEN KNOW THE HALF OF IT."
Hundreds of other commenters chimed in with their thoughts on the "whimsical" wedding.
"The most creative and iconic American wedding I've ever seen," wrote one user.
Said another: "I have no idea what is going on with this theme but I love it."
Speaking to Newsweek, Andrews said that she's "overwhelmed by the love [the video] received."
"We got married [three] years ago in our little apartment in Queens and every element of our wedding was as handmade as my wedding dress," she recounted. "It's been such a fun time the past couple of days for my husband and I to relive the process of making our wedding."