Bride Stuns With Dream 'Lord of the Rings'-Inspired Wedding: 'Cried'
Every wedding is a special occasion, but one couple found a way to make their big day even more incredible with a little bit of inspiration from their favorite fantasy franchise.
Lisa Kamal and Khairul Azwan Zakaria are from Kuala Lumpur, Malaysia, and tied the knot on June 24 this year.
The couple's magical day has gained viral attention online after Kamal shared the details on Twitter. Their wedding day was packed with Lord of the Rings influences, from a special take on Eowyn's dress to little hobbit flower girls.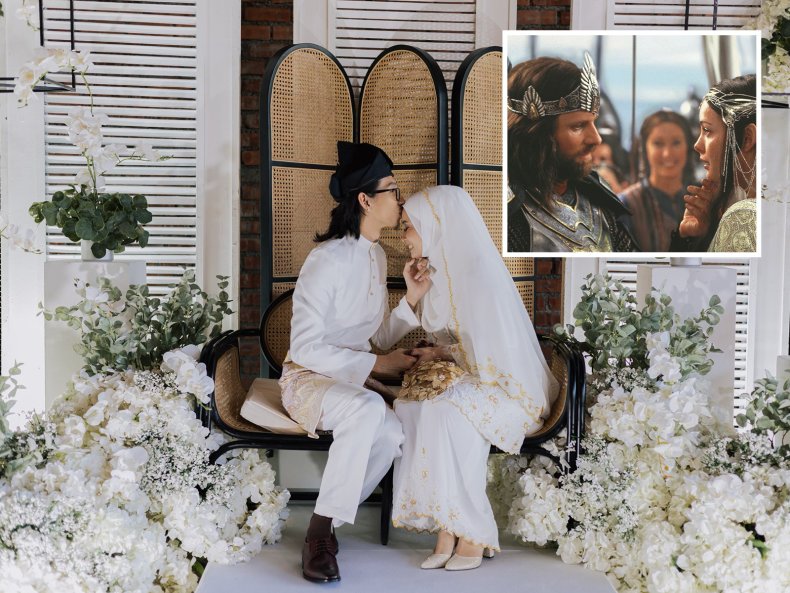 With thousands of likes and replies, the beautiful pictures and videos have melted hearts.
Kamal told Newsweek: "To be really honest, I would have wanted a full-blown Lord of the Rings wedding, but I do want to keep some local traditions alive and stick to our Malay roots so we compromised here and there."
According to wedding trend reports published by CompareCamp, more brides are opting for non-traditional gowns, bolder themes, and other elements that steer away from tradition. Meanwhile, immersive and interactive elements of the big day and opulent tablescapes and decorations are becoming more popular than ever.
The couple have been fans of the movies and books written by J. R. R. Tolkien, and knew that they wanted to incorporate elements in their big day. "We both love the movies a lot," said Kamal: "During the first year we started dating, he gifted me a replica of Arwen's Evenstar necklace for my birthday. I wore it during our wedding."
In a thread of tweets, Kamal shared the different Lord of the Rings elements in the wedding, including her dress—a replica of Eowyn's gold embroidered dress from the 2002 movie The Lord of the Rings: The Two Towers, translated into a gold beaded classic long kebaya for her Nikah ceremony.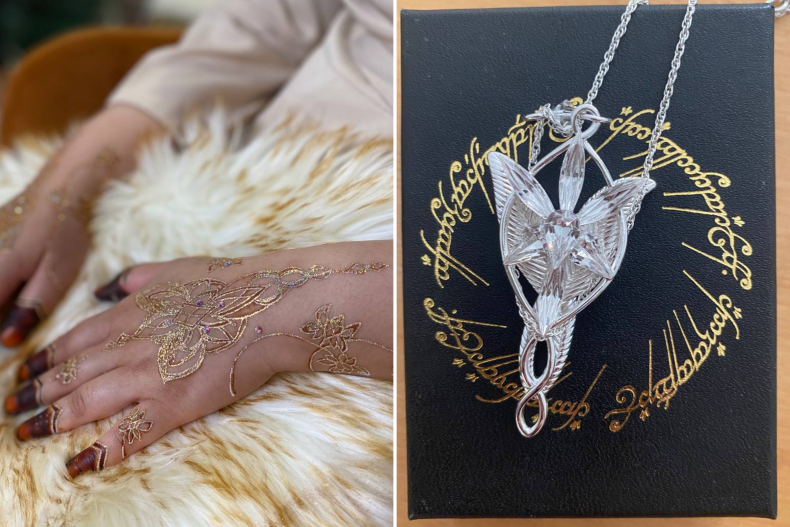 Elevating the details, Kamal also had a custom Evenstar henna design with added gold glitter. The couple's flower girl wore a beautiful caped dress in lieu of a hobbit's cloak, and, conveniently, the groom also had long hair just like Aragorn.
"I definitely cried during my wedding," said Kamal. "But my favorite part would probably be Yaaya, my flower girl twirling around the aisle before my groom walked in. I laugh every time I watch that video again."
"Nice! Elvish wedding ftw," said one commenter on the viral Twitter post. Meanwhile, another Lord of the Rings fan wrote: "This is so cool."
"Gorgeous," said another reply.
"I'm very excited that lots of Lord of the Rings fans shared their happiness seeing the pictures," said Kamal.