Bride 'Undermining' Her Friend's Floral Arrangements at Wedding Applauded
The internet has sided with a bride, Sadie, after a post on Reddit accused her of "undermining" a friend with the user name u/weddingcenterpiece.
The OP, who is not close to the bride and is a friend of the bride's cousin, was responsible for some of the floral arrangements at Sadie's wedding. She shared a post on the Am I the A******? subreddit in January explaining that as she makes "really nice" floral arrangements for friends and family events, Sadie had commissioned her to make some centerpieces for guests' tables at her wedding. However Sadie explained that the bridal table was "already covered."
According to The Knot, the average wedding in 2022 cost Americans about $28,000, and at least 7 percent of the wedding budget went towards flowers.
The OP was really happy about how her centerpieces turned out until she noticed how "extravagant" and "stunning" the bridal centerpieces were.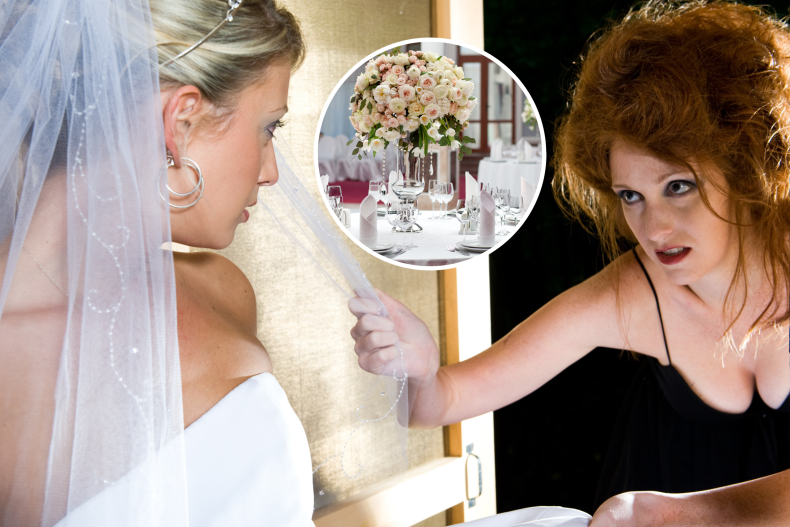 "[Sadie] said she made those ones herself, but she wouldn't have time to make all the centerpieces for the tables, so she asked me. I'll be honest that I felt kind of betrayed because her centerpieces were much nicer than mine and people would ask about those, not the ones on the guest tables.
"I didn't say anything but later messaged her (politely, I didn't go off) that I felt she was undermining my effort by having such showy centerpieces," the poster wrote.
Sadie then answered by saying she "wasn't trying to undermine anything" and this is what she "thought went with the decor," although OP thought it was all just a "kick to [her]."
"I said she should've been upfront about the bridal table, or had the same centerpieces as the guest tables. She started getting pissed, said there's nothing to be upfront about and I'm 'overstepping.'"
Life coach Marni Goldman told Newsweek that if you were to look up the meaning of a "jealous friend" this situation is it at its finest.
She said: "It amazes me how so many people are so petty and choose to look at the negative, rather than the positive in multitudes of situations. A true friend would've walked in and raved on how fabulous everything looked! Rather than enjoy with pride her beautiful arrangements around the room, she wasted her energy on something irrelevant and meaningless.
"The bride doesn't owe her an explanation. That's like the DJ asking why there was a violinist at the ceremony?!? Her text afterward was unnecessary and ridiculous. I hope the bride lives happily ever after and finds a new friend."
The post has so far received over 13,600 upvotes and 3,900 comments.
One user, Steelguitarlane, commented: "[You're The A******]. Looks like you were clear you were doing the guest tables. That means you knew the bridal table wasn't your gig. You're b******* about being upstaged at a wedding. By. The. Bride.
ValkyrieSword said: "It's normal for the bridal bouquet or bridal table decorations to be more ornate than the others. [You're The A******], because the more I think about it I can't believe the audacity for you to consider the bride's wanting to make herself an ornate decoration for her own table to somehow be about upstaging YOU."
LuxuryBeast joked: "How dare she! The bride, I mean!"
Another user, WaterWitch009 commented: "OP is definitely coming off a little self-center(piece)d!"
And BogBabe said: "She wasn't 'undermining' anything; she just wanted more extravagant centerpieces for the bridal table.
"If you want [to] make centerpieces for friends in the future, you should make sure they know you have a rule that they can't have anything nicer than what you make."
Newsweek reached out to u/weddingcenterpiece for comment. We could not verify the details of the case.
Are you and your friend stuck in an argument? Let us know via life@newsweek.com. We can ask experts for advice, and your story could be featured on Newsweek.