Bride-to-be Upset Over 'Disappointing' Proposal Dragged Online
A new fiancée has been criticized online after admitting to finding her proposal "disappointing," months after they purchased an engagement ring together.
The woman took to popular forum Mumsnet to gain insight into her dilemma. In her post she explained that she recently bought a house with her partner and had a "feeling" he would propose on the day they moved in. Months prior, they had purchased a ring together, so the proposal was expected.
Despite her predictions, he did not propose on the Friday night, even during a "nice emotional moment," in which he played their joint playlist in the new kitchen, surrounded by moving-in boxes.
"We went out and he could tell I was a little upset. He asked why. I said, 'that was a nice moment.' He said 'I think I know what you are trying to say. Don't worry, we'll spend time together this evening' (we'd been unpacking in different rooms most of the day)," she wrote in the post.
The woman wouldn't be alone in her upset at the proposal, and some research even suggests that knowing ahead of time can cause a letdown thanks to "heightened anticipation."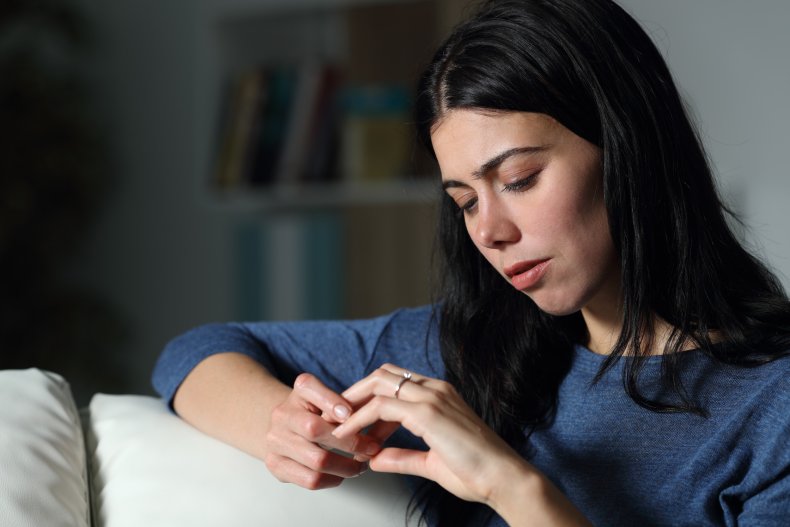 A survey by The Knot of over 1,300 brides found that 26 percent said they wished their proposal had been more romantic and either more original, more private or less over-the-top.
The survey found that 67 percent of women also knew about the proposal ahead of time, which it concluded could induce "heightened expectations" causing disappointment in the real thing.
The bride-to-be's real proposal wasn't quite the picture-perfect one she had imagined, with the pair relaxing on the sofa waiting for dinner beforehand. She explained that she headed upstairs to get changed after putting an Alexa timer on.
"I went upstairs and realized the bedroom was completely tidy - my partner had, without me knowing, unpacked and completed this room. My partner walked in behind me, at this point the blinds are open and i'm scrabbling around in the laundry basket to try and find some underwear to wear. He has his arm behind his back so it was obvious what was coming.
"I say i'm just trying to find some underwear to wear and the blinds are open. My partner scrabbles around closing the blinds with one arm behind him. He then goes down on one knee and says a sentence about this being the first complete room in the house and will i give him the honor of being his wife. And then Alexa went off!"
The bride-to-be confessed to being "upset" that the moment was as expected and claimed she would have preferred him to wait until after dinner, when they had settled down for the evening.
Despite her honesty, it was met with a less-than-welcome response online, as forum users slammed her feelings toward the "once in a lifetime proposal."
"Sounds to me like he was incredibly nervous. It's okay to be disappointed but spare a thought for his feelings and don't tell him," wrote one user.
"God almighty. You love him, enough to want to marry him, and he clearly adores you, quirks and all. Who gives a f**k whether you had pants on or whether the blinds were open or not??" added another.
Another user agreed, noting: "You've put way way too much pressure on this moment and I think your perspective is way off. The reality is your partner is probably trying to second guess what to do and when to do it to meet your expectations - he has proposed! Leave him to make the choices as he sees fit. He'll never meet your expectations if you keep micromanaging moments like this. Enjoy your engagement and lit him take the lead."
The newly engaged woman updated in a comment that despite her upset, she soon realized that she "foiled his plan by going upstairs earlier than expected and he had to take the moment."
Has a wedding come between your relationship with a loved one? Let us know via life@newsweek.com. We can ask experts for advice, and your story could be featured on Newsweek.