'Entitled': Bride Praised for Not Inviting Mom's Friend to Her Wedding
A popular post expressing disappointment about not being invited to a friend's daughter's wedding has drawn criticism online.
The anonymous friend took to popular forum Mumsnet to ask for advice on the situation, asking the burning question: "Am I being unreasonable?"
They explained they hadn't seen their friend for a long time due to the COVID pandemic, but were aware her daughter's wedding was planned for this month. After not receiving an invitation, they assumed that "perhaps the pandemic had altered their plans."
"I recently had a phone call during which she revealed that the wedding was in four days' time, explaining away the fact I obviously hadn't been invited by saying that she didn't think I would want to come as I didn't like that sort of thing," the friend wrote.
The poster added that they had been friends for over 30 years and she was left feeling hurt about the lack of an invitation. "By this I mean for the evening reception not the ceremony or the wedding breakfast," they clarified.
"I know that as my friend is the one paying for everything on the big day, she will have invited other friends to the evening reception," continued the poster.
According to a study by The Knot in 2020, the average wedding guest list size in the U.S. is 105, but according to respondents to the popular post, they should not be expected to include many friends of parents.
"Weddings can be seriously limited in numbers and young people can have huge circles of friends. It is her daughter's wedding, not hers. I wouldn't expect you to be invited. Send a lovely card and wish them well," wrote one user.
"I'm sorry you feel upset about this, but I wouldn't expect to be invited to a wedding of a friend's daughter. In fact, my dad asked if he could invite friends to our wedding and I said no. We had a small-ish wedding and I wanted the people there who meant the most to us, not friends of our parents," reasoned another.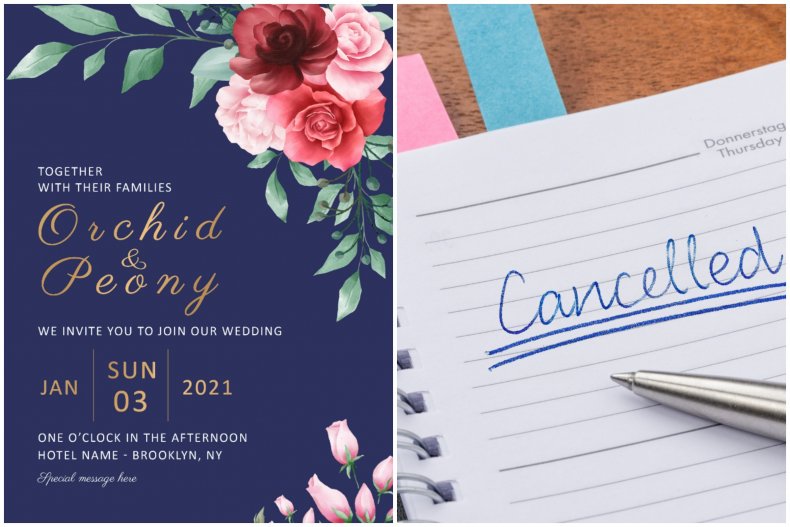 "Times have changed," agreed one user. "When I got married 25 years ago we had to invite lots of our parents' friends and even some people from my in-laws' church. I'd say about 20 day guests were people I didn't really know other than loosely through our parents.
"These days," they continued, "the bride and groom pick the guest list. I wouldn't expect an invitation from any of my close friends' kids when they get married even if I've been close to them when they were growing up."
"She's not entitled to an invitation," frankly wrote another. "Especially if she's not close to the bride and groom."