A bridesmaid sparked a viral online discussion after posting on Reddit that she was kicked out of a wedding party for cutting her hair. The bridesmaid said in the post, which has more than 1,000 comments, that she was planning to sue the bride.
Taking to the Subreddit "Am I the A**hole," the Reddit user, Own-Ingenuity-8648, said she had to purchase three different dresses and shoes, totaling more than $700 for a three-day wedding. She also said that the bride wanted specific hairstyles for each day.
However, the bridesmaid's hair began to fall out "in chunks" due to health reasons, and she decided to cut it in May.
"I told the bride about my decision two weeks before the wedding and she didn't say anything bad," the bridesmaid wrote. "The following week, she came over to my house and when she was about to leave, she brought up that she was concerned about my haircut and I told her it would look good even though I wouldn't be uniform."
The bride was unconvinced and sent a message to the bridesmaid three days before the wedding, saying that she has been "very accommodating and graceful" to the bridesmaid but felt disrespected.
The message went on to say that she found the timing of the haircut "upsetting."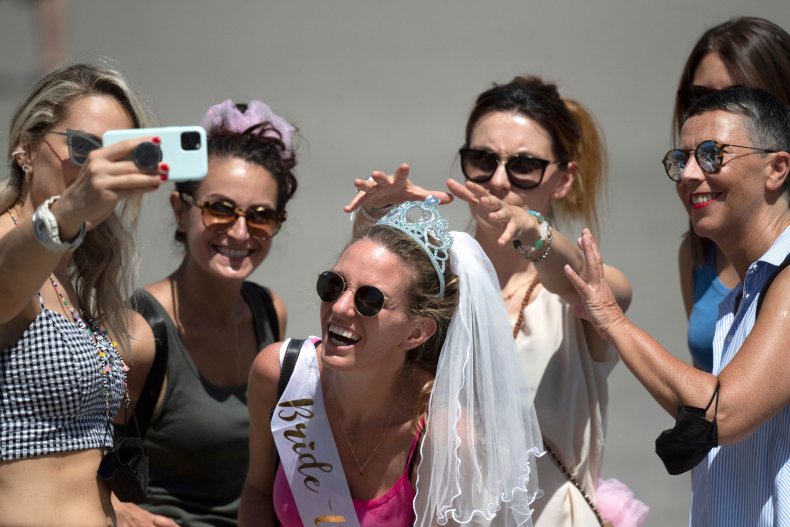 "I would have felt respected if you had communicated with me more than a week prior to the wedding, so we could have worked together to find a collaborative solution," the message from the bride read. "Your inconsistencies have concerned me and while I sympathise with your health concerns, I'm not willing to compromise my vision to accommodate you (or anyone else)...we could have found a better solution."
The bride concluded by asking the bridesmaid to step down from the wedding party.
After an invoice sent to the bride and her husband for the dresses and shoes went ignored, the bridesmaid decided to take the matter to court.
Own-Ingenuity-8648 told Newsweek the incident occurred in early June and she is waiting for a court date. She said she has not spoken to the bride since she was kicked out of the wedding party and has not received a response to the lawsuit.
Although upset at first, Own-Ingenuity-8648 said things have gotten better.
"I am a lot less upset than I was before," she said. "She was one of my best friends. I was angry, I was hurt and it's sad the friendship ended because she was important to me, but I realize it wasn't beneficial to have her in my life.
Shelley Brown, the senior fashion and beauty editor for The Knot, said while the bridal party should do their best to accommodate the bride's requests, there are limits.
"Ignoring your bridesmaids' health concerns, expecting them to spend exorbitant amounts of money or disinviting them to your wedding if they won't comply with your demands are all big no-nos," Brown told Newsweek.
"Try to keep in mind that your wedding is a celebration of the important relationships in your life. While your wedding vision is important, pulling it off shouldn't cause irreparable rifts in your friendships."
Many commenters supported the bridesmaid.
"I just can't get past that her hair was falling out because of a health condition and Zilla is like, 'Don't care if you die, you are selfish for cutting your hair.' What in the actual duck!" one Redditor commented.
"NTA. Should have had the lawsuit served to her at the altar," another commented.
Others commented on the legal battle and encouraged the bridesmaid to get evidence together, including photographs of her hair and the messages from the bride.
"I think you would at least be entitled to the value of the dress she withheld. It might be a waste of time and energy but small claims doesn't cost a whole lot and it might be worthwhile because it's hilarious," a Reddit user commented.
A bridesmaid's job is to support the bride throughout the wedding planning process and on the big day, but there are countless stories of brides taking things too far. From asking bridesmaids to lose weight to expecting an extravagant gift, plenty of bridesmaids have shared their worst "bridezilla" experiences.
According to an article in Bridal Guide, one of the top "wedding don'ts" is brides being too bossy with bridesmaids.
"Somewhere along the line, bridesmaids have become, well, more like maids, and to an extent, there's nothing wrong with that," the article reads. "But some brides ask (or worse, demand) far more: They expect their bridesmaids to shell out needlessly expensive outfits, to run endless errands, to wear their hair just so, to attend (and buy gifts for) countless all-for-you parties. Don't let this happen."
Own-Ingenuity-8648 said this experience taught her what her limits are as a bridesmaid and how she plans to act as she plans her own wedding.
"If I accept being a bridesmaid in the future, I've learned what I can accept and what I won't accept," she said. "It has also taught me how I want to treat my own bridesmaids."
Updated 08/26/2021, 9:23 a.m. ET: This story has been updated with comment from Shelley Brown, senior fashion and beauty editor for The Knot.
Updated 08/27/2021, 5:04 p.m. ET: This story has been updated with comment from Redditor Own-Ingenuity-8628.