First Ever Car Bridge Between Russia and China Set to Open Once Coronavirus Restrictions Are Withdrawn
The first bridge to allow the passage of vehicles between Russia and China has been given the go ahead to open, once coronavirus restrictions are eased.
The bridge which spans the Amur River, and links the Russian city of Blagoveshchensk with the Chinese city of Heihe, was completed in 2019.
First mooted in 1988, an agreement between the countries was made in 1995 but construction of the $254 million bridge did not begin until December 2016, according to The Moscow Times.
The project involved building 12.5 miles of new roads, with work on the Chinese side finishing in October 2018. The bridge joined both sides of the river in May 2019 and the project was completed in December.
The bridge includes a 1,080 meter span over the river although its opening to traffic has been delayed due to the coronavirus. Russia's Ministry of Construction, Housing and Utilities said it would finally open once restrictions are eased.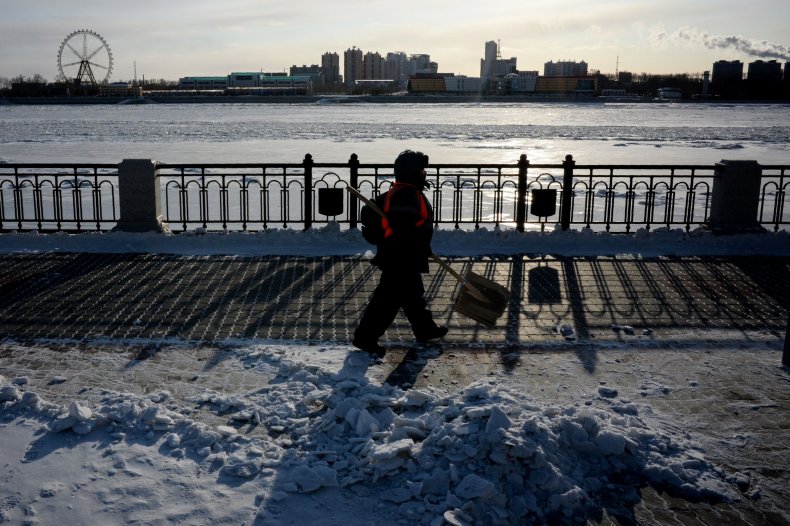 "Were it not for the pandemic and the closed borders, the bridge crossing would have entered service [immediately] after the permission was obtained," the ministry said in a statement, according to state-run news agency Tass.
The border between China and Russia was closed in January to prevent the spread of the virus.
"But, because of the difficult epidemiological situation in the world, the bridge will be actually opened only after all restrictions are withdrawn," the statement added.
Blagoveshchensk is the only district center in Russia nestled on the Chinese border. Russian authorities hope the bridge will increase trade and is expected to allow the transport of around six million tonnes of cargo, 300,000 vehicles and three million people per year, Tass reported. Tolls are expected to pay for the cost of the bridge within 16 years.
Last year, the governor of Amur, Vasily Orlov, said the bridge was part of "a new international transport corridor," and that it would "allow us to fully reach our transit potential," Reuters reported.
A cross border cable car between Heihe and Blagoveshchensk, designed by Dutch architects UNStudio, is also due to open in 2020, CNN reported.
With its ties fraying with the west, Moscow has been boosting its links with China and in December 2019, a 2000-mile long natural gas pipeline was inaugurated, linking northwest China with Russia called the Power of Siberia.
Around 280 miles southeast of the bridge in Blagoveshchensk, the first rail bridge across the Amur River connecting China and Russia was completed after five years' construction. The one-and-half mile bridge links Nizhneleninskoye in Russia and Tongjiang city in China.