It Looks Like TikTok Is Turning 'Bridgerton: The Musical' Into a Thing Now, Too
Just weeks after a professional staging of a Ratatouille musical was brought to life because of TikTok, users of the video-sharing app are calling for a musical version of Netflix's latest hit series, the 19th-century-set Bridgerton.
It all started when singer Abigail Barlow shared a TikTok video on Monday posing the question: "Ok but what if Bridgerton was a musical?"
In the clip, Barlow then breaks into an original song inspired by one of the show's protagonists, Daphne Bridgerton, played by Phoebe Dynevor. Barlow even adopts a British accent as she belts out lyrics under the guise of the young debutante, for a scene in which Daphne encounters her love interest on the series—Simon Basset, the Duke of Hastings—at a regency ball.
The video racked up more than 70,000 likes from TikTok users within a day. At the time of this article's posting, Barlow's video was up to 103,000 likes. The answer to Barlow's initial question seems pretty clear: The people want a musical adaptation of Bridgerton.
"TikTok's next musical," one commenter wrote.
Others were bubbling with anticipation for Barlow's next video in the proposed musical. "Stop and then Simon sings a song when he's confessing his feelings for Daphne 'Burrrnnnn For You," another person commented.
Barlow delivered on that front too, sharing an "If Bridgerton was a musical part 2" video, in which she posed as both Daphne and Simon for a song titled—you guessed it—"Burn for You."
More than two million people tuned into that particular video, which has led Barlow to keep the so-called Bridgerton musical going on TikTok. Later on Monday, she shared yet another video, this time of a recording of her original pieces and confirmed that she was "gonna make it a thing."
Barlow has since expanded her Bridgerton TikTok universe. She debuted a new song on Tuesday introducing Penelope Featherington, who on the Netflix series is played by Nicola Coughlan. Some other folks have also joined in on the fun, with their own Bridgerton-inspired songs and videos.
On Tuesday, Barlow offered viewers an update, noting that she has even bigger plans for her Bridgerton musical.
"First of all, I just want to say thank you so much for being so invested in the Bridgerton musical. It was a fun idea I had, and now it could possibly be a full-length project that I share with you guys. So you guys have given me a lot—a lot—to work on and I'm so excited," she says in the TikTok update. "So I just wanted to talk to you guys a little bit about the music—where it's headed, where it's going. So it's been brought to my attention that a lot of the songs are pretty anachronistic for the time period of Bridgerton, but that's kind of what the TV show did, too."
She continues in the video, saying, "They have a lot of pop music set to strings. They have modernized music with classical sensibilities and it created an entire theme, an entire vibe around the show that made it all the more interesting as me—someone who loves pop music—to watch. So that's what I want to capture with the musical version of the show. And it will probably end up being a concept album that may be possibly for pitch when theaters open back up. Who knows? I'm writing something new every day."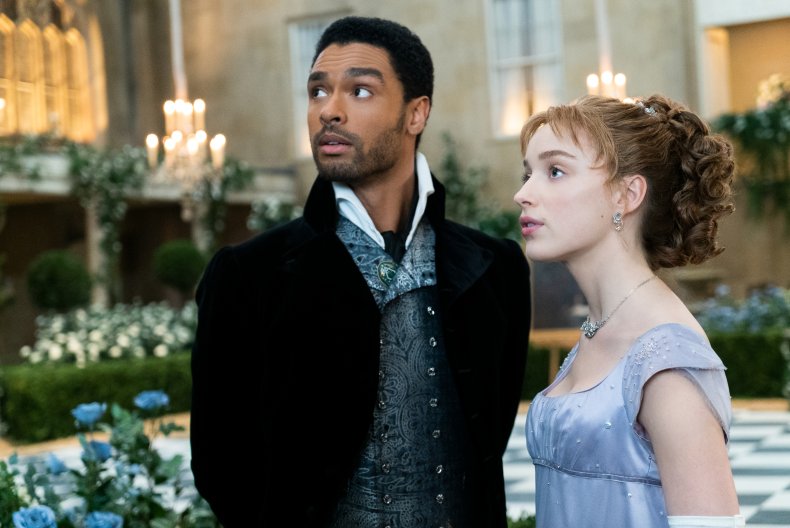 Newsweek has reached out to Barlow for comment, but did not hear back in time for publication.
But, it looks like Barlow's Bridgerton musical is indeed going to become "a thing." Her effort comes on the heels of Ratatouille: The TikTok Musical, a virtual theater production which starred Tituss Burgess as the Disney character and culinary rat Remy. Roughly 80,000 tickets were purchased for the show, according to the New York Times, and proceeds generated were donated to the Actors Fund. That musical, of course, came about after plenty of TikTok users started sharing 60-second samplings of songs and performances inspired by the movie Ratatouille.