Is Shonda Rhimes' Netflix Series 'Bridgerton' the Victorian-Era 'Gossip Girl'? Fans Think So
Netflix released the first teaser for Shona Rhimes' first major series with the streamer, Bridgerton, on Monday, and it's already reminding fans of another cult favorite TV show that's currently available for viewing on Netflix.
Based on Julia Quinn's best-selling book series, the historical and romantic drama, which is set between 1813 and 1827, follows the young Daphne Bridgerton (Phoebe Dynevor) as she enters her town's social season and competitive marriage market. Daphne aspires to meet and match with her one true love during a season of lavish parties, dances and high society outings. However, the musings of a mysterious column by a woman known only as Lady Whistledown—narrated by Julie Andrews—may lead to her entanglement with the city's hottest bachelor, the Duke of Hastings, played by Regé-Jean Page.
"My name is Lady Whistledown. You do not know me and never shall, but be forewarned, dear reader, I certainly know you," Andrews narrates in the series trailer.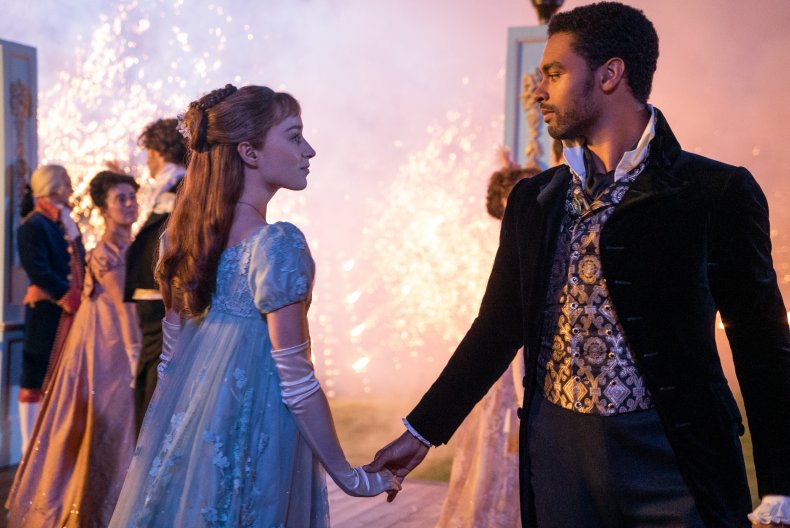 The voice-over and mystery surrounding the identity of the column's author instantly reminded fans of a more modern-day secret-spreader: the narrator of the CW hit series, Gossip Girl. Hundreds of people on social media began tweeting comparisons of Rhimes' new show and Gossip Girl, which followed the ritzy and scandalous lives of a group of rich teens and socialites living on New York's Upper East Side. That show, which aired on the CW from 2007 to 2012, was narrated by Kristen Bell and is streaming on Netflix.
"Ye Ole Gossip Girl," one Twitter user wrote in response to the Bridgerton trailer.
"Period Gossip Girl? I'm here for it," one person wrote.
"Let's remake Gossip Girl, but with pretty outfits and the setting is in the past century..." wrote another.
Unlike Gossip Girl, which was comprised of a predominately white cast featuring Blake Lively, Leighton Meester, Penn Badly, Ed Westwick and Chace Crawford, Rhimes' new Netflix imprint is filled with a more diverse cast and depicts people of color immersed within the Victorian era's high society—an aspect that only seemed to pique fans interest in the upcoming Shondaland drama.
"I'm here for period drama gossip girl with a multiracial cast narrated by julie andrews," one person tweeted.
"Gossip girl but old and with black people? Can't wait," another wrote.
Along with Dynevor and Page, Bridgerton's cast includes Golda Rosheuvel, Jonathan Bailey, Luke Newton, Claudia Jessie, Nicola Coughlan, Ruby Barker, Sabrina Bartlett, Ruth Gemmell, Adjoa Andoh, Polly Walker, Bessie Carter and Harriet Cains.
The eight-episode hourlong series is set to release on Netflix on December 25, 2020.