What the New 'Bridgerton' Season 2 Photos Reveal About the Cast Members and Series
The wait for Bridgerton Season 2 is almost over.
The next installment in the romantic period drama is set to premiere on Friday, March 25, and will follow the love life of Daphne Bridgerton's (played by Phoebe Dynevor) older brother, Anthony Bridgerton (Jonathan Bailey), who as fans of the books by Julia Quinn will know, is reluctant to pursue a long-lasting romantic relationship.
To keep everyone in suspense, Netflix has released some first-look photos of the cast of Bridgerton Season 2, including the latest arrivals on the "ton."
Newsweek has everything you need to know about the thrilling photos and the new actors joining Bridgerton.
Meet Kate Sharma
For the first time, fans get to see Anthony Bridgerton and his love-interest, Kate Sharma (Simone Ashley), looking seriously loved-up.
In the image, Anthony is standing with his arms wrapped around Kate at a dance. Dressed in a pale pink dress complete with a sparkling tiara and dazzling necklace, Kate looks gorgeous and she holds onto Anthony's hand. Could this image be a snap of their first dance?
Another image show's Kate out hunting in the woods with Anthony and his brothers Colin (Luke Newton) and Benedict (Luke Thompson). It sure looks like things are going well for Kate and her husband-to-be.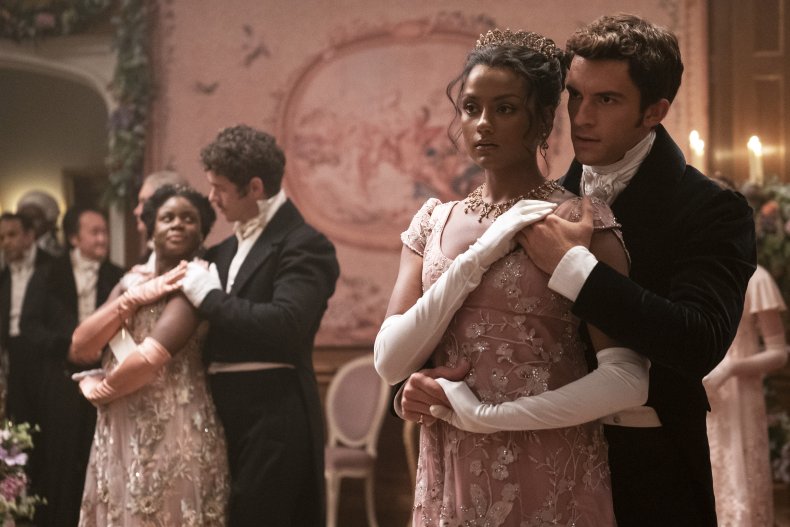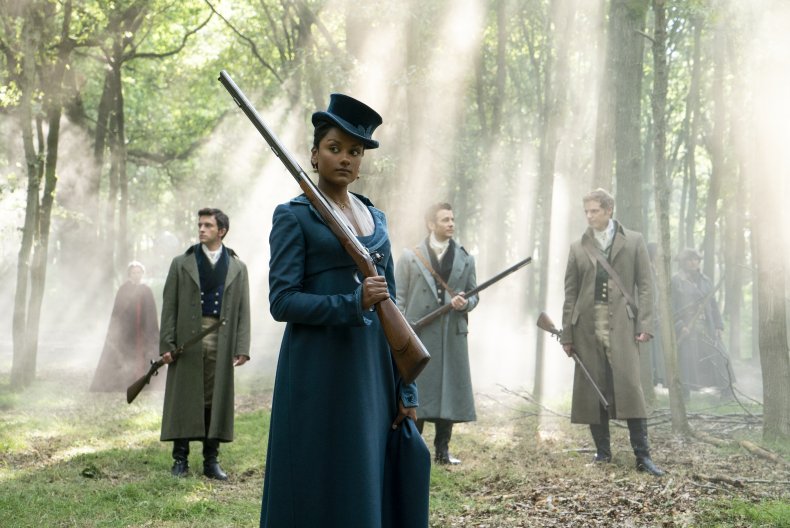 Meet the Sharma Family
Kate Sharma is an adaption of Kate Sheffield from the second Brigerton novel The Viscount Who Loved Me. In the Netflix series, the Sharma family has Indian heritage.
Speaking about the changes on the small-screen, Bridgerton author Julia Quinn is completely in favor. Speaking to Insider, Quinn said: "I love the changes that they made. Simone Ashley is perfect as Kate."
She added the name change was a "wonderful way to make the show more inclusive."
In the original novel, Anthony is set to marry Kate's sister, Edwina Sharma (Charithra Chandran). However, along the way, he soon realizes his feelings for Kate are much greater.
In the image, Kate and Edwina can be seen sitting on a regal-looking couch, with a pet corgi sitting smiling on Kate's lap. If you look close enough, Kate has a disapproving and disinterested look upon her face, whilst Edwina looks pleased, to say the least.
There is a possibility this could be the first time Kate and Anthony meet and it looks like Bridgerton Season 2 is sticking close to the original source material. In the second book, Kate and Anthony don't get off to a good start, and if the first-look image is anything to go by, Kate is certainly not pleased about her sister's future husband.
This is also the first time fans get a glimpse at Charithra Chandran as Edwina. Chandran is an up-and-coming actress, best known for her role as Sabina in Alex Rider and Cherry in Class S.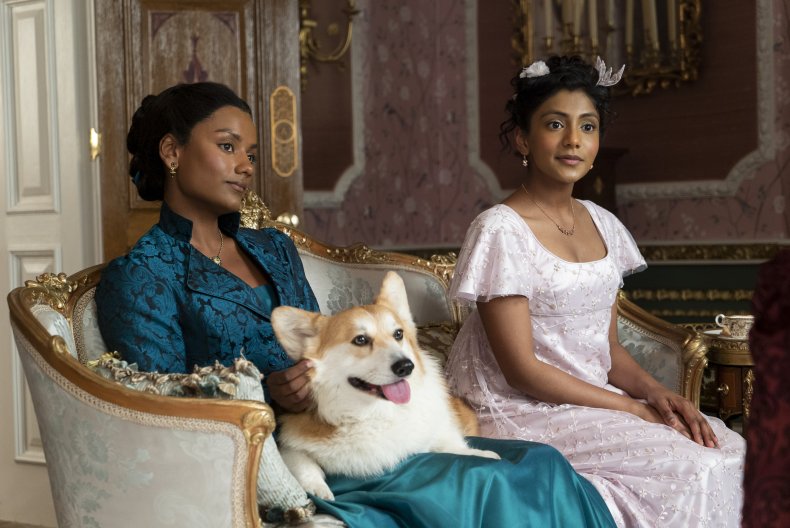 Daphne Returns
Although Regé-Jean Page bowed out from Bridgerton as Simon Basset, the Duke of Hastings, after Season 1, Phoebe Dynevor reprised her role as Anthony's older sister Daphne Bridgerton.
At the end of Season 1, Daphne gave birth to her first child with the Duke and it will surely be exciting for fans to see how she settles into motherhood. In the first-look image, Daphne is seen talking with her brother in his study, perhaps to give him some romantic advice. She did have quite the journey after all.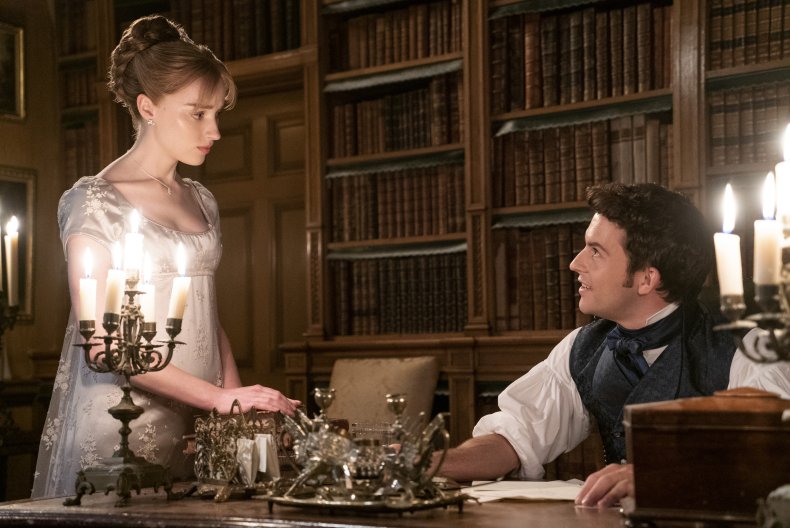 The Featheringtons Are Back
Lady Whistledown, A.K.A. Penelope Featherington (Nichola Coughlan), and her family are back in Bridgerton Season 2.
At the end of Season 1, the Featheringtons lost their father Lord Featherington (Ben Miller) after he was murdered by two bookmakers when they realized he had rigged a boxing match, costing them hundreds of pounds. Lord Featherington left behind incredible levels of debt, but it looks like the Featheringtons may not have lost their social standing after all.
In the images released by Netflix, it looks like Lady Portia Featherington (Polly Walker) has once again, orchestrated for her daughters to have another attempt at finding the perfect husband.
Another image shows Penelope and her bestie, Eloise Bridgerton (Claudia Jessie), appearing to have a pretty serious conversation in somebody's office. With Eloise determined to crack Lady Whistledown's true identity, could this be the moment Penelope comes clean?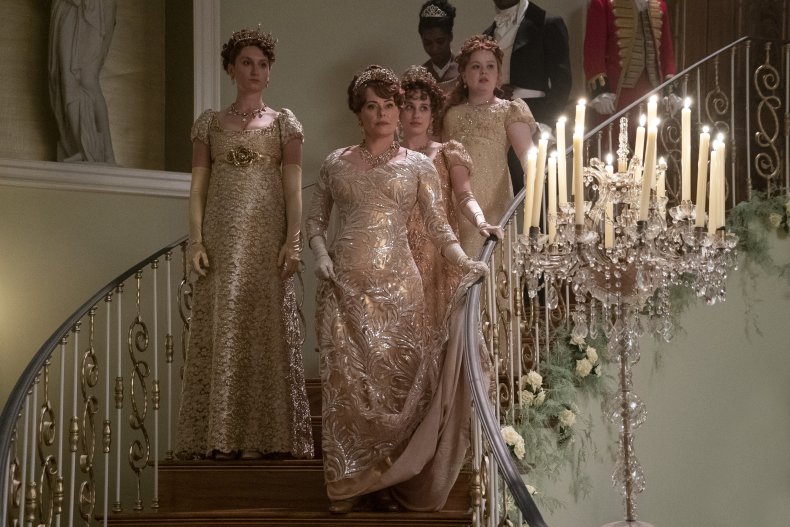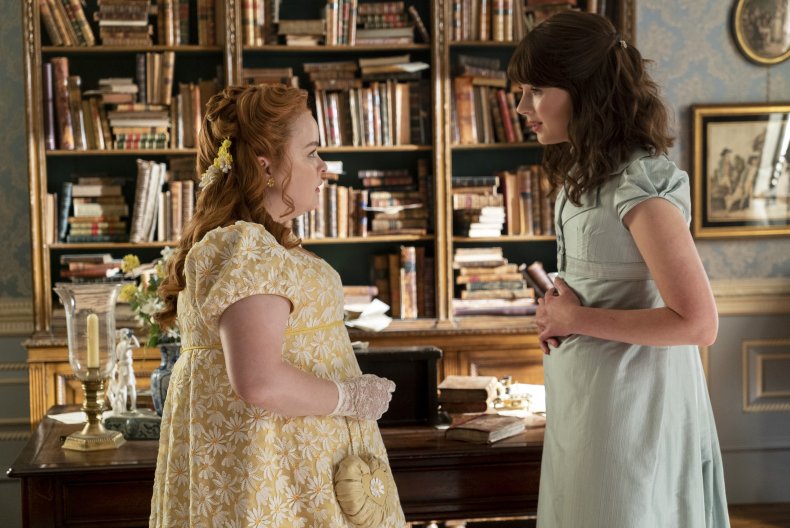 All Hail Queen Charlotte
Golda Rosheuvel is back as Queen Charlotte and in her first look image, she appears to be deeply into reading a large pamphlet. Could it be Lady Whistledown's latest serving of gossip? Penelope Featherington fans will surely be hoping so.
Bridgerton Bro's Unite
Netflix has provided some serotonin for fans of the Bridgerton brothers Anthony, Colin and Benedict.
In the image, the trio is seen fencing but whether they are having a serious tournament or a play around isn't quite clear—but knowing Anthony, he won't let Colin win that easily.
At the end of Season 1, Colin also shared his plans to travel the world, but the fact he can be spotted fencing in the garden with his brothers suggests he may have changed his mind. Hopefully, if Colin stays on the scene for a little while longer, he and Penelope can have their shot at love together.
Bridgerton Season 2 premieres on Friday, March 25 on Netflix.