Oscars 2016: Brie Larson Honors Sexual Assault Survivors After Lady Gaga Performance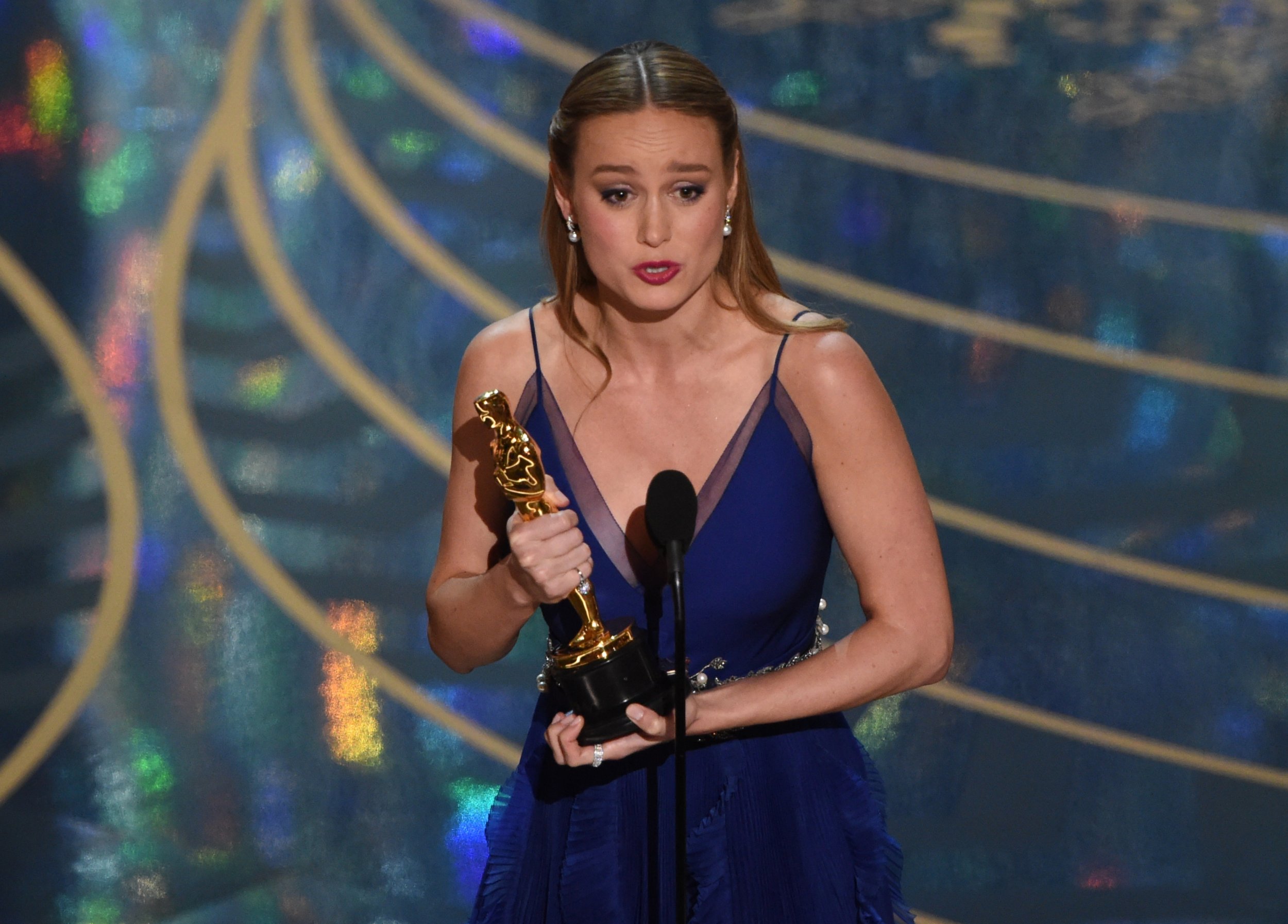 Brie Larson may have been the belle of the ball at the Academy Awards on Sunday night, but that didn't stop her from taking a moment to salute the real heroes of the evening—dozens of sexual abuse survivors who congregated onstage for Lady Gaga's moving performance.
In a touching moment not captured on television, the 26-year-old—who won the Best Actress award for her role in Room—greeted and hugged each of the survivors who performed with Gaga during a commercial break. The scene was recorded inside the Dolby Theater in Los Angeles by the Hollywood Reporter 's Chris Gardner.
"Then best actress fave Brie Larson gets up, hugs each, every one," Gardner wrote to caption the 30-second clip.
Larson earned her Oscar for her portrayal of an abuse victim held captive for seven years in an adaptation of Emma Donoghue's 2010 novel, also called Room.
The survivors stood tall at the ceremony as Lady Gaga, 29, performed her Oscar-nominated song "'Til It Happens To You," which she wrote with acclaimed songwriter Diane Warren. The sobering track is taken from the soundtrack of CNN documentary The Hunting Ground, an exploration into the rise of sexual assault cases on university campuses across America.
Gaga's performance was introduced by U.S. Vice President Joe Biden, who urged viewers: "Let's change the culture. We must and we can."
Celebrities including Kerry Washington praised the powerful performance on such a global stage. " These survivors. Wow. Floored by the courage. And beauty. And realness," the Django Unchained actress tweeted.
Gaga and Biden's spotlight on sexual assault was just one example of what proved to be one of the most politically charged Oscars in recent history. Host Chris Rock tackled the recent #OscarsSoWhite diversity furore throughout the night, while Best Actor winner Leonardo DiCaprio used his acceptance speech to raise awareness for climate change.